In November of 2010 Google released the instant preview feature on their search results as a small magnifying glass next to page links. The idea is to allow searchers to quickly scan and compare results prior to clicking on the most relevant website.
Google Instant Preview (GIP) was introduced to decrease websites' bounce rates (users leaving a site after entering) by allowing searchers to scan a site before entering. This is also beneficial to site owners as it can help eliminate untargeted site visitors.  Below are several other  benefits of GIP:
Provide the user the ability to compare results — A pop-up preview of each result allows users to do a visual comparison of search results without ever leaving the Google interface.
Easier recognition of relevant content – Additional pop-up boxes within the search preview highlight where search terms appear in the text of the page, making it much easier for the user to see if the search result is relevant to their need.
Site owner SEO and structure check – The rendered page will allow site owners to see how Google robots are reading the page to make sure it is set up correctly and optimized.
Preview results with optimized design and rich snippets can be up to four times more likely to be clicked on. Take the Waikiki Beachcomber website below as an example. By clicking on the magnifying glass next to the link, the site provides the user with a quick glimpse of how Google renders the page. In this case, it is viewed correctly with all images and content clearly visible and structured correctly.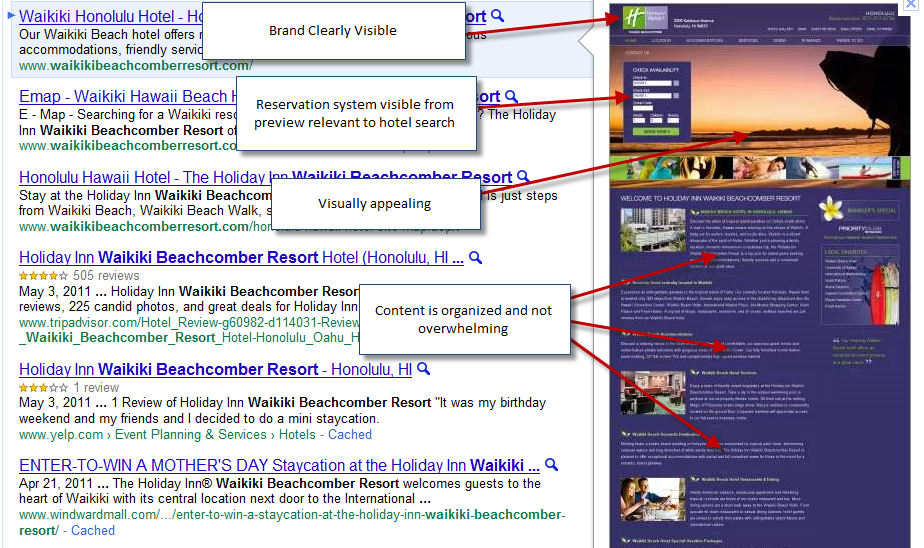 On the other hand, a non-GIP optimized site will appear as follows: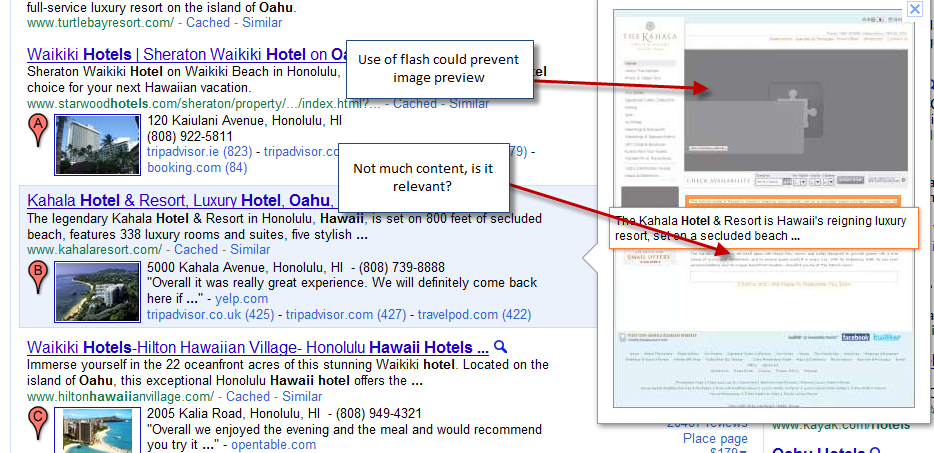 In order to preview results, users and site owners can:
Do a quick search on Google for a particular service or information
Click on the magnifying glass next to the result deemed relevant
If you are a site owner, log into Google Webmasters and navigate down to the site performance and click on Instant Preview. The feature will show a rendered view of the actual website and GIP. (This tool was recently released for webmasters.)
In summary, when creating a site, it is important to keep in mind that people browsing through results are more likely to click on a site if it provides a relevant and inviting layout, not to mention the notion that a site is professionally made if it adheres to the latest standards and can be read correctly by Google robots.
Tips and Recommendations to take advantage of Google Instant Preview (GIP)
Keep pages clearly laid out and structured to improve user experience and simplicity.
Try to avoid interstitial pages, pop-ups and other elements that may distort the page appearance on GIP results.
Do not block snippets as this will also block GIP.
Place your logo on a prominent part of the page to increase brand awareness and to signal entry into an official site.
Try to avoid the use of Flash since at times this may not be easily read by GIP.
Design your site with GIP in mind since you will be able to offer a visually pleasant and relevant result to your potential customers.
Make sure an image sitemap is setup.
Check GIP often to make sure your website is optimized and being read correctly by Google bots.
Check Google Webmasters to get a preview of the site on both a normal website view and that of GIP.
Sources:
————————————————————————–
Contributed by: Alan Roth, eStrategist, Milestone Internet Marketing