By Erik Newton, VP of Marketing at Milestone Inc.
In 2021, global e-commerce surpassed $5.2 trillion. The convenience of shopping from your mobile device or computer from the comfort of your home appeals to customers worldwide and across industries.
With Google continuing to dominate in the US and globally as a search engine, its rich product results are an essential factor for businesses. Customers encounter these product results when typing queries related to product searches and purchasing. The search engine recently announced changes in eligibility for the rich product results that could impact what businesses receive these desirable slots on the SERP.
Here is what you need to know about Google's recent announcement.
What are product rich results?
Google lets businesses showcase their ecommerce products right from the search page, known as a Merchant Listing. The rich results offer customers details, such as prices and availability so that people can buy it directly through the site. This listing makes it easy for businesses to promote their products to people conducting relevant searches.
The search engine also offers a product snippet, a rich result that includes additional information about a given product. For example, customers might see product reviews.
You can see how these two rich results are displayed in these renditions from Google.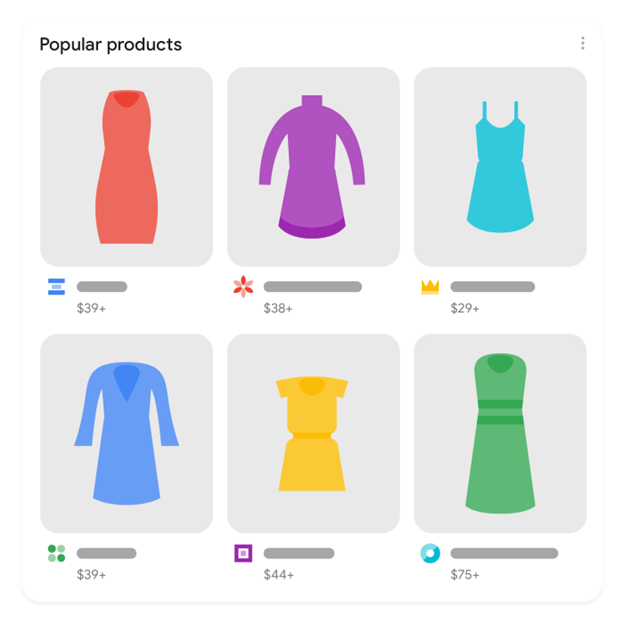 (Merchant Listing, from Google)

(Product Snippet, from Google)
A few weeks ago, Google announced that they would expand the criteria for what businesses and products can be listed for Merchant Listing rich results and Product Snippet rich results.
What changes did Google recently make in the product rich listings?
Before this announcement, the information for Product Snippets listings was mainly drawn from business owners using product structured data on their websites.
Conversely, the Merchant Listing rich results were generated based on data that Google would lift from the Google Merchant Center feed.
However, Google has adjusted its setup and announced that businesses selling products online might be eligible for Merchant Listing results based on product structured data. In other words, business owners will no longer have to have a Google Merchant Center account to take advantage of product listings for customers directly on these search results.
Google says that part of the reason we have seen this change take shape is because of adjustments in the data and details included in the schema. Brands can now enter critical information, such as the sizes of clothing or shoes available, or note the energy efficiency ratings for appliances. These new additions make it more feasible for the Merchant Listings to appear for the appropriate searches.
Businesses interested in taking advantage of this development need to use structured data markup on their page.
How will these changes impact the Google Search Console reports?
As these changes have gone into effect, Google has also updated the Google Search Console report to reflect the updates. The old product structured data report has been replaced by two new reports: a Merchant Listings report and the Product Snippets report. Users can find both reports in the shopping section when they log into their Search Console account.
Product snippets report in GSC

Merchant listings report in GSC

You can also look at Product results in a standard report by selecting Search Appearance from the sub-menu below the chart.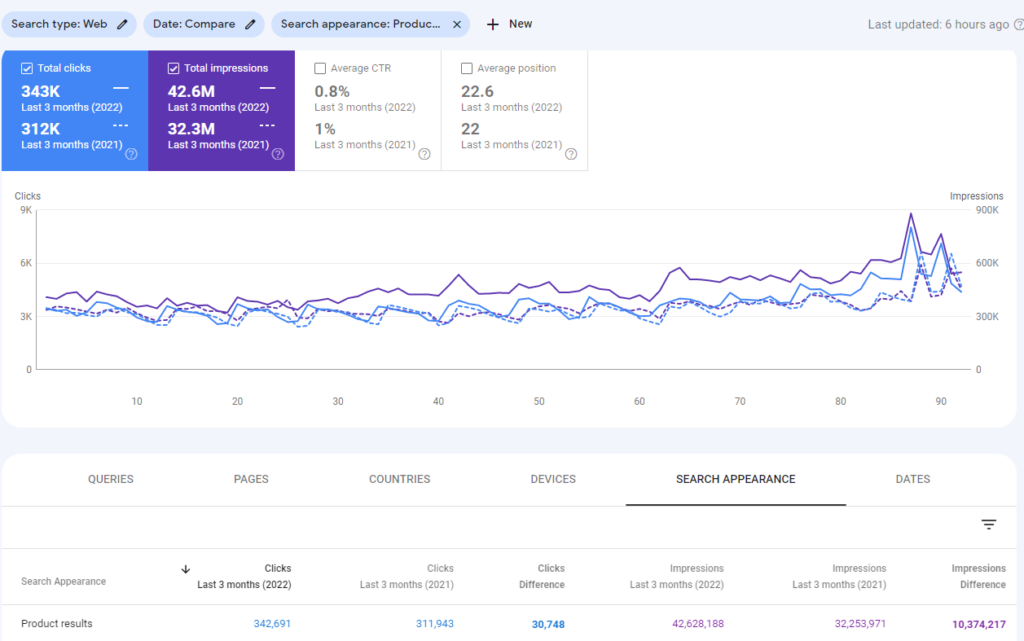 The two reports will make it easy for people to verify that their pages have been appropriately marked up as they will alert people to errors and warnings.
Generally speaking, if you sell products directly from your pages, you will want to incorporate the Merchant Listings report into your site analyses.
On the other hand, if you have pages that do not sell products but use product markup, such as pages that publish reviews, then you will focus on the Product Snippets report page.
How can businesses add product structured data?
If you are a merchant and want to take advantage of these new developments to get your products amplified in front of customers, you will need to incorporate product structured data into your site to make sure that the structured data contains as much information as you can provide, such as price, availability, ratings, sizes, and other information that Google will need to create an accurate product listing on this search page.
Go to https://schema.org/Product to understand the available product markup. You will want to follow their guidelines for creating and adding the code to your website.
Use the Rich Results Test to verify that you have filled out the information correctly and that the search engines can read it accurately. This step ensures you find any potential errors before the code goes live on your site.
Use the URL Inspection Tool to see how Google sees your site after you add the code.
Let Google know your pages have been updated and request the search engine crawl your pages again.
Take your website further
Google's changes to rich product listings open the door for more businesses to take advantage of rich listings and their capabilities. If you want to ensure you stay on top of these latest beneficial advancements for your site and see how you can use site design to engage your customers better, reach out to us at Milestone. We can help you build a digital experience for your customers, incorporating design and SEO best practices to get you in front of customers and bringing in leads.
To know more about how Milestone can assist with your product schema and general schema needs, contact us at [email protected] or call us at 408-200-2211.  
Sources:
https://developers.google.com/search/blog/2022/09/merchant-listings
https://developers.google.com/search/docs/appearance/structured-data/product
https://www.statista.com/topics/871/online-shopping/