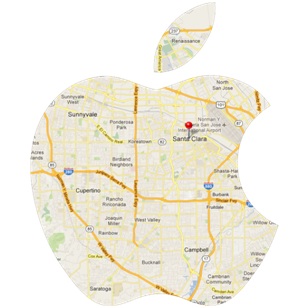 What Is Apple Maps?
As a small business owner, specifically a hotelier, management of your presence across the local listings ecosystem is essential.  There are many mapping applications, but one of the most used and authoritative is Apple Maps, which has replaced Google Maps as the stock mapping application on devices running Apple's iOS6 operation system.  Some users have been reluctant to use Apple Maps after reports of inconsistencies and lack of data causing problems, but the app is currently installed and integrated with Siri and other Apple features on over 200 million iPhones, iPads, and other Apple devices; thus management of your Apple Maps presence is critical.  For the hospitality industry, this is especially crucial as data has shown that Apple users will spend up to 30% more on accommodations.
How Do I Manage My Apple Maps Presence?
Short answer; you can't.  An accurate and optimized Apple Maps profile requires working with a few different outside data sources as currently there is no official claiming process or listing management system available from Apple. Due to this lack of a management system from Apple, editing and optimization of your profile is not as straightforward as other local listing platforms.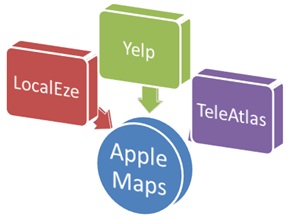 Presently, the method for a United States based business to populate data for a listing on Apple Maps is to ensure that Apple's three main data sources — LocalEze, Yelp, and TeleAtlas – all have correct information.  The idea is the same as any other local Search Engine Optimization efforts in that maintaining a consistent Name, Address, Phone Number, and URL provides uniform and authoritative data sets.  For Apple, further listing enhancements are provided by descriptions and categories pulled in from LocalEze, reviews sourced from Yelp, and map imagery via TeleAtlas.
It is important to note that there is some lag time between when your business information is submitted to the data sources and when it is seen live on Apple Maps. This is because Apple Maps pulls data from many sources in addition to the three listed above, then it must process and verify all data, and then publish its data set to the Apple Maps database. All in all it can take up to three months for this information to filter in.  The Milestone Local Team is currently investigating update times to the database but current reports note Apple is publishing new data on a monthly basis.
How Do I Report A Problem?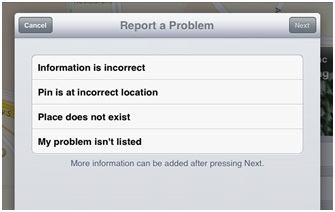 In addition to working with the main data sources for Apple Maps to add or edit a business, you can also use the 'Report a Problem' function built into the mobile application to alert Apple Maps technicians of an issue with a listing.  This process again has a bit of lag time as the Apple Maps data sets are updated about once per month as noted previously.  Before Apple can publish its data set, the technicians investigate and verify the user request.  Please keep in mind, issues can only be reported on an iOS6 device.
What is the Future of Apple Maps?
While it is difficult to speculate what Apple may do in 2013 with their Map system, but with the initial negative backlash we can expect improvements in map and listing accuracy.  We are also speculating that Apple Maps will eventually launch a listing management system, much like their competitors already have in place.  It is clear that the huge quantity of smart-phones, tablets, and other Apples devices running their map application requires attention from all business owners.
For more information about running a local optimization program across a range of authoritative directories including Apple Maps, please contact the Local experts at Milestone Internet Marketing here.
____________________________________
Contributed by Nicholas Chloupek, Account Coordinator | Search, Milestone Internet Marketing, Inc.