Creating a video and posting it to YouTube represents the unique opportunity to have one hotel representative, your video, present to billions of viewers time and time again. Given the accessibility of tools to record and edit your videos, the hardest part of creating the video is taking the initiative. As a hotelier, often times the unique selling points and most compelling features of property are best conveyed through a visual medium. Get started by putting content and ideas out YouTube, and seeing the response and the buzz generated.
One of the most unique aspects of online video is that is a lean forward medium – the viewers who are watching the video are actually pressing play. These people want to watch your video. So, acting as the ambassador of your hotel, you need to be doing the following:
Answer a question – whether it be about the properties services and amenities, local attractions or events, or changes that may be going on at the property such as renovations, you want to provide an answer to a demand that a potential or existing guest may have.
Give them an outlet – if you post a video, you want to give the viewer a call to action, whether it be an added value to following a link in the description (special or promotion), or a way to convert.
Furthermore, YouTube is an incredibly valuable platform from both a user perspective and an SEO perspective. Mark Robertson of reelseo.com had some great tips for optimizing your YouTube video for users and search engines:
Don't be lazy – YouTube Tags and Titles are vital to optimize with keyword rich text, so those searchers that are looking can find your video. Optify's Long Tail Keyword Organic Click Through Rate, looking into Head vs. Long Tail Keywords chart shows that the likelihood of being clicked on in the 7th position in long tailed phrases is greater than if you are in the  2nd position for 'head' keyword terms.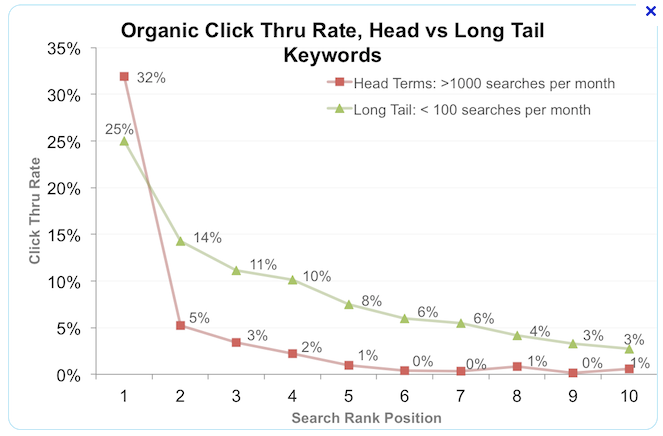 Data from http://www.onlinemarketing-trends.com/2011/04/click-through-rates-by-keywords-search.html
Thumbnails are vital – you must be sure that the thumbnail image that represents your video gives the correct impression. Is it a video about the food at your on-site restaurant? We want to see that food.
Get to the Point – make sure that within the first 6 seconds of the video, the viewers know what they are getting themselves into.
Take advantage of closed captions and subtitles – Google has the facility to offer an 'autotranslate' on these titles, so you are sure to be optimizing your value for those international viewers.
Driver viewers home – make sure to put your URL in the video as well as in the description. This will give visitors a call to action to visit your website and convert.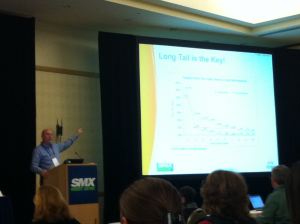 While we can't all have the expectation that your Youtube video will go viral (like some of our favorites, like Ojai Valley Taxidermy's Commercial and the infamous Will it Blend? Campaign), why not take advantage of free video hosting, management, delivery, and site credit? Keep in mind, view counts are not the only key performance indicator. YouTube is about cross channel optimization leading to quality links, offering compelling information, and creating social engagement and sharing.
So pull out your video camera and get started with your first video! It might just change your hotel.
Speakers:
Disa Johnson, CEO, SearchReturn (Moderator)
Arnie Kuenn, President, Vertical Measures
Jeff Martin, Director of Search Marketing, Touchstorm
Manny Rivas, Online Marketing Account Manager, aimClear
Mark Robertson, Founder, ReelSEO
________________________
Contributed by Brittany Bingham, eStrategist