Arranging travel plans can be a stressful experience when you're not familiar with the city you're going to. Instead of searching the web for ideas on where to stay, where to eat, and what to do, we're taking the heavy lifting off your shoulders and giving you everything you need to know about San Francisco in a single website. We combined the features we like about other sites, like Yelp and TripAdvisor, to make planning your travels simple and fun. With events, restaurants, spas, nightlife, and much more, our newest destination site is your go-to guide for anything San Francisco travel!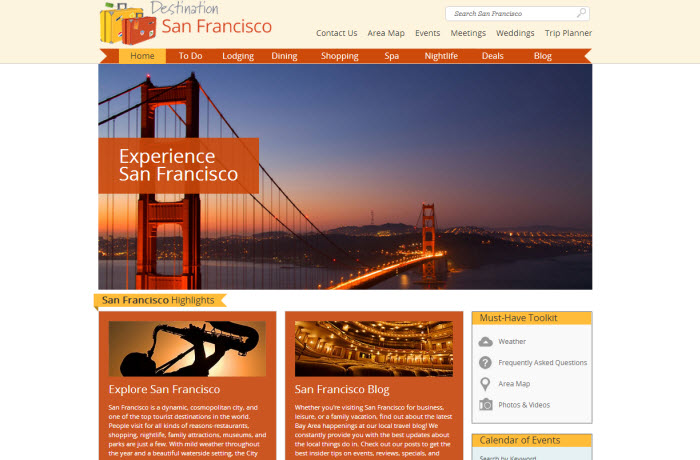 Whether you're traveling for business or pleasure, Destination San Francisco is designed to fit everyone's needs. Visitors can book their hotel room, read blogs about fun things to do in the city, and compare reviews about local hot spots. Find out where the best places to shop are, what the closest pool hall is, or how to get to AT&T Park—all right here. In the mood for Thai food but don't know where to go?  Use our restaurant finder to search for your favorite food. You can also find out more about the iconic attractions that make San Francisco so unique.
If you're organizing a meeting or conference, Destination San Francisco gives you options all over the city that will fit your company's requirements. With information about the capacity and room set ups, there's no need to contact multiple vendors just to find out if they have room for your group. Planning a wedding? Compare venues and wedding packages using the quick venue finder.
Using the trip planner, you can create your own itinerary with all of the cool places you want to go. If you don't want to schedule your own, our suggested itinerary gives recommendations based on the type of trip you are planning: business, leisure, family, romantic, tourism, or adults only. Talk about an easy way to travel!
If that's not enough, we also added your must-have toolkit, which includes an up-to-date weather report, answers to the most common questions about San Francisco, a map of the city, and photos. On top of that, find Groupon deals available for the area and hotel specials without leaving the site.
Want more? Let us know if you have any suggestions for what YOU need from Destination San Francisco to be your go-to site when traveling to SF. We'd love to hear them!
Follow Destination Visit on Twitter for travel tips, cool articles, event information, and more. Connect with us on Facebook and Google+ to stay up-to-date on travel information for all of our destinations.
_________________________________________
Contributed by: Claudette Linzey, Jr. IM