Staying connected with today's latest and greatest social media developments gives you a competitive edge over leading industry standards. With Social Real-Time-Search incorporated into the most innovative web technologies, finding the most relevant content online has never been easier.  Whether it's Google's most recent Social Search, T-Lists fan base booster, CrowdEye, Twitter, or Real-Time-Search, making use of all these social media tools can help you drive more traffic to your website and create new opportunities for generating revenue.
Google Social Search – Who's in your social circle?

Social Search is Google's latest feature designed to help you discover relevant content from your social circle, a set of online friends and contacts you interact with on a daily basis. Why read a movie review written by a stranger when you can read a movie review from someone you can identify with… your closest friend. The idea behind Google Social Search is to present relevant content from your social network.
Social Search retrieves content from personal websites, blogs, public profiles and your friends' Google profiles. Gmail contacts, friends, family and coworkers in your Google contacts or on Google Buzz immediately become part of your social circle.  Status updates, tweets, reviews and profile links will have major influence on your next online search.
Discover When you Gain or Lose Twitter Followers

As you already know, Twitter is a great way to keep in contact with friends and family, distribute news, and generally discuss what people are doing. The popularity of Twitter users is most notably measured by the amount of people that follow their status updates.
With a Twitter profile, you always know how many people follow you and you receive immediate notifications when someone new decides to follow you. However, there is no notification when someone stops following you.
This is where the TweetEffect comes in. Enter your Twitter name and the system analyzes the last 200 updates and flags the tweets that made people follow or leave you. With this crucial information, you can find out exactly when people decided to leave or follow you based on the time and post that influenced their decision. Although in Beta form, TweetEffect provides an interesting indicator about the effect your tweets may have on the world.
Real-time Social Search, Twitter's Real Identity.

The internet continues to evolve over the years as a place where information flows quicker and quicker, where streams of bits and bytes are increasingly being used to draw conclusions and where informed decisions are made based on the "wisdom of the crowds".
CrowdEye is part of a new generation of search engines which finds relevant search results by tracking user discussions on Twitter, and finding out what's important to them in real-time. CrowdEye has created innovative technology to scan and index tweets, retweets, twitter links and more, creating a powerful yet easy-to-use search device that enables the end-user to slice, dice, summarize, and categorize all relevant data based on their search. Whether you're interested in following abrand, sports team, city events, movies, or anything else people are talking about, CrowdEye can help discover what people are saying by connecting you to social networks, not just machines.
"Suggestions for You" – Discover Who to Follow

With more than one hundred million users on Twitter, there are sure to be at least dozens of accounts that reflect your interests. The only trouble is finding the rights ones. With the inception of "Suggestions for You" by Twitter, users finally have an answer to address this problem. Developed by the User Relevance Team at Twitter, "Suggestions for You" is based on several different factors centered not only around users you follow, but ones that you don't. By clicking "follow" or "hide" on twitter.com and the "Find People" section, you'll be personalizing your "Suggestions" and will soon begin to see recommendations for similar users based on your interest in a particular account. This helps you discover even more relevant user content in the online community, ultimately providing you with the right answers for all of your questions and needs.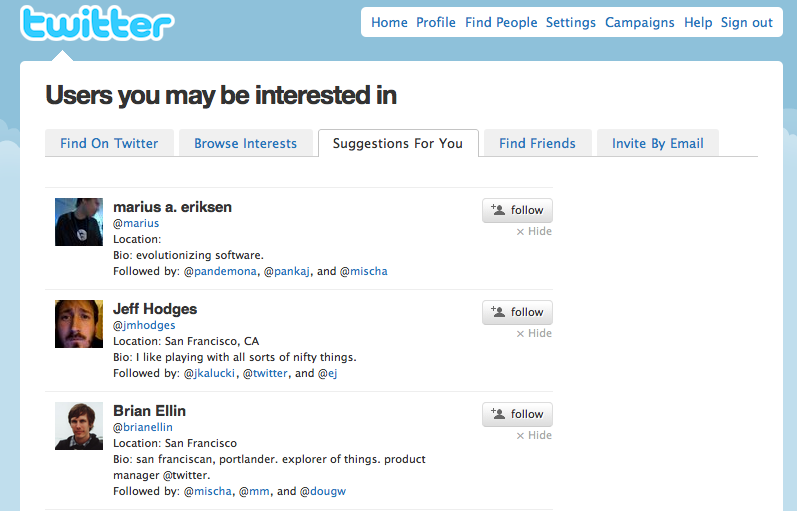 Twitter List (T-List) – Increase Your Fan Base!

Gain more followers by networking with other Twitter users and providing relevant content. Getting yourself on relevant Twitter Lists is a great way to gain exposure. On Twitter List, anyone can create a list of their favorite users on Twitter. Users can follow a list, just like they can follow an individual. Following a list lets you see all of the tweets sent by the users on that list, although you're not actually following individual users.
Conclusion
There is a lot of buzz around Social Media these days, but which tools are right for your business? What's the impact on your revenue generation? Keeping up with the latest Social Real-Time-Search initiatives such as Google Social Search, TweetEffect, CrowdEye, Twitter Search, and Twitter lists, can help you develop basic and advanced marketing strategies to better leverage and quantify your online Social Media participation. Discover new ways to increase your brand and business metrics by using these Social Media tools today.
__________________________
Contributed by: Zaid Ramadan, eStrategist, Milestone Internet Marketing, Inc.