Retargeting and display advertising has evolved a last couple of years. Retargeting is a great way to build traffic to the website and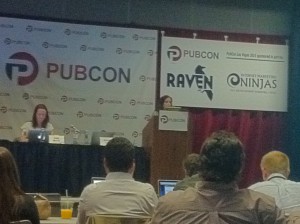 seems to be very effective. The act of putting your message in front of lost prospect is called retargeting.
Based on the market study done by seomoz.com:
More than 95% of visitors who browse a website do not convert
Nearly 70% more likely to complete a purchase
Visitors might spend 50% more than usual
Types of retargeting
Search
Social
Engagement
Contextual
Email
Behavioral
4 ways to capitalize of retargeting:
Marketing entire funnel
Expect more from the data
Off site retargeting
Think bigger
Issues with Retargeting
Tracking Code – Each of the tracking code has

Segment Code – Initial ads
Burn Code – After showing the ads certain amount of time.
Conversion Code.
Choosing the right vendor – There are some many vendors who claim to be the best.

Adroll
Fetchback
Retargeter
Conclusion: If you have not tried retargeting yet, this can be a great way of generating traffic and revenue. It might not be successfully if you don't effectively manage it.
Speakers:  Joanna Lord
Contributed by – Justin Varghese, ROI Manager, Milestone Internet Marketing Inc.