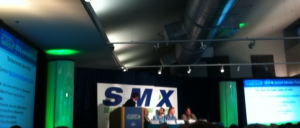 There are a few important SEO factors that affect how a website is ranked on the search engines in today's times. These can be divided into technical and non-technical factors. These factors play a huge role in how your site ranks on the results pages. Here is a list of the important factors:
Page Size: The longer the site takes to load, the lower the page rank is. Adding banners, large photos etc. will not only take longer to load making a website less user friendly but will also impact your ranking.
Keyword rich meta data: Search engines place a lot of importance on the keywords in the header tags on the page and this metric is highly correlated with high ranking.
Keywords in URL: Having a keyword rich URL also plays a role in ranking your website higher on the search engine result pages.
External Links: Having links pointing in to your website affect your rankings positively.
Facebook Shares: Social media, especially the number of Facebook Shares, is the highest correlated factor with top rankings.
Localization: Local results are dominating the search results in today's online world so pay attention to them. Getting local links and having your local pages claimed and optimized affect your ranking.
Content Is always KING: Last but not the least, fresh relevant content is very important to the search engines. Having good quality, relevant content can help a lot in ranking your website well on the search engine result pages.
The key takeaways from this SMX Advanced Seattle session on The New Periodic Table of SEO are:
Make a user-friendly and well optimized website
Make sure the content is fresh and relevant on your website
Social media especially number of shares on Facebook is a highly correlated factor to ranking well on the search engines.
First movers have advantage as new ranking factors are introduced so go ahead and test new features such as Google's +1
Speakers:
Matthew Brown, Founder, AudienceWise
Rand Fishkin, CEO, SEOmoz
Duane Forrester, Senior Program Manager SEO, Microsoft
Jeff MacGurn, Director of SEO, Covario
————————————————————————–
Contributed by: Bhawna Sharma, Milestone Internet Marketing