by John Pol, SEO Specialist, Milestone Internet Marketing
The evolution of the Internet over the past decade has been quite phenomenal.  The growth of online video, social media, and virtual communication has been an exciting experience!
The internet is constantly evolving to make the user experience more enjoyable and for relevant content easier to find. For example, Google has made some key growth changes to its algorithms and appearance over the past decade that will forever impact search engine rankings and the web.
Below is a comparison of Google from 2000 and 2011: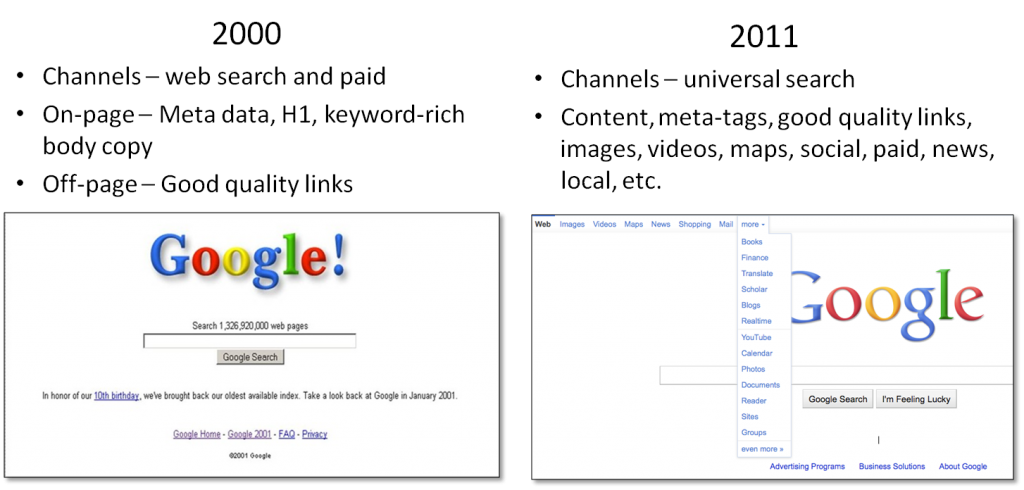 The greatest change to search has been the evolution of Universal Search.  Previously, only webpages and documents were included in Search Engine Results Pages (SERPs), while media items such as images and videos were not.  However, since the recent surge of online videos and image sharing sites such as YouTube and Flickr, Google has revised their search algorithm in a way that it now includes several types of information and content.
Google Universal Search Explained
Old Google Model – A web search on Google would only return web pages and document contents.  Items such as images and video were not included.
New Google Model – Universal Search:
A web search on Google now includes multiple types of information such as images, video, news, maps, books, products, etc.
With these new ranking factors and measurement criteria in mind, should your SEO/SEM initiatives and goals change?  The answer…no!
Website owners often get distracted by the idea of "Top Rankings" for keywords and attaining the "Top" position on SERPs.  Top rankings for specific keywords should not be your strategy for Organic SEO. Such focus is more for a pay-per-click (PPC) strategy.
The ultimate goal for SEO/SEM initiatives should be:
Increasing visibility
Increasing quality traffic and reducing bounce rate
Increasing ROI
Increasing conversions
Staying/planning ahead
Leverage opportunities offered by different media
It is important to understand that "Top Rankings" doesn't necessarily mean increase in revenue.  What correlates directly on online revenue are increase in overall web traffic and conversions. In today's online marketplace, the best way to accomplish this is through total Search Engine Saturation. Optimizing content on your web pages for search engines is the competitive advantage.
Here are several key search engine ranking factors:
Content and its relevance to search terms your target market is using
Age of URL or your domain name
Search categories saturation such as images, videos, news, etc.
Fresh real time sensitive content
Social circle
Relevant inbound links or referrals from credible online sources
Takeaways: key ranking factors:
Google has over 200 ranking factors with 50 sub-factors; a total of over 10,000 different signals that can influence rankings.  Google changes its search algorithms constantly.
No Single factor will guarantee search engine ranking.  Some factors have more of an influence than others. Several positive factors increase the chances of success. Several negative factors worsen the odds of success.
Search engines now personalize and localize (Geo-target) the SERPs (Search Engine Results Pages).
Ranking and results are based on the device, location, searcher's history, browser, type of search, and several other factors.
The bottom line – be aware that your neighbor's screen may differ from what's appearing on your screen as search engines now take into consideration your social network and interactions when providing results to your search.