Bing has recently announced a new tool, the Bing Business Portal (BBP), which will essentially replace the Bing Listing Center. All accounts currently in the Listing Center will also be moved over to the Business portal. The BBP is Bing's response to Google's Local Places in an effort to compete locally.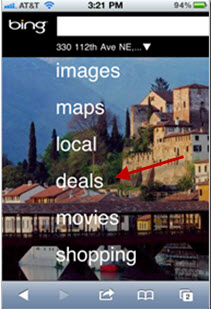 Local businesses will be able to create, claim, and verify their listings through BBP, which functions very similarly to Google Places. However,  there are a few unique features that BBP provides, and below is a breakdown on how you can leverage each of them:
The Details tab allows you to promote your Facebook & Twitter profiles. There are specific fields where you can include these links.  By having these links on your business profile, you are encouraging the public to follow you through channels other than your website. This helps build your online community and encourages brand loyalty.
Customize/optimize listing with logos, photos, etc.
Create a free Bing mobile site and use QR codes so customers can easily access your site via mobile. A mobile site allows you to upload your specials & packages for easy promotion. Furthermore, you can print out your QR code and place it at your business to provide an easy way for the public to learn more about the establishment and promotions.
Add deals or coupons and promote them for free on Bing PC, Bing Mobile, and Facebook. Your deals can be structured as a discount or added value to the reservation, such as a free fruit basket or a round of cocktails at the in-house bar. Once you publish your deal, these will be automatically promoted on the Bing search results as well as the "Deals" tab from Bing Mobile search. At the same time, you can choose to promote your offer through your Facebook page as well.
Overall, Bing Business Portal is a great step in the right direction for Bing. However, it is still quite a ways away in competing with Google Places. BBP lacks the ability to track impressions and actions in the same way that Places does.  The publishing speed of information is also much slower compared to Places, which in most cases takes at most a few minutes.
Sources:
Bing Community: http://www.bing.com/community/site_blogs/b/search/archive/2011/04/11/see-how-the-bing-business-portal-can-help-your-business-grow.aspx
Search Engine Land: http://searchengineland.com/in-challenge-to-google-places-microsoft-launches-bing-business-portal-for-smbs-72452?utm_source=sel&utm_medium=scap&utm_campaign=web
————————————————————————–
Contributed by: Zulema Romero, eStrategist, Milestone Internet Marketing