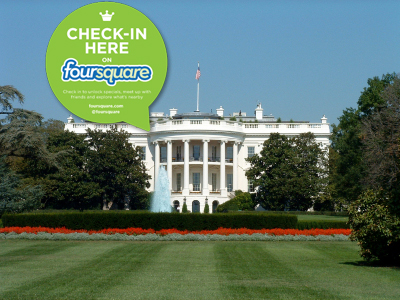 1600 Pennsylvania Avenue just became the most prestigious profile member to join Foursquare, a location-based social networking website.  The White House's Foursquare page currently has over 23,500 checkins, and several Foursquare Tips posted since Monday.
Foursquare lets people "Check In" to any location using smart phones from where they are at any given moment.  With over 10 million users, Foursquare is a great place to connect with those that are visiting your business. You can claim your Foursquare listing, list out important travel tips, or provide a special promotion.
Involvement in social media became a major media venue during the 2008 election campaign. Relying heavily on the internet to communicate with his target audience, President Obama saturated the SERPS with an active website, blog, Twitter, and Facebook page.  This gave him a competitive edge in the 2008 election over his competition.
You can use this same approach to reach out to your target market online. Whether it's posting often on your company blog, or keeping your customers up-to-date on your Facebook, Twitter, and Foursquare profiles, there are a lot of opportunities available to connect to your customers online.
————————————————————————–
Contributed by: Katie Flanagan, SEO Strategist, Milestone Internet Marketing