Google + newly released business profiles are a great opportunity for hoteliers to improve the visibility of their hotel and brand. Milestone has compiled five tips to help you increase visibility for your hotel's and take advantage of all the new features Google + business profiles have to offer:
Connect with your audience: Get closer to your customers and make your hotel more personal using circles to target specific groups for announcements and offers

Ability to separate weekday versus weekend guests, business versus leisure guests, family versus couples, and so on.
Hangout with your guests real time through video conference in Google+ Hangout.
Connect to more guests by adding the Google+ badge to your website

Signing your posts allow guests to meet the people behind the hotel


Videos: Access videos to hang out with guests real time, create webinar, and those offered by companies you follow.
Need video ideas? Recipes from the Chef and concierge tips about local attractions to see in the city are just a couple great examples


Visibility: Gain more relevancy for your page through cross-channel integration by creating videos, content, web pages, and images for guests and sharing on your Google+
Data: Google+ gives you invaluable information about your audience. Connect your webmaster and adwords accounts to your profile to gain valuable information showing the age, gender, and geo-location of those in your circles. You can also see content that guests have shared, reposted, and +'d most often through Google Ripple. Using information provided through your Google+ account can:

Allows you to target marketing campaigns to specific guests in your circles
Provide knowledge on what guests want to use for specials, packages and valuable information

Check-Ins: Stronger integration between Google+ and Google Places thanks to check-in offers now available through Google Places

Hoteliers can offer specials for those who check in through Google Places.
Guest's circles will see the check in via Google+
For additional tips and examples be sure to check out Milestone's Google+ business page here: https://plus.google.com/114497953800601905093
To start creating your hotel's Google + business profile, login to your personal Google+ account and click "Create a Google+ page".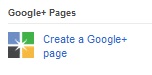 _______________________________
Contributed by
Manisha Kumar, Director of Client Services
Meagan Hasennoehrl, Sr. eStrategist