12 tips on Design, Content and Marketing for a mobile site – Pubcon 2011 – By Michael Martin, Kristine Schachinger, Keith and Rebecca moderated by Brain Breslin
1. Mobile queries are 15% of all searches today. Mobile is growing significantly. It will be quarter of all search by end of the next year
2. 5.1 Billion Own mobile phones and 4.2 Billion own a toothbrush so more people have mobile devices than toothbrush.. Funny ☺
3. 70% of all mobile search results in sales in one hour. Very short term. They are searching about immediacy and location.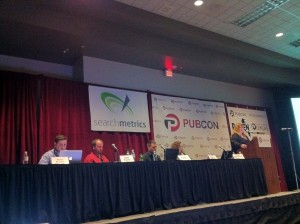 4. Every thing you do need to be integrated across all channels
5. Come up with mobile strategy which derive results such as Mobile coupons are redeemed 10 times more than standard coupons.
6. Mobile apps – Keep it simple, Drive conversion, Optimize for usability, Deliver on multiple platform
7. Challenges on Mobile – Small screens, Awkward input, Slow load times, Cumbersome navigation, Flash, Javascript, CSS, Success rate of completing tasks is much lower than on desktop
8. Mobile website – Best Practices
8.1 Using User agent detection to send the right people to the right site (using style sheet), send mobile users (iPhone users, Android, etc) to mobile site
8.2 Streamline User Experiences & Use mobile friendly format – Speed in important
8.3 Test on all devices
8.4 Create and submit mobile sitemaps for discovery of your content
8.5 Drive conversion
8.6 Monitor Data
8.7 Mobile friendly should be touch friendly
9. Real difference between site done for Tabloid & Smart Phones
10. Site done for Tabloid – Touch friendly, reviews, user agent detection, page load time, location data
11. Site done for Smart phones – Click to call, improved location data, Further page load reduction. Check out few elegant mobile sites Food spotting – Super simple, elegant
12. How to audit if your site is done right? – Firefox useragent switcher Extension Mobilize your site now- GOMO, Mobilizer, MobiReady & iPadPeek.com