Santa Clara, CA – June 16, 2011 – Milestone Internet Marketing, Inc. announces the release of its second generation online reviews and social media tracking solution, eBuzz ConnectTM 2.0.  The new high-performance version of eBuzz ConnectTM solves the key challenges associated with use of reviews monitoring systems by hotels.  eBuzz ConnectTM 2.0 features a completely revamped, intuitive dashboard with workflow and goals management integration – enhancing the usability and the actionability of the system.  In addition, the tool provides direct interfaces to Facebook and Twitter for users to handle all their social media interactions from a single interface within eBuzz ConnectTM.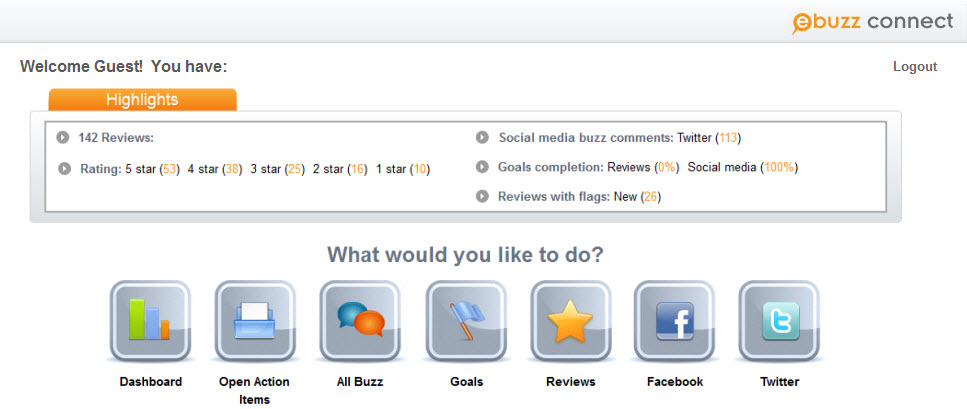 Milestone's extensive market research of the reviews monitoring tools and the usage of these tools by hotels indicated that one of the key challenges faced by hoteliers was related to effectively using the tool to enhance a hotel's performance.  Hoteliers are realizing the importance of online reviews and social media, and excited to see what guests are saying.  However, they just don't know what to do with those comments.  Some questions that hotels are challenged with include:
What should I do with online reviews?
What are the important things to worry about?
How much time should I put in?
What are the industry benchmarks and how do I know I am doing well?
eBuzz ConnectTM 2.0 resolves many of the challenges faced by hotels by providing a simplified and intuitive interface that helps establish review response workflow, easy segmentation of reviews and posts that need the most attention, and the ability to establish goals and benchmarks.  eBuzz Connect's major focus is on driving actionability by hotels. New system highlights include:
Newly revamped system provides an easy-to-navigate, intuitive dashboard with interactive charts and tabular formats.
Easily distinguish items that need attention with ability to email, assign, directly respond within the tool with moderation feature, and track management responses and lead times associated with the response.
Ability to set reviews and social media goals based on previous year's data or custom targets. eBuzz Connect 2.0 automatically calculates goal completion percentages to give a quick view of hotel performance and establish clear direction for hoteliers.
Direct interface to Facebook and Twitter with ability to interact on the channels from within the tool.  Detailed Facebook Insights and Twitter reporting.
Key marketing and sales insights including top keywords, channels, and top reviewers.
New online support dashboard provides FAQs, videos, articles, and whitepapers.  Additional account management support helps hotels establish goals and integrate reviews and social media monitoring in daily routine.
Group reporting for brands and management companies.
Enhancing the new system capabilities and dashboard, Milestone has added account management support to eBuzz ConnectTM from our team of account managers who are experts in SEO, Local, Social, and Reputation Management.  eBuzz ConnectTM account managers provide how-to guidance on reputation management, establishing goals, and integrating social media monitoring into a hotel's ecommerce workflow.
Price and Availability
eBuzz ConnectTM 2.0 is available today directly from Milestone Internet Marketing.  Standard pricing includes a set-up fee and a monthly fee that varies between $75 and $150 a month depending on the star-rating and the number of rooms in the hotel.  For a limited time only until August 15, 2011, Milestone is offering a promotional discount on eBuzz ConnectTM 2.0 for $895 for a 1 year subscription, including the set-up fee.   For more information and special pricing terms and conditions, call (888) 350-8396 x 2227 or email [email protected].  International callers, please use +1 (408)200-2227.
Press Contact:
Teresa S. Villaruz
Sr. Marketing Specialist
Milestone Internet Marketing, Inc.
Direct: 408-200-6871
Email: [email protected]
eBuzz ConnectTM Web: http://www.ebuzzconnect.com
Milestone Web: https://www.milestoneinternet.com
Milestone Blog: https://blog.milestoneinternet.com
About Milestone:
Milestone Internet Marketing, Inc. is a leading provider of internet marketing solutions for the lodging industry. Milestone's portfolio of services includes Hotel Website Design, Search Engine Optimization, Pay-per-Click marketing, Social Media Optimization, eBuzz ConnectTM Online Reputation Monitoring, etc. Milestone currently works with over 1000 hotels and drives over $500M in annual revenue for its clients. Milestone is a preferred vendor for several major lodging industry brands and works with leading management companies. Milestone is also well known as a lodging industry educator for its Hotels to HTMLs internet marketing workshops and book. To learn more, please visit www.milestoneinternet.com or call (888) 350-8396.