Effective content marketing in 2023 requires brands to prioritize high-quality, useful content creation that resonates with their target audience.
What is helpful content and why is it important? 
The cornerstone of helpful content lies in the word "helpful." At its core, helpful content allows searchers to obtain information relevant to their current ask. For content to be helpful, content should: 
Be written for people. Use language that's easy to read and digest, evokes trust, displays authority, and shares expertise. 
Speak to a specific audience. Know your target audience and how they like to process information. Understanding how to credibly solve their problems and communicate your solutions allows you to foster trust in your business offering. 
Ultimately answer questions. Present information to your user that speaks to topics they want to learn more about.  
Users, and in turn, Google, reward content that delivers a satisfying experience. This goes for specific articles as much as the entirety of your website and any other channels clients encounter your brand.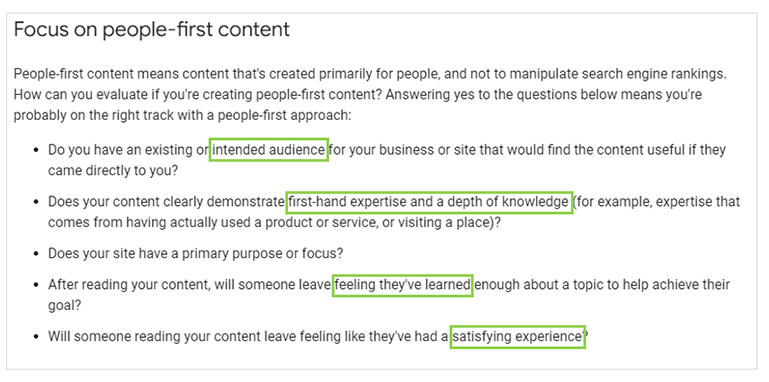 Evolution of Search and Content Marketing 
Search and content have evolved greatly in the last 15 years. Today, Google now rewards intent-based natural language that connects with human audiences.
In 2022, Google introduced the Helpful Content Update (HCU), which emphasizes Experience in addition to Expertise, Authority, and Trust as ranking factors. It increases the need for presenting the right online experiences to users based on their location and where they are in their buyer's journey.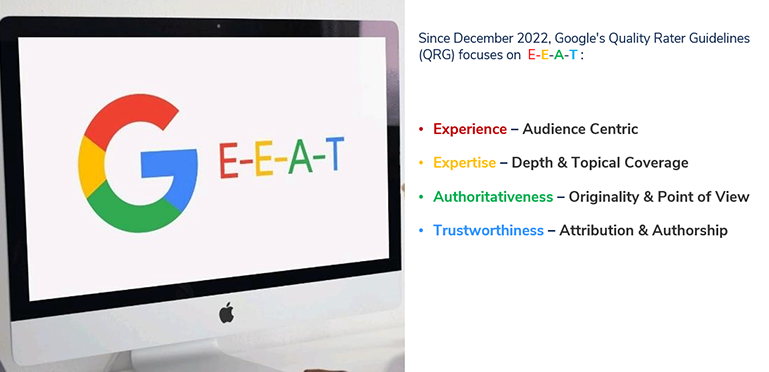 Why Content Discovery Matters 
Creating relevant and engaging content is critical for brands. However, all of those efforts may be for nothing if your prospects cannot see your content. It's a widespread problem where over 90% of content does not show up in Google searches. It's why being discoverable matters.  
Unsurprisingly, appearing in the top 10% search results comes with a handful of challenges:  
Many brands find themselves asking what they can do to make their content discoverable. At Milestone, we always start by identifying three critical areas: 
What are customers searching for and what do they expect to find in search results
Why customers are searching
How this content is delivered
Put your best digital foot forward by ensuring you address all senses. Make obtaining information easy and appealing: Pictures, videos, location details, and special offers all matter.  
Creating Intent-Driven Content for Every Stage of the Customer Journey 
Knowing just what content to create rests on understanding the user's intent at every stage of the customer journey.  
Informational Intent (80%): This stage covers questions that start with What, Why, and How and relates to statements like "I want to know _____." When creating content, the primary goal is to attract users new to your brand and create a desire to know more. You can accomplish this goal with content like guides, how-tos, tools, and FAQs. 
Navigational Intent (10%): This stage relates to questions about the business and might refer to thoughts or statements like "I want to go____." Here, the goal is to establish expertise and create a positive online experience with detailed information on location and products/services offered. 
Transactional Intent (10%): This stage is about converting and relates to statements or commitments like "I want to do___" or "I want to buy_____." During this pivotal point in the customer journey, your goal is to convince prospects to purchase. Videos, product information, comparisons, and stories, including reviews or testimonials, move potential buyers to become actual buyers.  
Remember, a typical customer journey includes several touchpoints. Not every prospect lands in your funnel at the same stage. Be mindful to create intent-driven content for each of those touchpoints.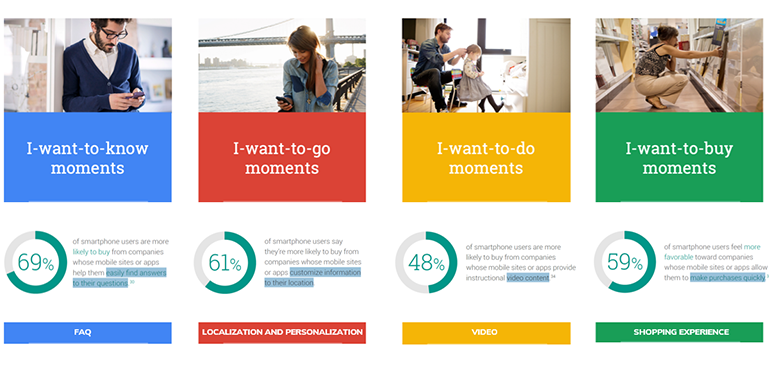 Using a 5-Step Plan to Develop Intent-Driven Content 
It's one thing to talk about a goal. However, following through with it is an entirely different story. As Antoine de Saint-Exupéry said, "A goal without a plan is just a wish." When it comes to creating intent-driven content, the best approach is to make a plan with actionable steps for covering each micro-moment along the decision making funnel. Milestone's 5-step plan breaks down as follows:  
Perform a content audit: Understand your current digital presence (Digital Presence Report), review existing content, ensure topics and intent match, and complete a competitor gap analysis to identify opportunities that will help you stand out.
Score your existing content: Rate your current content performance against quantitative, qualitative, and performance criteria.
Put together a content marketing plan: Develop a digital marketing plan based on your content audit and scorecard results. The strategic calendar for your content deliverables closes three types of gaps: informational, navigational, and transactional.
Create helpful content: Leverage AI tools and finetune the content prompt output by personalizing it. To create truly helpful content for your audience that is also recognized by search engines, your content needs to meet EEAT criteria. Present unbiased, first-hand experience. Show up as expert by anticipating and answering questions your audience has. Add author details. Ensure your audience can trust you by delivering accurate, honest, safe, and reliable content. Lastly, leverage and optimize your existing content before crafting new assets to close topical and customer journey gaps.
Review reporting and adapt approach: Frequently analyze how content performs against your KPIs. Adapt your approach as needed and set revised goals monthly or quarterly. 
If you find yourself needing help with a digital presence audit, we would love to help. Email us at [email protected] for more information.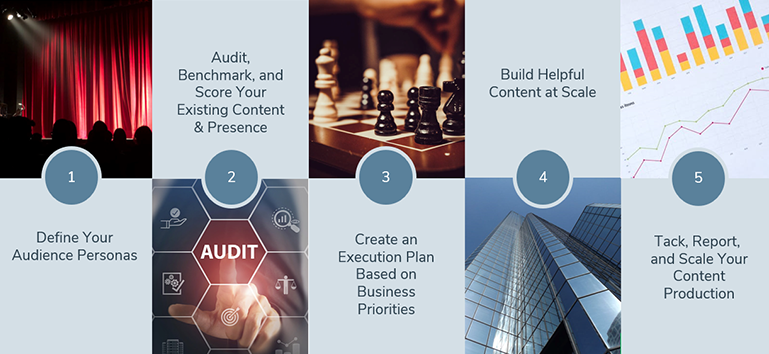 Your Content Scorecard 
How do you know that your marketing efforts are paying off — or flopping? Numbers don't lie. Milestone's takes a unique approach to grading content by evaluating your content against three main categories and their respective subsets. 
Quantitative metrics: How available and visible is your content? Availability is determined by the number of indexed pages and your site-level content gaps. Your visibility is assessed by the identified group of terms covered in percent. 
Qualitative standards: How many Q&A and rich results (with attributed authors) appear in search results determine your grade here. We rate the number of featured snippets, people also ask, as well as FAQ appearances.  
Milestone further measures your entity coverage. We look at the number of entities covered across your site, as well as evaluate page-level entity gaps. 
Performance criteria: We'll calculate organic traffic and click-through rate under this performance criteria. Engagement is determined via bounce rate and time-on-site metrics along with page visits. Milestone grades conversions by looking at conversion rate, number of transactions, and revenue (attributions by page). 
Typically, content scores are given at the beginning of an engagement and during your quarterly business review.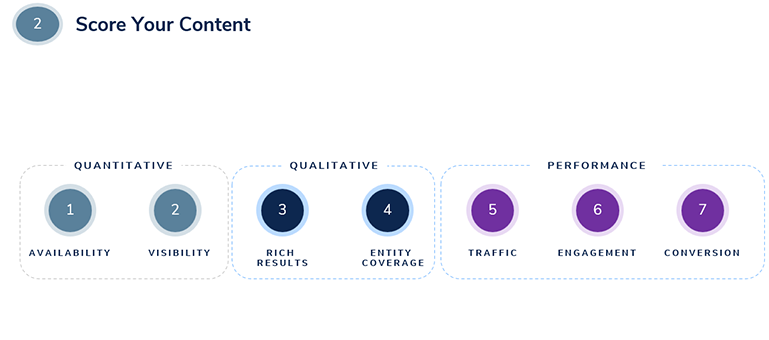 Driving Business Results with Helpful Content 
Driving business results with helpful content requires a strategic approach rather than just creating content haphazardly. Building an audience persona by understanding your target audience deeply, including their preferences, decision-making criteria, and timing, is crucial.
Getting your content structure right is also essential for delivering truly helpful content. This includes crafting a compelling headline, a lead-in that promises expert insights, original customer-focused content that is personable, accurate, and honest. Back the content with insights and stats that demonstrate your expertise and close with a clear call to action to guide your readers on their next steps. Following a measured process-driven approach and optimizing your content structure will enable you to create helpful content at scale, leading to better business results.

Conclusion: Putting Helpful Content to Work.
Creating helpful content that resonates with your audience's personalities throughout their buying journey is essential for success. To close gaps along the buyer's journey, analyze, benchmark, and score your existing content.
Align your content efforts by selecting the right success key performance indicators (KPIs) to measure your progress. Prioritize your content strategy based on your business goals and growth potential. Develop a plan, execute on it, and track performance. Scale and pivot as needed.
Optimize and enhance your content by closing topical gaps. Leverage visual media, such as images, videos, and Web Stories to engage your audience. Utilize automation and AI tools for creating first drafts of your content and enhance it by adhering to Google's EEAT criteria. Remember that truly helpful content keeps on giving. Helpful content generates impressions, traffic, leads, and, ultimately, sales for your business.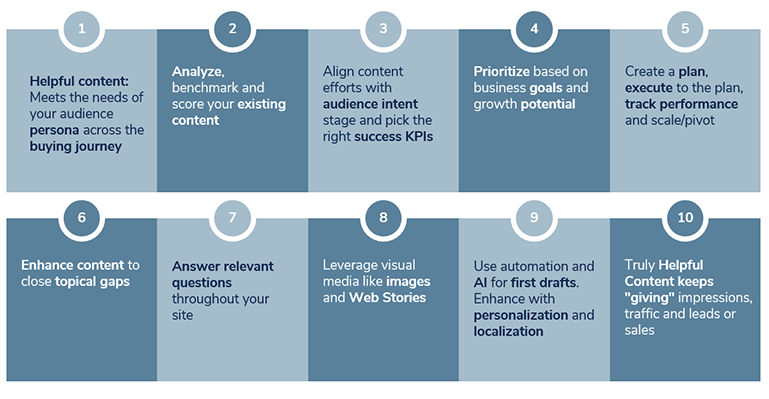 If you're ready to explore how you can adapt your marketing strategy and include helpful content in your digital and omnichannel efforts, we'd love to help. Contact our team at www.milestoneinternet.com, or email us at [email protected] to get started.