Twitter goes visual
Ahead of their I.P.O., Twitter did something they have been refusing to do for years: they changed the format of how tweets appear in your newsfeed and on your profile. Photos from Twitter and videos from Vine now show previews directly in your feed without you having to click a link.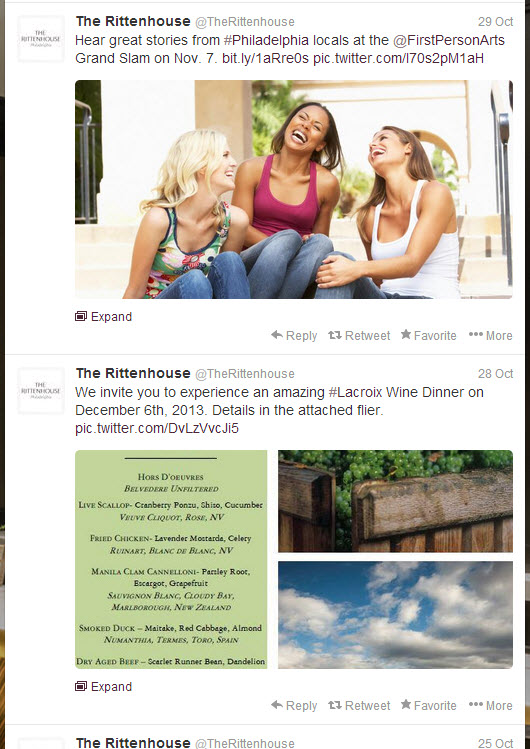 While this may seem minor, it is a pretty bold move for Twitter. Having refused to alter their 140-character format for so long, this change allows Twitter to join the rest of the social world, putting your visual creativity front and center in your tweets.
The immediate impact for hotels on Twitter is the opportunity to really make your tweets stand out among competitors in the fast-paced noise of the Twitter newsfeed. Think of the average user, scrolling through hundreds of tweets with plain text. Suddenly their newsfeed is hit with your bright image – your newly renovated lobby, the view of the ocean from your rooms, tonight's dinner special in the restaurant, people enjoying the zen atmosphere of your spa, the farmer's market next door – the opportunities are endless. Jump on this now before anybody else does, and make that visual impact to get you more visibility, engagement and traffic to your website.
It is critical to note that ONLY photos uploaded directly to Twitter will be shown in this format. This means that any photos you share through most third-party applications will not be eligible for this new format, and will continue showing as a simple URL. This includes all the popular applications like Instagram and Twitpic. We are pleased to announce that MediaConnect360TM supports this new Twitter functionality, and all images shared to Twitter from MediaConnect360TM – including anything you've uploaded in the past – are being showcased in the newsfeed.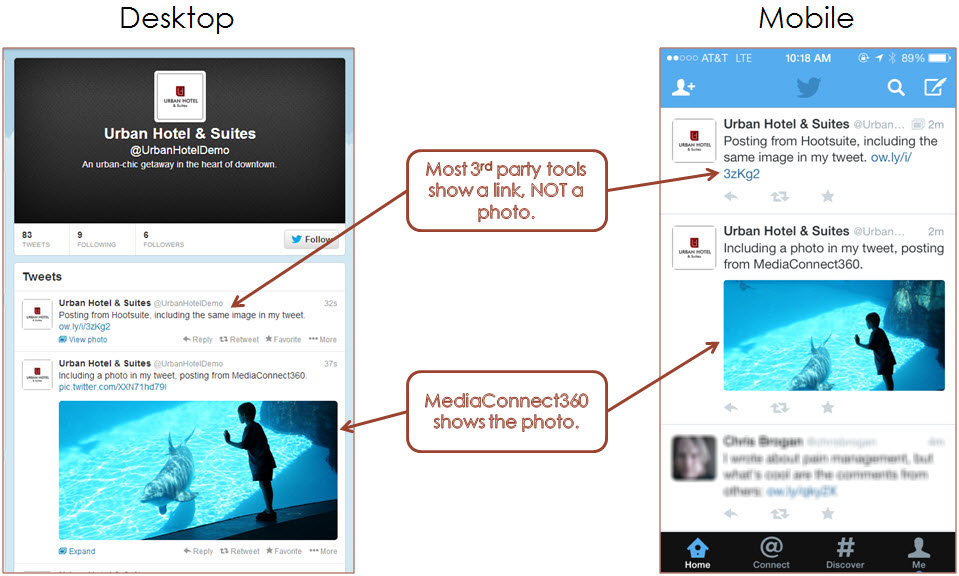 Longer term implications
With this update hitting before the Twitter I.P.O,, it is fairly clear that they anticipate this new functionality will boost ads. The more people Twitter can get to share images and videos, the higher the click through rate (CTR) will likely be on their ads. Why? Because if the only visual items in your newsfeed are ads, they are easy to tune out and avoid. But if your newsfeed is full of images and videos, separating the ads from the content you want becomes more complicated, and it's more likely that an ad can accidentally grab your attention and get you to click.
If the rollout of photos and videos is well received by the Twittersphere, it is also likely that we will see additional media previews start to show up in the newsfeed. Twitter has been testing several types of previews, like articles and images or videos from external sites.
Image and video previews are already live on Twitter.com. To get this on your mobile device, you will need to download the latest Twitter app. Follow these links to download or update Twitter for your iPhone or your Android.
Additional reading: Picture this: More visual Tweets
_____________________________________
Contributed by:
Mike Supple, Director of Social Media