Now that Facebook's Timeline layout has been entirely rolled out on all business pages, it's time to take a better look at some of the challenges and questions that have been brought up most frequently during this change, along with some of the opportunities that the new interface presents.
What additional functions does Timeline have?
Timeline, along with a new look, came with some great new functionality. Not only do you have additional access to a variety of admin features through the admin panel (as described in further detail below), but you can also:
Pin a post to the top of your page for up to one week. All other posts will drop below this featured posts
Highlight Posts (by clicking the star on your status update) which expands the post to the full width of your page
Create custom app icons for you applications or pages you've added to you Facebook page
Add events and Milestones to your timeline that indicate dates you would like to highlight
What limitations does Timeline have?
With the good came a bit of the bad. Upon transitioning to Timeline:
You can no longer set your custom application or page as the default landing page of your Facebook page.
You are not permitted to put any marketing message, call to action, or promotion on your cover image
Have user comments display directly in your Timeline (or, in the same effect, post directly on other's wall)
How do I access my admin panel? What can I do with it?
Your admin panel is located on your actual Facebook page now, above your cover image. If you don't see the panel, click the 'Show' button: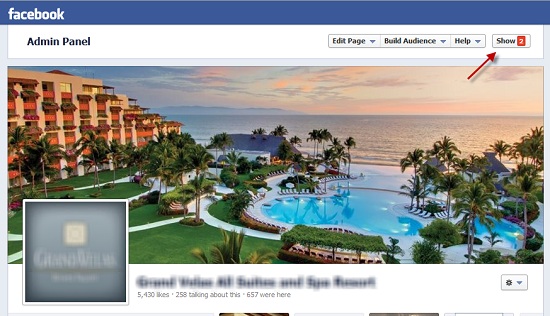 From this admin panel, you are able to see all new activity on your Facebook page, whether it be new likes on the page or posts, comments on your wall directly or on posts, and more. You can also access your direct, private messages to your Facebook page, a new feature that was added for business pages upon the transition to timeline.
You'll also find your 'Insights' of Facebook page analytics in this panel, charting activity on your wall, engagement, and reach back 30 days; you can click this box on the panel for more detailed analytics.
Finally, you have access through the top bar the settings of your page, with access to your basic information, settings, permissions, and importantly, your admin roles (where you can add new admin or change their access level).
Where do I find comments left by fans?
Comments left by fans will not only show in your admin panel's notifications, but now it is aggregated on the upper right hand corner of your Timeline in the 'Recent Posts by Other' panel. You can manage these comments by clicking 'see all'. Here you are able to click on the X next to the post, and either allow, highlight, hide, delete, or mark as spam.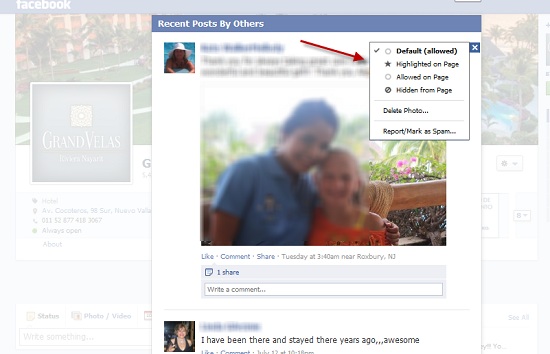 How do I merge multiple business pages?
In order to merge multiple business pages that exist for one business, the pages should all be claimed under the same admin's account.
CLAIMING THE PAGE – To claim a business page:
Log into your Facebook account
Visit the page that is a duplicate, unclaimed page
Click 'Do You Know The Owner?' and put in your email address associated with your Facebook account
If you check your email, you should have received an email with a link to claim the venue. After following this link:
Follow the prompts to claim the page, proving your affiliation with the business.
BEFORE YOU MERGE – Once you gain ownership of the duplicate page, verify or update a few key points of the page:
If any of the profiles you'd like to combine are actually personal Facebook profiles and not Facebook Pages, you'll first need to migrate the personal profile to a Facebook page.
Check to make sure in the admin panel that you are the "admin" on all Facebook Pages that you want to merge/combine.
Within account settings, change the extra page's name, address, phone number, and other information to something very similar to the correct page's given information (this will be found under the username section)
MERGING – To merge the pages:
Go to the page that has the most likes, as Facebook requires the page with the most likes to be the one that other pages are merged into. All activity, content from wall, images, etc from page with less likes will be lost, and the only thing that will transfer over is check-in and like value)
Access your admin panel at the top of the page by choosing the "Edit Page" option, and select 'Update Info'
Choose "Resources" from the left-hand panel.
Select the link that says "Merge duplicate Pages' and follow the prompts that ask you to select and merge the pages. If the link to merge multiple pages is not available, be sure that all of the points above in the 'Before You Merge' section are complete.
ALTERNATIVE TO CLAIMING – If you can't claim the page, your second alternative is to 'Report the Page' by following the below instructions:
Log into your Facebook account
Visit the page that you would like to report as a duplicate
Click the settings wheel on the upper right hand corner of the page, click report page

All in all, the transition to Timeline has proven to give businesses an opportunity to create a more visually impactful and content rich experience on their Facebook pages, particularly so when leveraged to their full potential. Stay tuned as new FAQ's arise about the channel!
________________________________________
Contributed Brittany Bingham, Social Media Manager