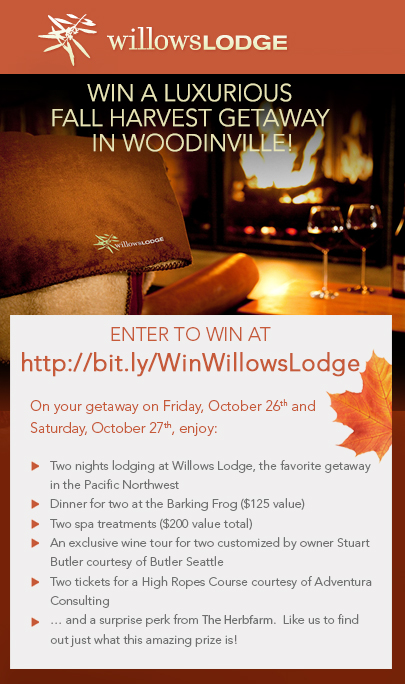 One of the challenges that hoteliers (and many other businesses alike) face when promoting their business on Facebook is how to gain fans: and high quality fans for that matter. In a recent social promotion (hosted on Facebook, but also involving many other social channels), Willows Lodge in Woodinville, Washington offered existing and new Facebook fans the exciting opportunity to win a great getaway. The prize consisted of a two night stay at the luxurious hotel, dinner for two at Barking Frog, two spa treatments, a wine tour, high ropes course tickets, and a dinner from The Herbfarm. The sweepstakes was aimed at capturing a greater fan base, engaging their existing fans, and increasing the social buzz around their property
This Facebook sweepstakes consisted of a fangated landing page that required liking the page for entry, a simple name and email address entry form, and a confirmation page that drove a second prize entry process by following @willowslodge on Twitter, tweeting a specific phrase, following the property on Pinterest, and pinning a specific promotion image (seen to the right). The sweepstakes involved:
Two week entry period from October 4 – October 18th
PPC Budget: $300 total ($280 to display advertising, $20 to promoted posts)
RESULTS: This short sweepstakes saw some very promising results. During the 14 day entry and promotion period, the sweepstakes drove:
1155: new Likes on the Facebook page
48.7%: increase in total fans in this 14 day period versus lifetime prior
261: unique entrants via the Facebook application submitting email address
28: retweets prompted from the confirmation page of the sweepstakes
7: pins on Pinterest of promotion image prompted from the confirmation page of the sweepstakes
33: visits to the sweepstakes application via the tracking URL in the Pinterest share image
521,509: total Facebook impressions during the sweepstakes
238,732: total paid impressions during the sweepstakes
250%: increase in referrals to website from Pinterest (versus 2 weeks prior)
Not only did the Facebook page see a significant growth in new likes during the entry period, but the sweepstakes also had several added perks, including the engagement of a very socially savvy winner; the winner of this great prize tweeted, blogged, and posted her way through the weekend! Willows Lodge was able to generate a great deal of social buzz around their brand while engaging their audience with the opportunity to win.
For more information on running a social media sweepstakes, or any of the many other social media marketing services that Milestone Internet Marketing offers, visit our website describing our social media services.