Why online reputation management is important and how to do it
Social media has given a public voice to anybody who desires to talk about your brand – good and bad. Knowing how to monitor what is being said about you is crucial, and once you know where the conversations are happening, there are ways to become part of the discussion and control your message. Some great insights were given by Todd Friesen (@oilman), Rhea Drysdale (@rhea), Andy Beal (@andybeal) and Tony Wright (@tonynwright) at the 2010 PubCon in Las Vegas.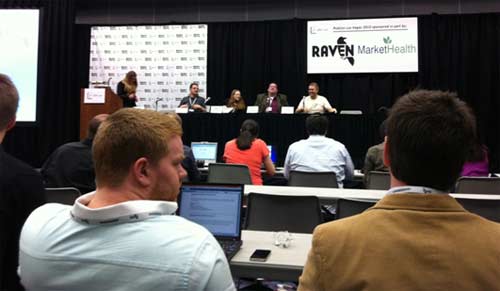 Why is Online Reputation Management Important?
If you have negative listings on the SERPs you want to push them off the top 10
You want a top 10 that is all positive and where you control the content
It is way too easy for people to complain about things online and have a voice
80% of adults are more likely to buy (or not buy) a product based on recommendation
90% of consumers trust recommendations/reviews (real revenue impact)
87% of people believe the reputation of a CEO is important
83% of companies will face a crisis that will negatively affect share price up to 30% in the next 5 years
How can you control your reputation?
Own your SERP "ballot box" – the top 10 is akin to where people vote on your brand
Blog on a subdomain (gives you an extra listing on the SERPs rather than having www.domain.com/blog)
News on a subdomain
SEM campaigns – PPC ads – buy your brand and control the message to a certain extent
Affiliate sites – create your own if you don't have them
Job postings – post an ad for a secretary and never fill the position
Social profiles – Flickr, Squidoo, Scribd, LinkedIn, Twitter, YouTube, Twitter Lists (make one of YOUR company), Facebook, Wikipedia, Monster, Dailymotion, WordPress, Indeed
Google is also a heavy factor as to why reputation management is important. By including news, images, videos, local, real time and more into their search algorithms, Google is making it much easier for negative reviews to rank for your brand. Don't make the mistake of thinking reputation management doesn't matter; because once you have a problem it will become all-consuming. Preparing ahead of time and controlling your message and help you avoid a serious crisis.
A great tool to find out what terms are populating for your brand on Google's instant search is to use their API: http://google.com/complete/search?output=toolbar&q= then enter your brand or keyword at the end. Negative terms are difficult to replace because they are based on long-term search trends, but this tool gives you a starting point to know where you should focus.
Ok, so a lot of people may be talking about your brand online. Why should you track it?
reputation management
measure success of campaigns – get instant feedback
decentralized customer service – empower your employees
spy on your competitors – are they having problems with products or customer support; can you reach out and have a positive campaign based on competitor failures
track industry news – launch products to suit consumer needs
improve press/blogger relations – know what they are talking about so you can get featured
Set Realistic Goals
Tools to Use: The Big Five
Google

Google.com/alerts
go with comprehensive and "as it happens" – use email alerts or an RSS feed

Icerocket.com

Particularly good for monitoring blogs
Gives you an RSS feed for any search term you're marketing

Twitter

Search.twitter.com – better tools than in the main interface – including region, certain users, etc
Set up RSS feeds for it

Keotag.com

Keotag.com is a great tool for monitoring all social networks at once for specific keywords and get RSS feeds. Get OPML file

Netvibes

Set up a personal page for monitoring
Smart phone friendly – easy to check on the go
Once you have all of this great data, it is important to act on it. Use the data to refine your PR/Marketing messages. Address issues and increase positive campaigns.
Of course with all of this monitoring, you are likely to come across some negative reviews. Knowing when to respond and how to respond can turn a potential crisis into an opportunity to convert a critic into a loyal customer.
Creating a formula for online reputation – how do you know when to respond?
Items to consider

Reach of the venue – is it a tiny blog that 5 people read?
Influence of the poster – is it David Pogue?
Tone of the content – just because it is critical doesn't mean it's negative
Follow-up on the post (watch for on-topic vs. off topic)
Viral effects – is it spreading?

When to respond

Depends on your brand and resources
Reaction to every mention requires continued reaction to every message

If you start and then stop, you can damage your brand
Set proper expectations for your followers – and be prepared to do customer service via social media channels
The overall message is that with all of this potential information about your brand floating around the internet unchecked, an opportunity exists for you to become part of the conversation and control the message. By forming a plan, monitoring the conversation and acting when necessary, you can help maintain a positive global view of your brand.
————————————————————————–
Contributed by: Mike Supple, Milestone Internet Marketing