Paid Media – Driven by data and personalization
For the first three parts of this series click here for: Mobile, Content, User Experience This blog post covers one of six chapters you will find in our eBook. Download the eBook now for the full experience.
OMNICHANNEL CUSTOMER CENTRIC PAID DIGITAL MARKETING STRATEGIES
Any successful paid media campaigns starts with your business goals. Depending on your business need, you will then map your digital media strategy, leveraging customer data to grow loyalty and business, using audience targeting and applying personalization strategies, continuous testing and fine-tuning based on results and performance of your campaigns. You can learn more about our omnichannel approach by visiting the digital media advertising section of our website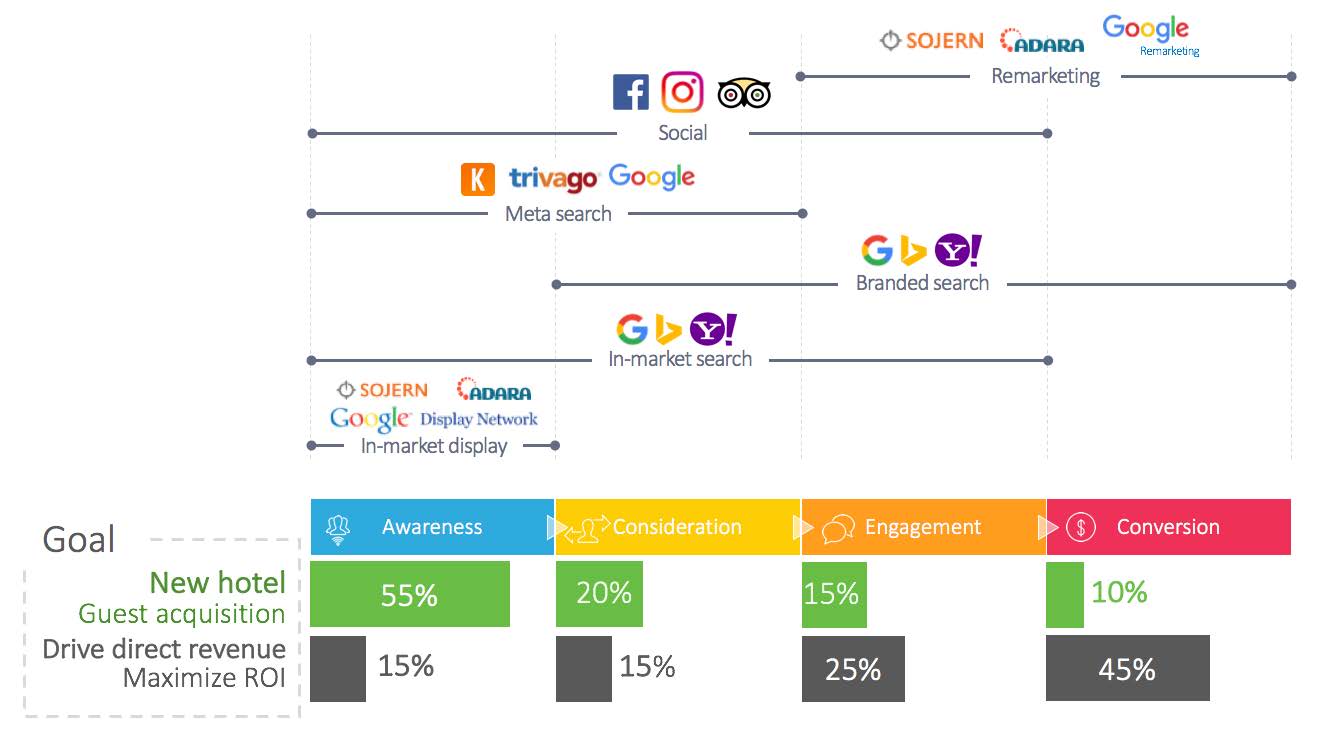 SEGMENT YOUR AUDIENCE BASED ON DATA AND CUSTOMER BEHAVIOR
With your paid media campaigns and channels aligned with your business goals, the next step is to leverage the wealth of data and intelligence available – both from your own CRM data as well as from available advertising platforms – to create campaigns that are highly targeted based on customer behaviors and target demographics.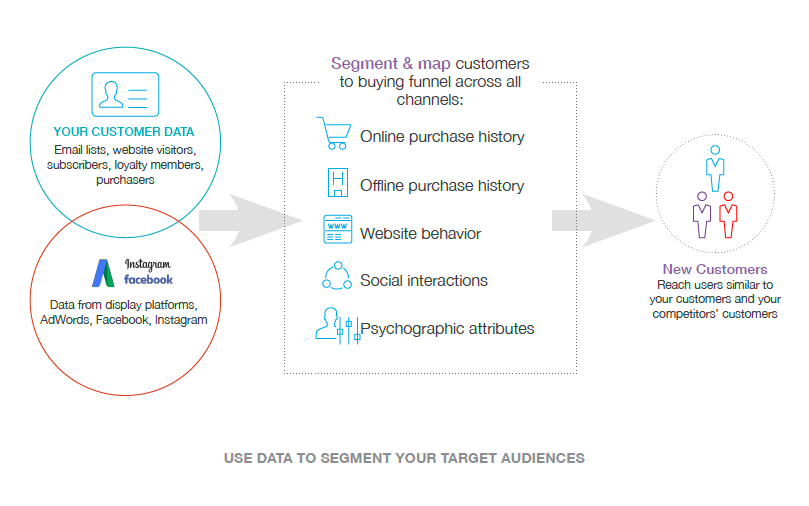 TARGET SIMILAR AUDIENCES
Leverage your knowledge of your customer base to create targeted campaigns that focus on "like" consumers and provide offers to drive a booking to your website.
As a business, you need to ensure that all your marketing efforts and strategies are aligned with business goals and objectives. The same goes with Paid Media strategies – they should be part of a holistic Omni-Channel marketing strategy and align with your business goals and objectives. Your digital media strategy should consist of a well-thought out plan to gain efficiencies in several areas:
TREAT NEW CUSTOMERS AND BRAND LOYALISTS DIFFERENTLY
If your primary goal is to gain and retain significant share of customers who are loyal to your brand, then your marketing strategies and tactics will be slightly different than if you are focused on just acquiring new customers.
PRIORITIZE BRAND-LOYALTY
Like any business, before focusing on new customers, it is critical to create an action plan focused on retaining brand-loyal customers. In 2018 you will need to own 100% of share of impressions for your branded terms, as close to a 100% rank share by allocating and maximizing budget for branded campaigns through consistent omnichannel personalized campaigns across devices. Deploy your marketing channel strategy based on CRM data, retargeting customers who have visited your site and might not converted etc.
GAIN NEW VISITORS
Once you have gained a significant share of current customers, you can deploy strategies like in-market campaign, business focused and destination-specific "things to do" and FAQ campaigns across multiple online channels to attract new visitors.
Click the link below to download the full eBook: