IN 2018 MOBILE WILL CONTINUE TO TAKE CENTER STAGE 
This is the first section from our new eBook: "6 Digital Marketing Trends that will Matter in 2018." A link to download the full eBook is at the bottom of this article. And for more information on how to implement mobile strategies visit us here on our website
According to Mary Meeker's 2017 Internet Trends Report, the typical US consumer spends more than 3 hours per day on their mobile devices. 2018 will be the year to maximize share of mobile search and establish robust strategies around mobile. Searches from mobile devices that include the word "best" have grown by 80% in the past two years.
The chart below shows the percentage of searches carried out on a mobile device across different industries and shows interesting variance by industry.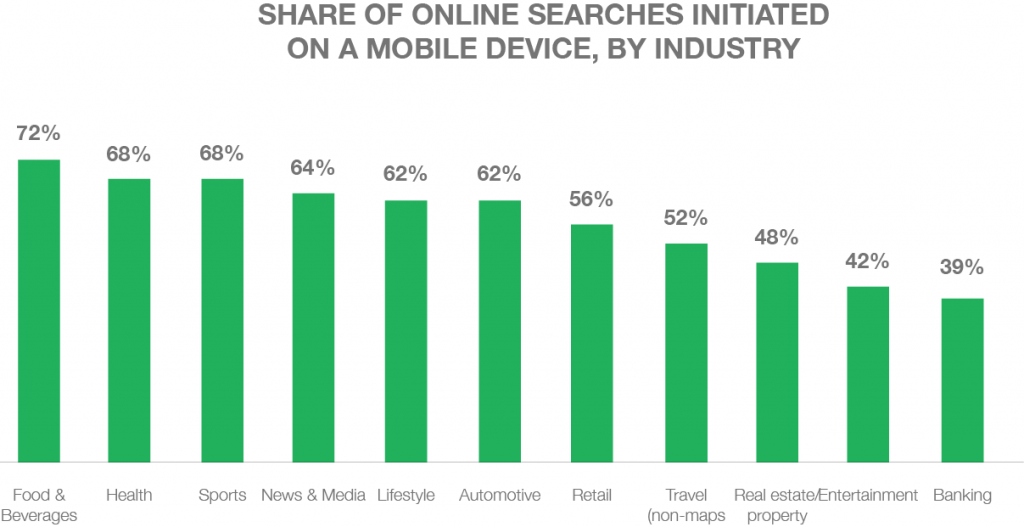 For most verticals, mobile share has surpassed 50%. With mobile replacing the desktop as the primary search platform, search engines worry that slower connections will create poor user experiences. Google has already tested mobile-first indexing for many verticals and plans to start rolling it across all industries this year. Mobile first indexing means that sites with outstanding mobile experiences are likely to be ranked higher than those that provide a poor mobile experience.
MOBILE-FIRST USER EXPERIENCE 
The term "mobile first" has been around nearly as long as the smartphone itself. What does the term mean though? For a long time, "responsive" websites were considered mobile-first designs – and many still cling to that belief. Mobile First, however, is a completely different approach to designing user experiences that will take center-stage in 2018.
The key concept behind mobile first is to design your website for mobile intent, not desktop user intent. Users learned to use mobile devices with apps, that means they want a rich, app-like experience – even more so when they are processing transactions on mobile devices. Make it easy for them with calls to action that are clearly visible – whether these are prices or buying products and services. The site technology can be adaptive or responsive, but the UI (User Interface) must provide a true, "app-like" mobile experience.
Click to Call
Top Reasons to Stay
Prominent Book Now button
Rooms with Images and Rates
Reviews
Maps
YOUR MOBILE SITE SPEED IS KEY 
Using a mobile device implies urgency, and if you can't compete, you'll lose. According to Google, more than 53% of mobile users will leave a website if the site does not download in 3 seconds. In 2018, it will be even more critical to ensure that your mobile website is FAST or your conversion will suffer significantly.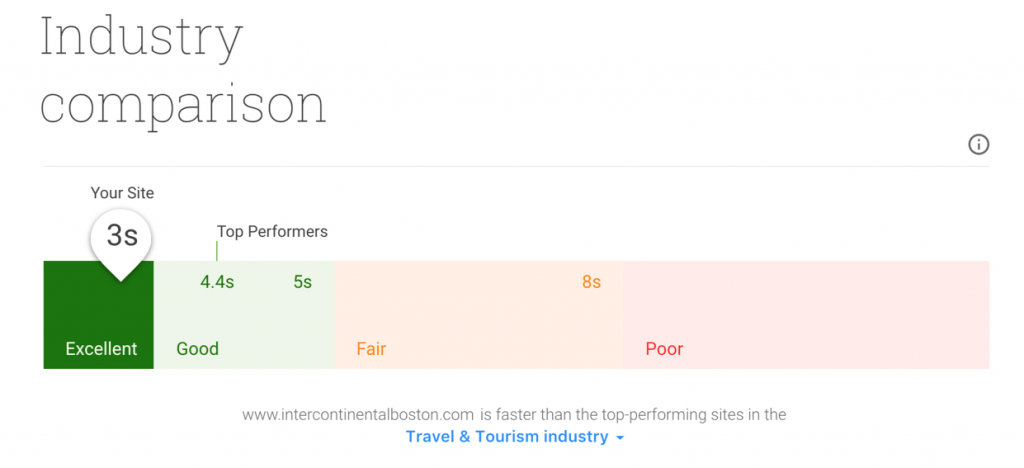 OPTIMIZE YOUR MOBILE SITE FOR USER EXPERIENCE 
Providing an optimized mobile site experience means following best practices for Mobile SEO – from proper tags to content and keywords, ensuring an amazing user experience. Make sure your mobile site does not block valuable, crawlable resources like images, CSS files and content.
PROMOTE YOUR MOBILE SITE – MOBILE ONLY PAID CAMPAIGNS 
With the increased mobile usage, mobile-only campaigns will be a great means of acquiring new customers and for converting loyal existing clients. Allocate budget for mobile only campaigns, leverage responsive ads and optimize your ads by device type. It is critical to ensure that your optimization strategy is tailored to the mobile device and does not just follow exactly what you are doing on desktop and tablet.
AMP SITES BECOME CRITICAL 
Deploy AMP pages to give users lighting fast load times and to secure top of the funnel traffic – people who are just "browsing" and looking during the awareness stage. AMP (Accelerated Mobile Pages) will also become increasingly more popular because of mobile first indexing.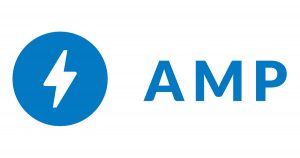 PWA /PUSH NOTIFICATION FOR BETTER ENGAGEMENT 
Progressive web apps (PWA) will be a key addition to your mobile arsenal in 2018. PWA allows you to re-engage with customers through push notifications. As you think about your omnichannel strategy to market any event or special, leverage the power of push notifications on your PWA-enabled website to re-engage visitors.
LOCATION-BASED CONTENT 
According to the report published on consumer trends, smart phone users are significantly more likely to purchase from a business which has mobile sites with content that is customized to their location.
Mobile searches are (by definition) based on context, and that includes location. This gives businesses a huge opportunity to market locally. For instance, 50% of local mobile searches lead to store visits, so having accurate information on location and hours of operation are critical. People on the go need fast answers, and optimizing your site for local nearby searches on mobile generates relevance and increased chances of discovery.
A mobile-first strategy considers the rise of voice searches by facilitating a search experience through personalized answers. Well-crafted mobile strategy is must have for 2018 and will really help business gain significant share.
To learn about the other 5 keys, download our eBook below: