In order to increase visibility and have better ranking for local search, local citations and links play a very crucial role.  According to 2011 Local Search Ranking Factor Survey from Mihmorandum, "Quality of Citations" is the 4th most important SEO factor for Local Search ranking.  Indeed, local referring sources bring more site traffic, better conversion, and SEO relevancies.  We have provided some tips below for local businesses to reinforce local marketing efforts.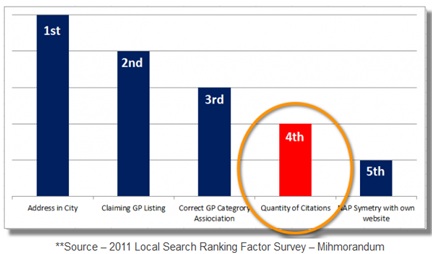 Find Local Citations from Competitors:
First, find out your local competition and simply use online search to see where they are listed or cited.  For example, we did a quick search on "business name" and "local number" (use phrase match), and we quickly got good local citations related to the area.
Google Analytics for Link Building Opportunities:
Google Analytics can also provide insight on local link building.  In Google Analytics look for the top referring city and define which area you can go after for local link building.
Once the local area is defined, then simply switch the geo location on Google and search for "geo-modifier + directory" or "geo-modifier + business directory" to find the links.

Blog Link Building:
Since social signals have become the key ranking factors, marketers should also look into social channels such as blogs for link building opportunities.  Blog link building can not only create social signals, but also can improve social engagement.  For this method, you can look for "industry + blog" or "geo-modifier + blog" to find the blogs in the area.
Create Packages to Drive Conversion:
Once local referring sources start to drive traffic, then it's time to make them drive revenue!  If certain local links are constantly bringing good traffic, then marketers can create incentives to respond to this signal.For example, we found out "blueman.com" is one of top 10 referring sources driving traffic to one of our Chicago hotels,  so we created a "blue man group package" to convert traffic.  As a result, this "blue man group package" became one of the top converting pages direct people to the booking engine.

Sources:
Search Engine Land
http://searchengineland.com/where-to-get-citations-for-local-seo-105667 http://searchengineland.com/top-50-citation-sources-for-uk-us-local-businesses-104938
——————————————-
Contributed by: Alice Le, Sr. eStrategist