Local marketing for businesses has evolved from the basic focus of UNAP and simple SEO to a more holistic approach to achieve online presence globally but more importantly, within the geographic boundary of the user to match local intent, considering that half of all searches carried out online have local intent.
46% of all searches online are local – Google Conference
72% of customers that carried out a local search visited a store within 5 miles
Local businesses have to identify their audience, market trends, channels, and then optimize their business by managing their listings, SEO, landing page design and development (focused on user experience), and manage their reputation effectively and to help them get a footing on search. Milestone has created a holistic and comprehensive Local framework that takes businesses through the entire customer journey, leaving no stone unturned.
5-step local framework for businesses to be the relevant and prominent click on search
As quoted by Milestone's President and Founder, Benu Aggarwal, "Google is the now the homepage for businesses and not their websites as was the case few years back." With search evolving and Google able to cherry pick the most relevant answer that suits the conversational tone of the query, rich results have given searchers all the information they require without having to click on the website, and this has propelled the customer buying journey to ensure faster turnarounds for businesses. Keeping this in mind, we have created a holistic 5-step framework for local businesses: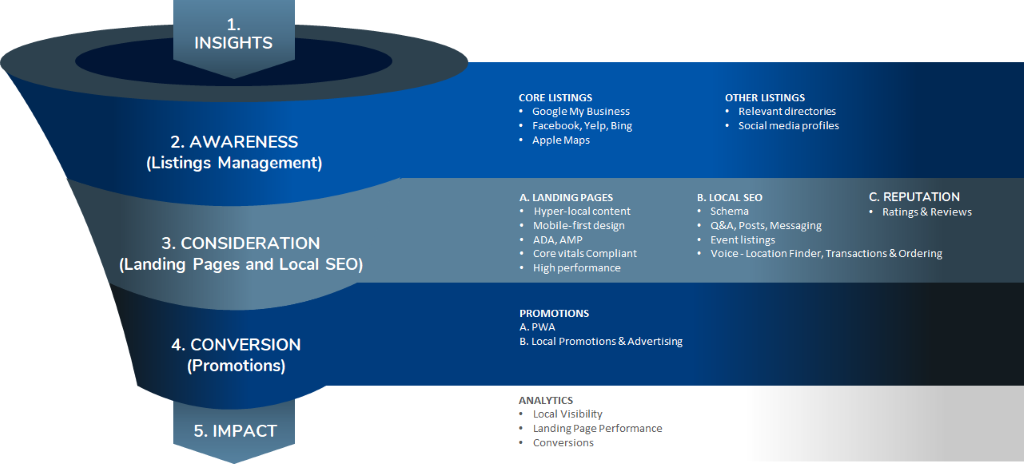 Step 1: Insights – Build your strategy with audience insights
Prior to optimizing your business to be visible on search, the first crucial step is to gather key insights, which should revolve around the latest trends on search, the type of topics that your business needs to address, your business's presence on channels and its effectiveness, and your competitors' online strategy and key numbers. Once this is done, the next crucial step is to use the insights and create content using customer intent. This can be done in 5 simple steps: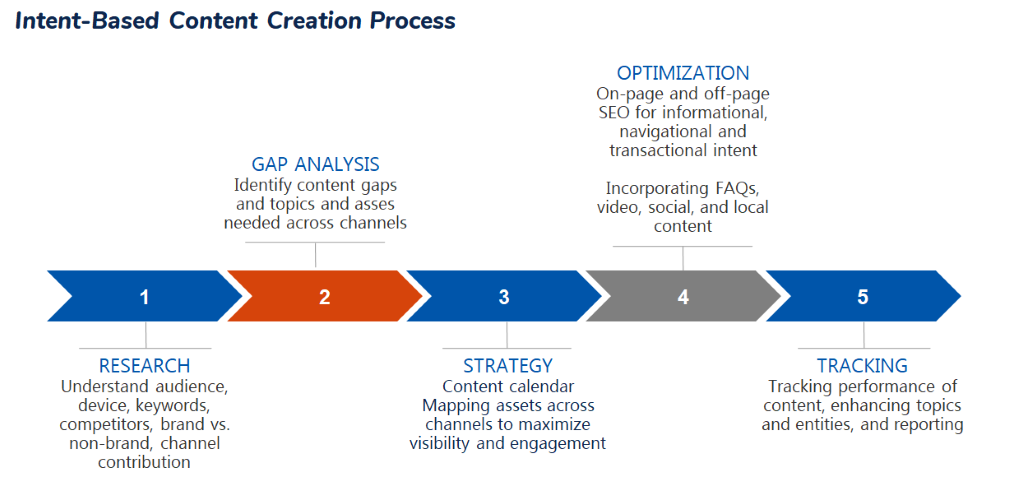 Research: This initial step falls in line with the aforementioned points on using insights to your business's benefit by understanding your audience, competitors, branded Vs. Non-branded traffic, and channel contribution to comprehensively build the foundation of your content creation to match customer intent.
Gap Analysis: Using the insights that you have gathered, identify the content gaps and topics that work for local business queries and assess what's needed across channels.
Strategy: Once you have a clear picture of the content that your business requires, create a content calendar which maps assets across multiple channels in order to maximize visibility and engagement.
Optimization: Ensure on-page and off-page SEO to suit informational, navigational and transactional intent. Incorporate content assets such as FAQs (suits conversational tone of queries), videos, social, and local content to appear for relevant searches and gives searchers all the possible answers about your business.
Tracking: The content creation process is cyclic and forever evolving and to take the next steps, tracking the performance of your content is imperative. Work on constantly enhancing your topics and entities to suit customer intent and make sure that your business has comprehensive reporting system in place.
Step 2: Create awareness of your business on search by building a comprehensive local presence
Building local presence especially for a multi-location business can be a challenge primarily because the data gets dirty as it is channeled from the main source to aggregators (GMB, Google Maps, Yelp, Bing, etc.), apps and listings (Uber, Yelp, Waze, etc.), and finally to the end points (Desktops, mobiles, tablets, voice assistant, tablets). Having a centralized system to keep a track of the data across all your locations is a must.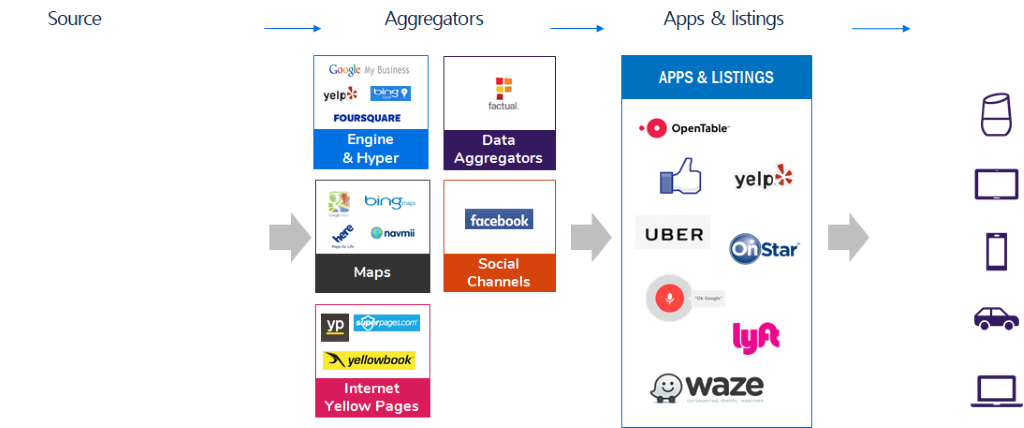 What's important to note is that building local presence doesn't stop and start with UNAP. In fact, profile completeness can be achieved by optimizing more than 30+ fields on the core listing as well as other popular and high to medium traffic directories. At this stage, businesses need to think of all the elements required to give customers all the information they would require to consider buying – even without clicking on their website. For this, the business needs to optimize its profile with the core elements on its GMB profile (Name, address, phone number, URL, special hours, etc.), add relevant category and attributes, media elements such as interactive photos and videos, and clear 'Call to Action' buttons. In addition, to manage its reputation online, a business needs a well-placed Q&A and FAQ solution and set up tracking by implementing UTM (Urchin Tag Module) to track customer behavior on the page. Needless to say, engaging with your audience is a must and publishing social posts (Google Posts) will help the business build a strong relationship with existing and potential customers.
Businesses need to optimize their local presence on the core listings such as Google My Business, Facebook, Yelp, Bing and Google Maps but the idea should be to cover as many touchpoints as possible and look to build your presence in other relevant directories and aggregators, maps, and social platforms
Step 3: Consideration – Hyperlocal content and a stellar user experience is the way to go
When it comes to the consideration phase, your focus should not just be local but hyperlocal for all your location stores to be found on search. The content should be:
Mobile-friendly and localized with images, FAQs and prompting videos
Short to-the-point headlines and snippets
Clear soft and hard conversions
Created with a mobile-first approach but the performance, look and feel should be equally effective on desktop devices
Here's a range of content types that your business needs to implement across the website: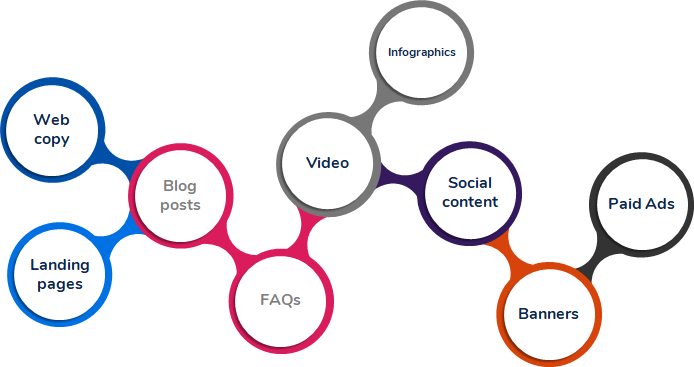 In the consideration phase, your business needs to take care of these 4 elements to ensure the potential customer has a seamless experience to make the buy.
Optimize the local landing pages
Apart from the hyper-local content on the landing page to be found for relevant searches, the business has to have all the key business details on the landing page, such as the logo, location finder, address, sourced reviews from different platforms, menus and offers, videos of the products, H1 tags and a clear CTA.  In addition, the page should content localized FAQs, infographics, social links, and auto-fill forms and e-coupons to drive a sale.
Website user experience optimization
Having a responsive website is critical for a business to make a sale for that the page load speed needs to be optimum. To achieve this, consider implementing Accelerated Mobile Pages (AMP) to the pages that receive the highest engagement. The layout of the page should have clear steps for a customer to navigate to the buying screen, whereas all the assets such as images, fonts headers, etc., should be responsive for mobile devices. The web pages need to be ADA compliant to ensure that it can be accessed by all and the screen should have clear mobile gestures such as swipe, scroll, tap and auto-fill.
Boost the visibility of your content
Once you have created content with local intent, the next step it to optimize it to be visible on search. This can be done using basic SEO techniques (header tags, alt tags, robot.txt and XML sitemaps) and advanced SEO techniques such as schema implementation for rich results on search. Moving on, the content needs to be optimized for voice search using Q&As and publishing of local events for 'near-by' and property events will boost the exposure of the business for local searches. To improve engagement, businesses can use Google Posts and GMB Business Messages to strike a personal relationship with customers.
Reputation management to improve E-A-T
Responding to reviews whether positive or negative improves the image of the business and users take this into consideration before making a purchase. It helps the business build trust, authority and displays their expertise to potential customers. To achieve this, a business needs to:
Source and monitor reviews real-time
Respond to reviews to improve engagement and trust
Set up sentiment and personalized-based response templates
Gain key insights into customer reviews using custom tags and labels
Compare your reviews against what your competition is receiving
Important: Google has announced that the page experience signal which is based on the Core Web Vitals will be a ranking factor in 2021, which means that website user experience will be critical for businesses to rank and be visible on search. The page experience signal factors in the following with a score out of 100 – Performance, Accessibility, Best Practices, SEO, and the existence of Progressive Web Apps will do well.
Step 4: Conversions – Influence the customer's decision to buy
Once the customer has past the awareness and the consideration phase which means that he/she is on your website, the next big revenue generating step is to influence the visitor to make a buying decision. This can be done using:
Progressive Web Apps (PWAs)
PWAs as the name suggests gives websites an app-like look and feel which gives customers the perfect user experience to push a quick conversion. PWAs give businesses the benefit of faster loading pages, user data security and backup, local caching for faster downloads, immersive user experience and constant evolution based on technology trends. PWAs can be used primarily for seasonal and promotional offers.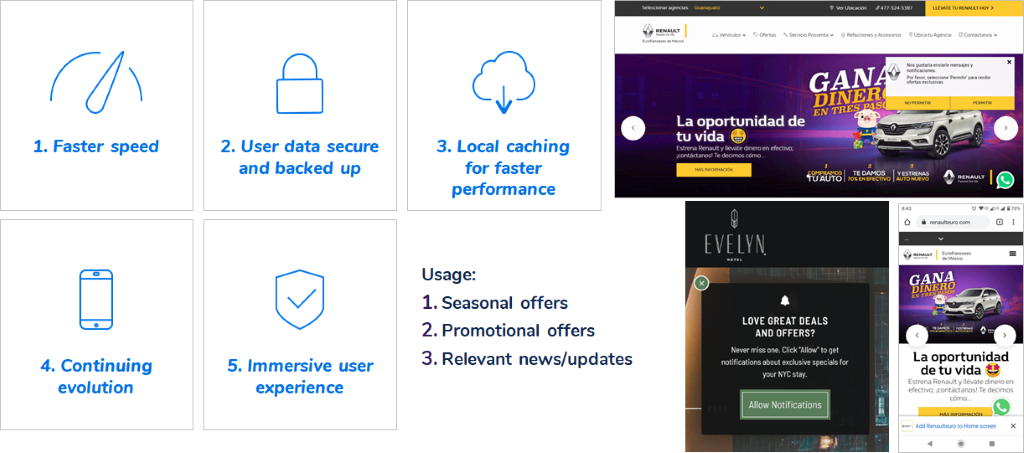 Promotion
To boost conversions, having promotions in the form of Google Local Campaigns, Facebook Local Awareness Ads, Yelp Local Listing Ads and Google Discovery Ads will drive your business to targeted audiences.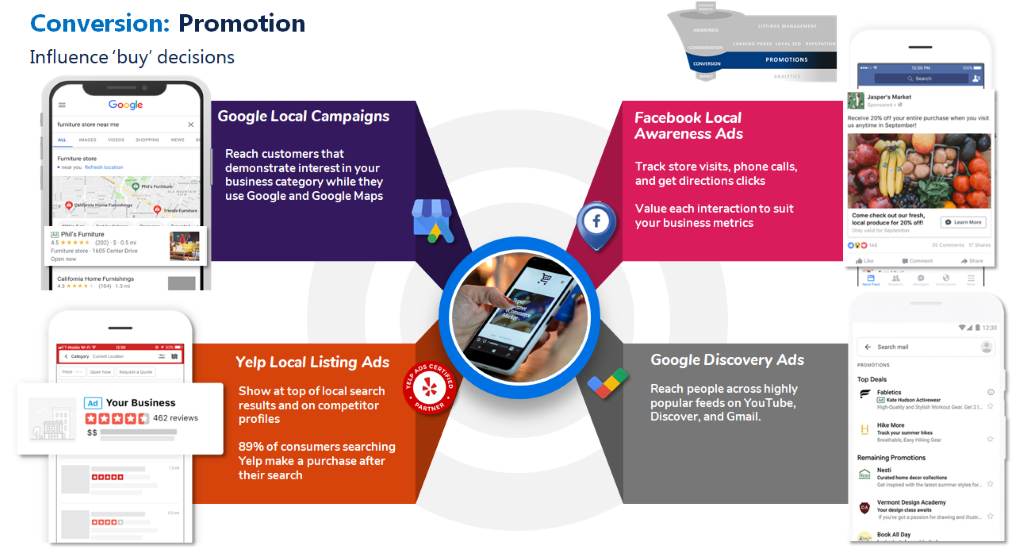 Step 5: Analytics – Measure the impact of your local efforts
Local marketing is not set in stone, and measuring the impact of your local presence on search is vital to take the next strategic steps. That said tracking website leads and revenue is not the only objective but tracking the entire customer journey from the Awareness, Exploration, Consideration, and Conversion phases are crucial to create a holistic local marketing strategy.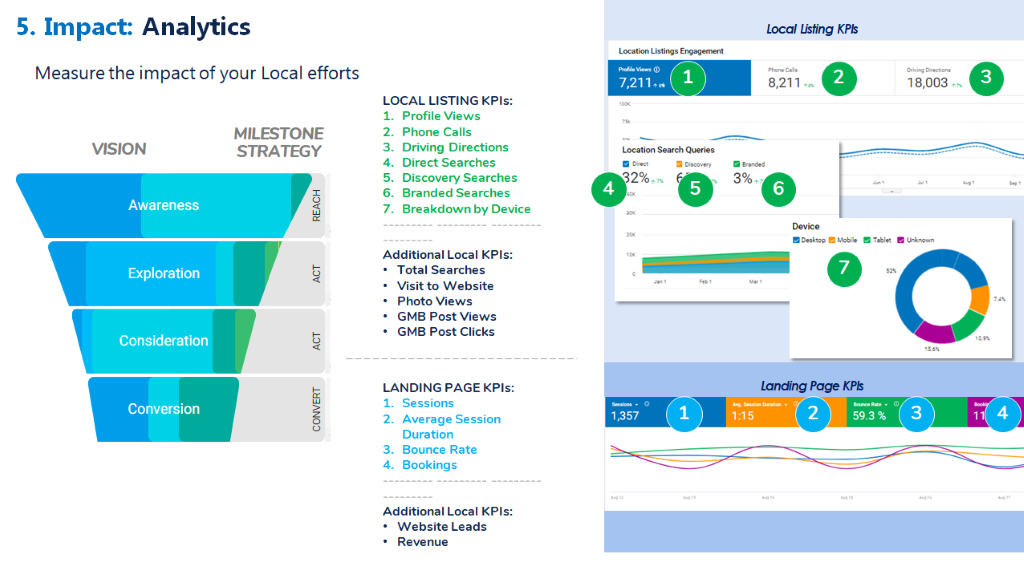 How the Milestone Local Solution makes the difference for local businesses
Milestone offers local businesses a centralized platform and the necessary tools to carry out a holistic digital strategy and build its presence on search using the customer journey as the focus. Using the Milestone Local Solution, businesses can fill in their entire profile, such as their UNAP, categories, attributes, images, videos, etc., and carry out daily scans to check UNAP consistency across directories, identify duplicate listings, and offers key insights and analytics for the business to take strategic decisions to improve its presence online. Businesses can carry out advanced SEO techniques, such as schema implementation, FAQ, and voice integration, manage its reputation effectively as well as create hyperlocal landing pages with enhanced user experience using mobile-first and AMP technologies. To spread the word like quickfire, businesses can implement PWA to improve their engagement with customers and carry out rigorous campaign management, from creating the strategy, to ad copy creation, setting up the campaign and performance and ROI (Return on Investment) reporting.
About Milestone
Milestone helps businesses create, organize, and amplify their digital information by enhancing their digital presence to make information more accurate, consistent, and visible. We do this with a digital presence platform and add to it as much or as little service as you need to help you be everywhere your customers are. We work with major brands and mid-size businesses across industries to drive traffic, engagement, and revenue through omnichannel marketing fueled by SEO.
To know more on how you can optimize your business's local presence, refer to our whitepaper Local Marketing: A comprehensive guide for your business to be relevant and visible on search' or if you wish to know more about our product and solutions, reach out to us at +1 408 200 2211 or at [email protected].
Read blogs on Milestone's other digital marketing guides:
Guide to Choosing the Perfect CMS in 2021
Guide to Managing Reviews and Building Business Reputation
Guide to Content Marketing in 2021
Guide to Social Media Marketing in 2021
Guide to Video Marketing: Driving Engagement Across Industries