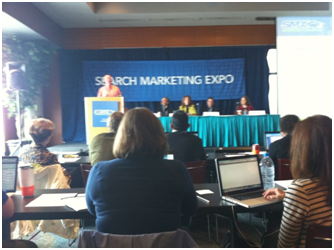 With so many tools available to marketers for keyword research, how does one select the best tool to use? The "Advanced Keyword Research Tools" session at SMX Advanced Seattle 2011 helped to outline a multitude of free and fee-based tools recommended by some of the top SEO experts. The best way to select a tool that will work well for an organization is to test, test, test. The best way to ensure that a tool offers all of the items needed for the end goal is to use it!
No stranger to any marketers involved in search engine optimization, keyword research is a necessary step in finding out what keywords are not only popular, but also relevant for your specific topic. No one tool will offer all items, so a mix is often necessary.
From the panel of speakers at the SMX Advanced conference, a few key tools and takeaways were presented:
Tools:
Tips & Takeaways:
Target Mobile Searches: Why? According to Bryson Meunier's presentation, more mobile devices are activated today than babies being born. By 2015 it is estimated that mobile will eclipse desktop web usage.
Estimate local search volume and local opportunities to make sure you don't miss out on resources needed for certain local areas, which also offer different levels of demand.
Use common sense – don't let your keywords battle each other!
It's up to the user to determine which tool works best for them, allowing for efficiency and overall accuracy for the topic. Keep in mind that no one tool is best – sometimes combining them is the best way to get a good mix of results. Remember to not only focus on popularity, but also relevance, user intent, competitiveness and phrase performance, as those are important additional factors as well.
Speakers:
Christine Churchill, President, KeyRelevance
Bryson Meunier, Director, Content Solutions, Resolution Media
Keri Morgret, President, Strike Models
Myron Rosmarin, President, Rosmarin Search Marketing, Inc.
————————————————————————–
Contributed by: Selin Maurice, Sr. Account Manager/eStrategist, Milestone Internet Marketing