Images as Link Producers
We all know that images are more appealing than text and in this SMX West session, the importance of images as great link producers was discussed.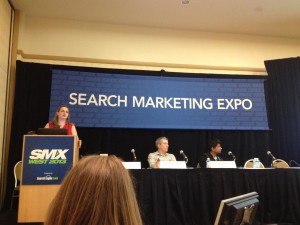 Jennifer Evans Cario with SugarSpun Marketing, reviewed the effectiveness of high-quality image use on social media channels (ex: Facebook) as a great way to gain additional site exposure. People are more apt to actively view and engage in your posts when there is a visual representation attached to it. Not only that, Facebook's EdgeRank also gives posts with more engagement/interest a higher value than those without. Studies also show that users are 4x more engaged when an image is included, proving that photos should also be integrated into your online marketing presence to enhance your content and minimize text.
Sharad Verma with Pinfluencer, brought a more purchase-driven conversation to the popular photo-sharing site, Pinterest. While Facebook builds relationships and Twitter is all about real-time conversation, Pinterest help users discover and advocate products all with a simple re-pin. With a collection of links that are visual and shareable on your Pinterest page, you can create a "happy viral loop" where the more quality images you share, the more people pin and the more you will gain visibility and visits back to your website (as long as the original image pinned came from your site).
The basic elements of image optimization were covered by Chris Silver Smith with Argent Media, who discussed Flickr's strengths as a tool being influential for search engines as users can:
Associate photos with maps/geo-tagging
Add a description and caption
Create sets, groups and submit to public albums to increase exposure (helps set optimal link hierarchies)
Select license choices  to decide how much exposure the image should get
While Pinterest's construction may be seen as less SEO-sophisticated than Flickr, the social signals read from the # of followers, re-pins, comments and 'likes'  and give relevance to strong keywords used in the board title and description text, as they help optimize the page title and image alt text.
As a wrap-up, here are some important tips to keep in mind:
Make sure your images make sense to your topic and are not too cutesy – keep them relevant
Be careful not to be too self-referential on Pinterest – allow users to add their own content to your boards
To get link juice from Pinterest, verify your profile link and optimize the captions for the pin and description of each board. It's not just about the link value you will get from Pinterest but the additional exposure and credit your photos will get when used in other bloggers posts.
What's the trick to finding relevant, high-quality images that are affordable and bring a level of authenticity to your brand? Take your own photos!
To socially optimize photos in Flickr:

Use good quality photos
High-contrast images increase clicks from thumbnails, so make sure users can decipher the image (bump up the contrast to enhance it)
Find groups that are applicable and share images via the groups
Use loose licensing – set it so that people can use the image in return for links/authorship (set it to attribution under owner settings)
Speakers:
Jennifer Evans Cario, SugarSpun Marketing
Chris Silver Smith, Argent Media
Sharad Verma, Pinfluencer
Moderator:
Jennifer Evans Cario, SugarSpun Marketing
_____________________________________
Contributed by:
Zulema Romero, Director of Client Services
Selin Maurice, Team Lead Manager