(Without Going Overboard)
Hotels often ask our social media team how they, as hoteliers, should promote their social channels on the hotel's website.  Follow up questions include:
Should we include the Google +1 button?
Should we have a Facebook Like button or a Facebook icon button linking visitors to our Facebook page, or both?
Where on our site should we plug in a social newsfeed widget?
There are countless ways hotels can promote social media on their website.  Below are some screen shots of common examples we have found across the industry.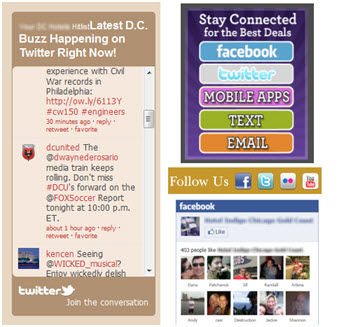 When adding social widgets and icons to your site, it is important to understand the effect they may have on your overall page load speed.  Major search engines use page load speed as one of their ranking factors, so if a Flickr widget displaying high-res images slows down your page load speed significantly, it will have a damaging effect on your SEO efforts you have been working so hard to perfect.
Another thing to keep in mind when adding social icons and widgets to your homepage is engaging the user without undermining your end goal.  The concept is simple: if you have numerous feeds, signup boxes, Like buttons, and share buttons on your homepage, the user can become very distracted and fall off the path you are trying to take them down (a path that leads to the booking engine).
For those brands and businesses that do a great job of updating their social channels and communicating with their fans, we have a couple of recommendations:
Create a unique page on your website just for your social networks.  You probably already have a Contact us page, a Nearby Attractions page, a Dining page, etc.  Simply add a page called Social.  In the screenshot below, you'll see that Liberty Hotel (a luxury hotel in Boston) has a very creative and clean social page that incorporates YouTube videos, recent blog posts, Facebook wall posts, tweets, and even thumbnail images of their most recent Flickr photos. The page also dynamically updates in real time according to the actions on each individual channel.

Another clean and effective way to broadcast your social presence is through a simple one-line twitter feed that appears across the bottom of every page on your site. We really like how Hotel Sorrento has implemented this idea (screenshot below).
The tweet at the bottom of the page is subtle yet powerfully effective in driving traffic to the advertised link provided in the tweet.  In a restaurant Facebook and Twitter promotion we ran with Sorrento Hotel, we found that a large portion of the Twitter-related clicks were attributed to this bottom messaging.
If your brand does a great job of socializing and providing valuable local knowledge and information, we highly encourage you to experiment with subtle ways to get your messages onto your homepage.  Visitors will enjoy seeing them.
————————————————————————–
Contributed by: Keith DeVey, Social Media Manager, Milestone Internet Marketing