Instagram is one of the top fastest-growing social media platforms in existence. Yet, when Instagram was in its initial phases back in 2010, it was like any other social platform: full of selfies, pets, and food photos.
By 2022, Instagram's evolution from a simple photo-sharing app to a full-fledged marketing platform is almost complete. Instagram has currently one billion monthly active users who access the Instagram. Moreover, Instagram has earned the 4th rank by most popular social media platform by number of users. application globally. Take a peek at some of the platform's most recent additions! Instagram has introduced dozens of new tools for businesses in the last year alone, including enhanced analytics, shoppable Instagram posts, new ways to generate visitors from Instagram Stories, and the new independent video platform, IGTV. According to CNBC report, Instagram has reached the 2M monthly active user benchmark in late 2021.
We're confident that any marketer who hasn't yet used Instagram is missing out on a huge opportunity. Whether you run the social media for a large corporation, a small business, or promote your personal brand, including Instagram in your marketing strategy is essential! Not really sure why Instagram is good for business? Take a look at the points below to find out.
1. What is visual advertising and why should you use it?
There are so many marketing and advertising tactics available. However, visual content is one of the most successful channels, and if your brand is only relying on text, it is missing out big time. According to Instagram, 50% of Instagrammers have checked a website to buy a service or product as a result of seeing it in Instagram Stories.
They say a picture is worth a thousand words, which is why Instagram has become such an efficient marketing tool. By making it easy for your target audience to share your content, you can quickly place your brand ahead of the pack. Photos and videos comprise the majority of internet traffic, and Instagram is a popular platform for sharing your visual content with the rest of the world. Therefore, pictures and videos are incredibly effective marketing tools that should be used extensively.
2. How is Instagram marketing simpler than typical marketing campaigns?
It's difficult to gain new followers, but you can have fun while doing so. Everyone on the team should be involved in creating content, whether it's videos or pictures.
Consumers want to see authentic content because they are already bombarded with TV and social media advertisements. By presenting your narrative on Instagram in a way that provides value to your followers' lives, you will appear more real, resulting in more engagement.
You want your followers to share your content, which they are more likely to do if it delivers value without being too commercial.
3. How is Instagram used for compelling storytelling?
People enjoy hearing stories. We grow up with fairytales and happily ever afters. We become fascinated by the twists and turns of celebrity news. We are drawn to persons who have a natural flair for recounting dramatic or humorous situations. Storytelling is simply a part of being human. IG stories are for storytelling, for example for trips, experiences, meals, and whole days. From a business standpoint, delivering an engaging tale is an excellent approach to establishing an emotional connection with your audience.
4. What useful feedback and ideas can Instagram provide?
As a savvy marketer, you probably monitor conversations about your products and brand on social media. Keep track of the places where your name has been discussed on the internet, such as Facebook, Twitter, blogs, and other forums. But do you know what people are saying about your brand on Instagram? 
Your products and services will be discussed regardless of whether or not your business is promoted on the site. They're already posting photos of things they've purchased from you, making videos, and commenting on each other's material about your business. You cannot (and should not!) simply disregard this feedback. Use polls, QAs etc in story filters are being used by brands to communicate and get feedback. Also to generate UGC. A person after asking a question. Goes through all the stories to look for an answer. It is critical to understand how your clients view your brand and discover brand advocates. Instagram is a treasure of useful client insights, so take advantage of it!
5. Is Instagram good for competitive research and monitoring? 
Your competitors are probably already using Instagram as a marketing tool, even if you aren't. To learn more about how they interact with their community, follow their activity on the platform. What kind of content do they publish? When? How frequently? How do they interact with their followers? Is there an Instagram contest going on? Answering these questions will allow you to identify best practices in your market and build your own creative strategy.
Furthermore, according to Instagram, 90% of Instagrammers follow at least 5 businesses. While every brand and business account is different, it's useful to understand the general benchmark for growth, specifically if that's the cornerstone of brand's social media goals. According to Hootsuite's report, the average business account on Instagram grows its followers by 1.69% monthly. Ultimately, Instagram is a gold-mine for business owners in terms of user base, its business features and technological capabilities which can take your business to the next level in no time!
How To Do Audience Targeting On Instagram
There is no need to reinvent the wheel. If your brand has defined buyer personas, reuse the same information to define Instagram target audience. Always track competitors' Instagram audience to find if there're any missing audience segments or gaps you've left. Never neglect demographic insights from Instagram analytics since they effectively provide vital statistics about your target audience.
Moreover, Instagram's location-based tagging feature make the stories and posts show up in audiences' relevant searches and significantly enhance post visibility with the potential audience.
It's Important to Post Content at the Right Times 
Hootsuite's professionals analyzed 258,956 posts from 11 industries to find the best time to post on Instagram. According to their research, the best time to post content according to specific industry is:
Travel & Tourism – Friday, 09 am to 02 pm
Non-Retail e-Commerce – Tuesday, 10 am or 04 pm
Retail – Tuesday, Thursday, and Friday, 12 pm
Pharma & Healthcare – Wednesday and Sunday, 09 am
Food & Beverage – Friday, 12 pm
Technology – Monday and Tuesday, 02 pm
Education – Thursday, 04 pm or 05 pm
Media & Entertainment – Tuesday & Thursday, 12pm to 03pm
Non-Profit – Tuesday, 10 am or 04 pm
Professional Services – Tuesday, Wednesday, and Friday, 09 am or 10 am
Secret Tips for Successful Instagram Marketing
Tip 1: Never Forget About Your Instagram Bio
Your Instagram bio gives your followers their first impression of your brand. That is why your bio must be captivating, comprehensive, and engaging. For example, your bio might include a general description of your product, the type of material you want to share, brand hashtags, links to other social media sites, etc. You should also provide a trackable URL, a link to your brand's website, or a link to your product page. Keep an eye on this link to see how much traffic it generates.
Tip 2: Strengthen Your Game of Hashtags
Using the appropriate hashtags can significantly impact how many people view your content. If you use something too generic, such as #newyear, #christmas, or #style, expect your post to get lost in a sea of similar posts. Instead, look for keywords that include both popular and industry-specific terms that your fans will recognize. You may also see your competitors' hashtags and how you can do something similar.
If you are a big brand, research hashtags that have been used or others are using and include.
You can include up to 30 hashtags, but Instagram recommends using your best 3 to 5.
Tip 3: Partner up with influencers to increase reach
Influencers on Instagram are typically thought leaders in your industry who may expose your products/services to their followers. By interacting with them, they demonstrate that they trust their audience has in them will translate into trust in your brand. Influencers can deliver significant returns if given the correct resources, tools, and direction.
Tip 4: Understand the power of contests and giveaways
Contests and giveaways allow your target audience to interact with your brand. Offering your products or service for free increases engagement and brand visibility. However, you must design the process, coordinate with the appropriate businesses, establish competition rules, monitor the contest, and ensure that it runs smoothly. You should also keep an eye on the competition and publish the results on other social media channels.
Tip 5: Use Instagram Live
You can go live on Instagram and connect with your fans. Instagram Live allows broadcasters to add one guest and have a one-on-one conversation that everyone can view, and it can be a fantastic option for businesses. Instagram Live may be used in a variety of inventive ways. For example, you can stream live events, reveal new products, interview clients or partners, and so on. Influencers frequently utilize this option, but businesses are now using Instagram Live to stay connected and keep fans up to date on what's going on behind the scenes.
Reels and videos are growing in popularity, unboxing, comparisons, and reviews.
The Most Essential Instagram KPIs
Reach
Reach provides an accurate idea of number of people who are being exposed to the ad campaign. Therefore, your concrete KPI must be to grow your reach. Instagram's analytics reporting tool effectively provides insights about your reach.
Follower Growth Rate
To calculate the follower growth rate, divide the number of followers you gained at the end of month with the number of followers your account had at the start of month. This KPI will determine if your strategy is staying sharp. For instance, gaining 200 followers monthly is incredible for a brand that had 3000 followers (which means its follower growth rate is 6%). However, if the brand had 1.6M followers and it's currently gaining 200 followers a month, it means their strategy is poor since their follower growth rate is 0.01%.
CTR (Click Through Rate)
CTR measures how much clicks your ad campaign is generating. CTR is calculated by dividing the number of total clicks with the number of impressions. A rule-of-thumb for how high CTR should be depends on the industry you're in.
CPC (Cost Per Click)
This KPI measures the cost of click the ads are generating. It's important that the CPC must not be too high since you'll end up losing money in the end. CPC is measured by dividing the total cost spend on ads by the number of clicks.
Sales Generated
At the end of the day, every brand wants to know, whether Instagram is generating sufficient revenue or not. Yes, social media is awesome for nurturing and growing your leads or traffic. But it's necessary to track how much sales are generating directly from Instagram.
Can you make money and ROI through Instagram marketing?
There's no reason why you shouldn't be able to generate money on Instagram if you enjoy being active on the platform and have a sizable number of engaged followers. Top influencers earn millions of dollars for every post; even individuals with a following of 1,000 to 10,000 people have the potential to transform Instagram into a profitable source of revenue.
Check out these three ideas for making money with Instagram marketing to get you started.
Market your own products and services
You can start earning money today by selling any digital or physical things you make or get from a vendor. Physical products necessitate inventory, which means you'd have to spend money to rent a space to store the stuff. However, not everyone has the required initial money or funds to rent out storage space. The good news is that drop-shipped products can always be sold. This method allows you to sell on Instagram without ever having any inventory.
Enroll in an affiliate program
Alternatively, you can earn a commission by selling other people's products as an affiliate. Many people and businesses profit from Instagram in this manner. Use relevant hashtags on all affiliate posts to reach out to additional people who could be interested in your offer. You can do this in Facebook Creator using Facebook creator tools and Facebook Studio.
Affiliates earn their commission by using a promo code or a trackable link (which most Instagrammers include in their bio) to ensure that any clicks result in sales.
Establish yourself as an influencer
With influencer status, you can approach brands and ask them to promote their products and services in your postings.
Companies frequently collaborate with influencers to create sponsored content that promotes their products. Common types of content include an Instagram post or Instagram story that will include businesses' products explanation. 
How do you g

row

a

brand o

n

Instagram organically

?
Large amounts of money are not needed to to build a successful brand on Instagram, however, you do need consistency and patience. Are you ready to learn how to organically grow a brand on Instagram? Let's dive in!
Content optimization is a key
To grab your audiences' attention, create engaging content. Make sure the pictures and videos you upload are of high-quality and are optimized for size and duration. Instagram's recommended sizes are 1080px X 608px (for landscape images), and 1080px X 1080px (for square images). The duration to upload IGTV video is limited to 15 minutes.
Keep the followers engaged
Leverage Instagram Stories to engage audience and redirect them to your business website. Stickers in Stories significantly improve engagement. Instagram Live is another great option to land at first position in the followers' Stories section. Live videos can include product demos, interview, Q&As, etc. Besides that, IGTV is similar to stories but allow longer videos with cover images. You can utilize it to do influencer takeovers or promotions.
Repost content
Reposting others' content is an effective way to increase followers and establish co-marketing relationships. But unlike Facebook and Twitter, Instagram doesn't have a "share" or "repost" button and there's a risk of copyright violation. However, you can follow a regramming etiquette on Instagram. While reposting the content, always mention the original creator. Avoid sharing work of a professional creator, designer, etc. Always ask beforehand if you want to repost someone's content.
Foolproof Tips

f

or Instagram Paid Marketing
Whether you're a seasoned pro or just getting started, these failproof tips will help rev up your marketing strategy on Instagram.
Expand the audience with Instagram Ads
The surest way to present your content to a new audience is to run a Instagram Ad campaign. To target your potential audience, Instagram allows you to create Ads based on:
Location

–

City, country, state, province, etc.

Interests –

Such as the apps audience use, accounts they follow and ads they click

Demographics –

Like gender, age and language
You can also target custom audiences. Additionally, Instagram Ads allow you to advertise your brand and products on Instagram Stories, feed, or Explore.
Create sponsored posts
The best advantage of Instagram Ads is that you can control how much you need to spend on Ads by setting an Ad budget. You can showcase single or multiple sponsored posts with the carousel feature. You can place ads in multi-stories and in-roll ads in reels. This will give your brand the ability to target audience in a unique way. before sponsored posts, only your followers could see the updates and photos. However, now you can promote content to anyone!
Leverage the Instagram Shop Feature
You must have a business profile to set up your Instagram Shop. This feature will allow you to create online store within Instagram. Your Instagram profile will also get a "view shop" button so audience can tap through the shop without viewing a specific post.
TIP: When you tag products in your Instagram Stories, always turn on auto-highlighting so it can be visible for potential audience for more than 24 hours.
Make influencers your brand advocates
With partnering up with influencers, you can build credibility while exposing the brand to a whole new audience. According to a survey of CivicScience, nearly half of Instagrammers daily make a purchase based on influencer recommendation. The easiest way to get started with Instagram paid marketing is to host an Instagram takeover and invite an influencer to take over the account for specific time or for a special event. For instance, Broken Palate (@brokenpalate) frequently invites home cooks and chefs to take over their account, sharing recipe posts in the Stories and newsfeed.
What makes a successful Instagram ad?
Compelling copy, appealing theme and images, and a persuasive CTA are key pillars for a successful ad campaign. Let's look at some brands that did it very well.
1. JustFab
JustFab used an Ad to promote a giveaway to celebrate 10 year anniversary. To participate, audience had to follow the page, like their post, and tag a friend. This strategy is great since ads with high engagement get preference from Instagram.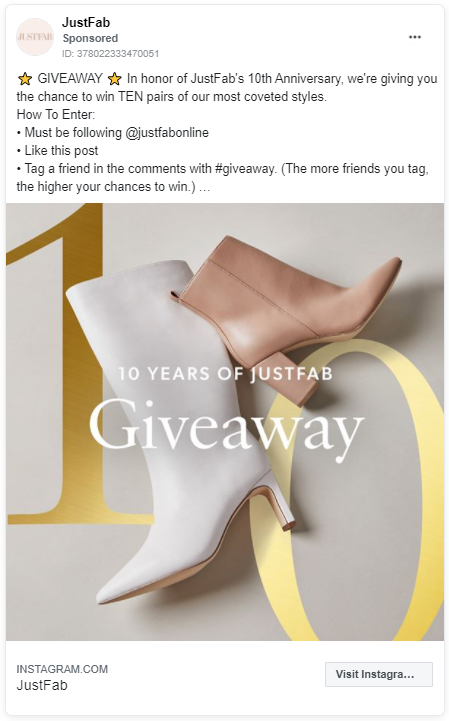 2. L'Occitane en Provence
The brand used a blue-purple packaging on a bright yellow background. Using yellow against blue made the ad stand out. Consequently, using contrasting colors in the ads quickly catch people's attention.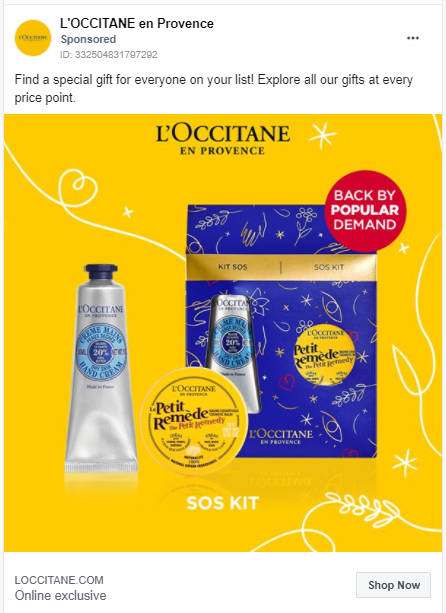 3. Walmart
Walmart also used strong complimentary colors but there's something more subtle. Did you notice the #gethumming hashtag? The brand created a unique hashtag to help make their posts and products discoverable and sharable on Instagram.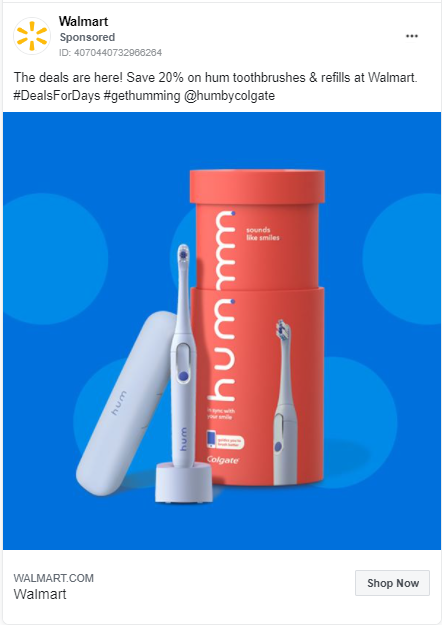 Why is Instagram a good marketing channel for hotels and real estate?
The hospitality industry extensively benefits from Instagram since it's a photo and video-based social media platform. With the platform's millennial user base and sky-high engagement rates, it's unrivaled as a platform to guarantee that the hotel will be fresh in the audience's minds. For instance, Astarte Suites Hotel (@santorini_greece) is a majestic hotel that uses its beautiful location for exceptional photo opportunities. In addition, they effectively leverage Instagram to show off their tempting dining experiences like brunch and champagne.
Besides that, today's tech-savvy generation has started opening retirement accounts and applying for mortgages; the financial service industry, such as banks, loan associations, investment firms, etc., relies on social media platforms and digital influencers to expand their reach and redefine brand identities. For instance, American Express (@americanexpress) ran the #AmexPlatinum and #AmexAmbassador campaigns featuring influencers. The campaign's prime aim was to generate their reward program's awareness to allow their customers to avail of several rewards such as travel upgrades, exclusive events, and more such offers. 
Wrapping it all together
In the social media landscape, Instagram is an amazing force. There are almost endless untapped opportunities for businesses to attract attention, create engagement, build strong relationships, and exceed annual financial goals. As you continue with your Instagram marketing strategy, you'll notice some trends, and what types of posts help you achieve your objectives. Building a dedicated, engaged following on any channel is never easy, but you'll find an excellent match for your brand with the correct approach and enough experimentation.