2019 was a landmark year for Milestone as a product firm. Milestone spread its wings and now offers support to new verticals – property management, automobile, banking and finance, and healthcare. In addition, we launched Milestone Presence Cloud – the one-stop destination to address all the needs of a business. That said, let's give you a quick roundup of what 2019 has been for us, what we achieved, and the features we launched.
Launch of Milestone Presence Cloud
With a vision to offer location-based businesses a one-stop, omni-channel digital marketing platform that would allow them to perform all digital marketing tasks from a single place, we launched the Milestone Presence Cloud. The Presence Cloud brings together all features from various Milestone products that we earlier had – Insights, Local, Analytics, Reviews & CMS. Some of the powerful benefits that Presence Cloud now offers:
A comprehensive platform to manage entire digital marketing needs across multi-channels
Centralized data management – that enables you to update your data across
all digital channels from a centralized system
New age user experience with best-in-class design
Superior cloud infrastructure that ensures high availability and speed
From building and managing their websites on our best-in-class CMS, businesses can manage their digital marketing strategy, update their business details on all platforms using our omni-channel approach, manage their digital and social landscape, monitor their reputation and benchmark performance against their direct competition. What that means for you is – zero hassles and more time to catch up with your friends.
Expanding our support to new industry verticals
2019 wasn't only about only adding cool new features for the existing industries we supported – we expanded our technology support to new verticals – automobile, banking and finance, healthcare and property management. Sitting in 2020, as we look back, we feel proud to say that Milestone Presence Cloud is now truly a multi-industry platform that is LOVED by the biggest global brands across these industries.
Key Features that we launched for Milestone products:
Milestone Local & Review:
Yelp partnership now powers Milestone Local & Reviews
In 2019, Milestone joined the elite club of Yelp Knowledge Partners as well as Yelp Advertising Partners – making us one of the only 5 partners in the world to have both partnerships with Yelp. Yelp is one of the biggest business directory service and crowd-sourced review forum in the USA. Some of the core benefits this partnership offers to our customers are:
Real-time sync of your business data with Yelp. If you update any business
information, it will reflect on Yelp real-time
Powerful duplicate management: Get on top of your Yelp listing with 'Claimed'
status. Flag duplicate listings and get them removed
Monitor and respond to Yelp reviews on a real-time basis
Advertise on Yelp and create compelling Call-to-Actions on Yelp profile
Gain detailed insights of your Yelp listing performance with Yelp Insights.
E.g. how many people viewed your listings? Of them, how many clicked on
'Call' or 'Directions' button? View trends
Track your website traffic from local directories with UTM Tag Management
Using the UTM Tag Management, you can now segregate your website traffic by sources for each of the local directories your business is listed on. UTM Tag manager syncs additional values to various local listings as a part of your website URL – source, medium and campaign name. This helps the Omni-channel Analytics engine on Presence Cloud capture and reflect the source of website traffic thus helping you measure the performance of your listings.
Milestone CMS:
CCPA compliance support for websites built on CMS
With the California Consumer Privacy Act (CCPA) effective from 1 January 2020, Milestone ensures that all the websites it builds are CCPA compliant as we believe that every individual has the right to exercise control over his/her personal identity and protect their privacy. To make our websites CCPA compliant we ensured that all websites handled by us meet the following requirements:
Displays Cookie Consent: Business websites need to display a cookie consent banner to request the consent of the consumer and disclose the purpose behind saving personal data. Along with the cookie consent banner, Milestone ensures that customers can view the Statement of Privacy that covers cookie consent and the use of cookies.
Display of the Privacy Policy: As per the latest amendments of CCPA, the Privacy Policy includes specifics of the personal information that has been collected, the reason for collecting private information and the process of collection of such information.
Email Address to request access and deletion of personal information
Age verification on the website
Driving conversion for our customers with Limited Time Offers on CMS
With 80% of customers preferring to buy a product online if it comes with an offer or discount, to improve conversions for our clients, we launched the Limited Time Offer (LTO) feature which is built into our CMS. Using the feature, our clients can set up offers, schedule them in advance, track the performance of the offer campaign, and improve engagement on social platforms. In addition, each offer will be tagged with schemas for search engines to understand the context of the content and deliver the offer as a rich snippet on SERPs. This is a must-have feature for running seasonal offers such as Black Friday Sale, Christmas or New Year deals.
Add/edit rich content on your website with MiBlocks on CMS
Using this feature, you can make design layout and content changes to your business' websites without having to know a single line of code. You can customize the layout of their website, add images, videos, group content dynamically, add any sort of description that they desire and view the layout of the website as it would be live (WYSIWYG).
Improve clicks on search engines with Static URLs
To improve clickability online and search engine's understanding of the website page – important SEO factors – our CMS now has a built-in Static URL
convertor. Once the query string or dynamic URL is converted to a static URL, the descriptions of the product will be easily identified on the URL which will prompt clicks by users online.
Enhanced analytics with Data Layer Feature on Milestone CMS
As a part of the Data Layer Feature in Milestone CMS, you can now track any event that occurs on the website. Not only can this help you track conversions and source of website traffic, with the data layer you can track the different actions (Events) carried out by visitors on the website. With the Data Layer feature and Omni-Channel Analytics, you can see whether visitors clicked on the book now button on the website, any other button, if they clicked on the phone number, maps, RPF submissions section, contact us form, email offers, or on any other outbound link on the website.
Milestone Omni-channel Analytics:
A single source of truth for businesses, Milestone's Omni-channel Analytics extracts data from multiple channels and displays the performance of a business (based on numerous parameters) against its competition, how it faired in paid media campaigns, and other factors on the Omni-channel Analytics dashboard. You just saw how UTM tag management in Local and Data Layer in CMS are utilized by this enhanced analytics module to help you drive business decisions. Listed below are the features that we launched in 2019 under Omni-channel Analytics:
Paid Media Dashboard
This displays the performance of the business in paid campaigns on Google, Bing and Social Platforms. For the selected business profile and data range, the paid media report displays details such as:
Number of clicks, impressions, bookings, average click-through rate (CTR), revenue generated through the campaign, cost per click, cost of the campaign, and return of advertisement spend
Overall performance of the business for the day, week or month
Overall performance by device – Desktop, Mobile or Tablet
Performance of each campaign
Top Events Tracking
Through the Data Layer Feature, our Omni-Channel Analytics now tracks the top events that occur on the client's website, meaning that any action that a customer takes on the website will be tracked to analyze the behavior of customers. All the events that occur on the website will be totaled as website leads.
Milestone Insights:
Competitive Social Audit
Through its multi-channel approach, the Milestone Competitive Social Audit helps businesses develop a winning social media strategy by looking at key parameters and performance indicators. The Competitive Social Audit report will focus on:
Visibility in performing social channels by looking at engagement on each channel
Social media health check
Engagement with your audience by displaying the top posts
Completeness of each social media channel – UNAP consistency, business descriptions, whether your social channels have Call to Action buttons, etc.
Judge where the business is performing from best to worst – on all platforms
Measuring Schema Performance
For website content to be delivered as a rich result or as a rich snippet on SERPs (which prompt clicks), schema implementation is integral. In addition, schemas give search engines context of the website content when a website page is crawled. Not only do we implement schemas for better results on SERPs, using Milestone Insights, we also track their performance. The schema performance tracker displays the following:
SERP Features for the day
Clicks, impressions and SERP features from top queries online
Schema impact on each website page
Impact of schema categories
Content Health Check
Milestone Insights carries out a thorough content health check of the website and displays the results in the content health report. The report cross-checks the following:
Presence of meta tags, H1 tags, schemas and if there are any
duplicate tags on the website
Universal search results of the domain on search engines
Clicks, impressions and click-through rate (CTR) of search queries
Performance of Branded Vs. Non-Branded keywords
Clicks and impressions of rich results
Addition topic opportunities to improve online traffic
Performance of referral domains
Voice Search Report
Search experts believe that this year, 50% of all searches carried out will be through voice assistants. Ensuring that we stay ahead of the best practices to optimize for search, we launched the voice search report to check if websites are voice search ready. Our voice search report checks and displays the following:
If your website is optimized for search – if it has schemas, the website speed
is optimum, if the website is secure and if it optimized for mobiles
Types of voice search keywords on your website
Voice Search Keyword Details – Search Volume, Featured Snippets,
Category of the keyword and website page URL
Knowledge Base for self-help in case you have queries while using the Presence Cloud
With the rapid pace of platform enhancements and the plethora of tools that are now available on Presence Cloud, we realize that you would need a smooth way to stay up to date with the features you can use. Worry not, we have now added a Knowledge Base on Presence Cloud that works like a self-help and answers all the pressing questions you might have on platform usage while you stay on the platform.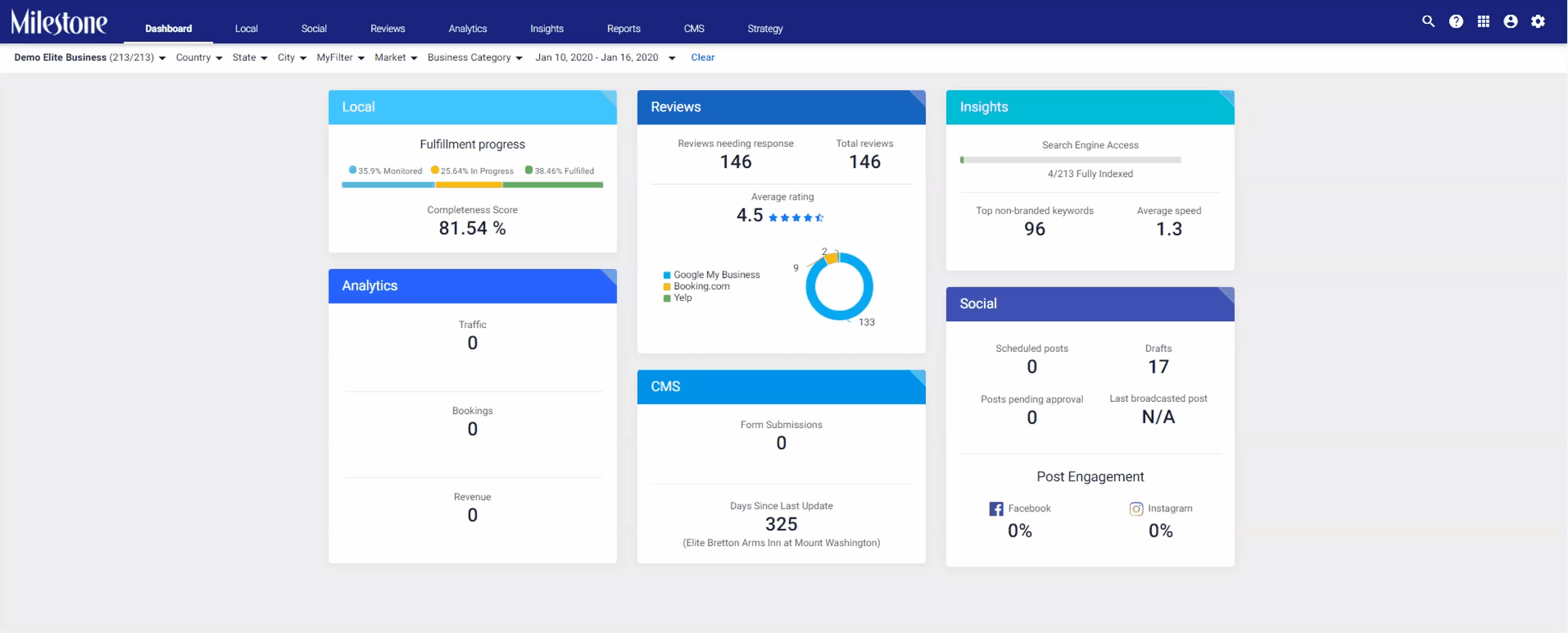 With customer satisfaction our utmost priority, Milestone works round-the-clock to ensure businesses have the platform their desire to reach a global audience. To know more about our products and what exciting stuff we plan for 2020, contact us at +1 408-200-2211 or mail us at [email protected].