As we get into the hustle of the holiday season, getting your GMB data accurate and relevant should be your focus to make it easy for people to find you on search and improve your interaction with them. To start with, you can plan your days ahead for this holiday season and schedule your special hours in advance – ensuring that your hours are accurate and potential customers are informed.
In addition, adding special attributes will improve the chances of your business showing up as a relevant result on search.
Together, you could be the customer's choice for 'near me', 'now' or 'open' type of searches as your attributes ticked the box of what the customer is looking for and your special hours proved your availability.
Google My Business Special hours options that you can set in advance
For this holiday season, you can choose to set your special hours on certain days and it will return to your regular hours of opening/closing on the day that follows your special hours setting. Here are your options when setting special hours:
If you're temporarily closing for a few days
Once you have chosen the business location, under 'special hours' on GMB, for the days that you are closed, select 'Closed' and enter the effective hours your business will be closed.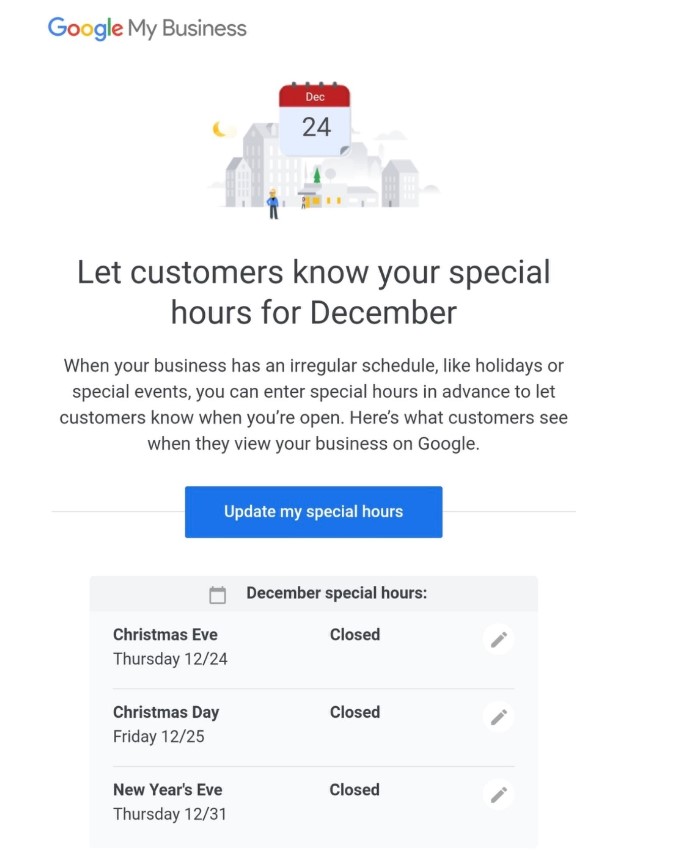 However, if your business is closed for 7 days in a row or more, you will have to mark it as 'Temporarily Closed'.
If your business hours are flexible
If your business hours may change on certain days during the holiday season, you can choose the message option 'Hours may differ' if you're closing earlier or later than the normal.
If you're having an event on a certain day on your business property, select the date and select the hours of your event. If your event is going past midnight, ensure that the hours are set properly.
Why setting your GMB special hours accurately is important
Having accurate special hours will reduce friction and improve trust with potential customers. While marking your business as 'Temporarily Closed' will not affect your rankings on search, having negative reviews by customers for a business location due to any sort of inconvenience caused could affect your rankings as the search engine could perceive your business as deviant from the Expertise-Authority-Trust (E-A-T) guidelines.
GMB Special attributes that your business should include in its profile information
Based on what your business is offering, here are some categories of special attributes you could add to better describe your business to customers:
Category
Special Attribute
Healthcare
1. Online Care – NEW!
2. Virtual Care
Retail & Food Services Attributes
1. Curbside Pickup
2. In-Store Pickup
3. No-Contact Delivery
4. In-Store Shopping
Accessibility
1. Beach Wheelchairs
2. Mobility Scooter Rental
3. Passenger Loading Area
4. Wheelchair Accessible
Lodging Attributes
1. Extended Stay
2. Family Rooms
Payments Attributes
1. Credit Cards Accepted (American Express / China Union Pay / Diners Club / Discover / JCB / MasterCard / Visa)
2. Cash Only
3. Tez Mobile Payments
Dining Attributes
1. Order Ahead
2. Pay Ahead – This is a great attribute to include if your business allows mobile ordering.
3. Table Service
Planning Recommendations Attributes
1. Accepts Reservations
2. Treats Adults
3. Treats Children
Amenities Attributes
1. Airport Shuttle
2. Baggage Storage
3. Dogs Allowed/Welcomes Dogs
4. Unisex Restroom
Highlights
1. Doctor Onsite
2. Rooftop Seating
3. Great Live Music/Notable Music Acts
Using Milestone Local, your business can set its special hours, amenities, and other profile information (including images & videos) for all its locations, across multiple directories on a single screen. It gets better, if you're having a special event, offering, or just want to update customers on 'What's new' with your business, you can create a Google Post with ease and publish them to the GMB locations of your choice. To know more, reach out to us at [email protected] or call us on +1 408 200 2211.