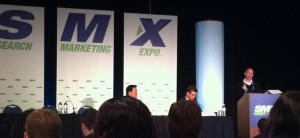 In the "Social Signals & Search" SMX West 2011 session Mike Cassidy from Google and Paul Yiu from Bing discussed what factors play a role in those search results and rankings. The overall focus was on author quality and timeliness over the service where sharing happens.
Google's representative – Mike Cassidy – explained that social search (from Google's perspective) is no longer just based on the content of the page but the relationship between the searcher and the person who shared the content. The newest focus on relationships is what the social search results are all about. Some key takeaways from his presentation:
All public information that is searchable and crawlable is included in results, as it relates to you personally (so Twitter, YouTube & Flickr results show up – Facebook updates are private, so they are not included)
Think of social search results as "Word of Mouth powered by Google" (bringing together the reputation of Google and that of your friends that you trust)
Author quality is important – this is the # of followers you have on Twitter and how much their information is respected
Popularity is also important – how frequently are things that you post/update retweeted?
Bing's representative – Paul Yiu – explained how social search now allows you to "bring your friends with you when you search" and stressed that users benefit from the shared information and content from friends as trusted sources. Their primary sources are Facebook and Twitter. A few additional takeaways from his presentation about the factors Bing takes into account for ranking:
Quality

Make your content easy to "like" (interesting) and easy to share

Trust

Include trustworthy sources (via links) anytime you can for your Facebook update or Twitter message. This will make you a more trustworthy source in the end.

Popularity

Work on getting a good # of high quality links (the # of people who retweet or like what you said in the last minute/hour/day)

Timeliness

Update your site & blog on a frequent basis. Be prepared to turn on a dime and be ready for the flash mob – people can find out about new things very quickly and can spread it just as quickly.
Marrying the social influence of online friends and regular search results is the newest feature on Google and Bing. While social search results will vary from person to person (since the login information will yield different content) the results will only show up when an individual is signed in.  Overall, Google and Bing both look at similar key factors in their social search results and really focused on author, quality and overall usage of links as sources.
Speakers:
Mike Cassidy, Director of Product Management, Search, Google
Paul Yiu, Principal Group Program Manager, Bing, Microsoft
————————————————————————–
Contributed by: Selin Maurice, eStrategist, Milestone Internet Marketing