Google announced in late March that they had created a feature that would help connect users with relevant search results by tapping into their social network. The feature, called '+1', which Google markets as being shorthand for "this is pretty cool" would operate similar to Facebook "Like" buttons, basically acting as a one-click method of adding your preferences to the websites and content one experiences on the web.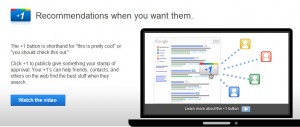 How it works: +1 utilizes what Google calls "social connections" to determine how and where the +1 results are displayed. These social connections are made up of contacts through Gmail, Twitter and FriendFeed, Google Reader and Buzz, and less defined connections of connections.
Where it appears: While the experimental launch is somewhat limited, users will be able to initially see +1's on Google search results, Google ads, or news sites.
Join the experiment: By going to Google's Labs and clicking 'Join the Experiment', +1 will appear in your Google searches.  In addition, a new tab under your Google will display your +1's so your connections can see what you've found interesting across the web.

(above: after liking the Mashable site, below: my result appeared under my Google Profile)

Google has also paid attention to Facebook's past issues over privacy and has allowed users to configure fairly strict privacy settings.

(above: +1 results in search as they're shown with connections and, below: without connections or with strict privacy settings)

The most obvious application of the +1 feature would be to treat it as Facebook's "Like" button – adding the feature to a website or blog to grow its networking potential. While has yet to announce such an application, one can be certain that that is the direction this development will take.
Perhaps a more powerful application of Google's +1 is one which presents a unique opportunity for the hotel and hospitality industry. Especially in metro areas, +1'ing websites or content related to local attractions, things to do, or buzzworthy events (no pun intended) can connect hotel guests to those attractions or events and guide the decision-making process.
Google's launch of +1 can only help in its attempt to break Facebook's hold on social media, but we believe that it serves as only a piece to a larger puzzle.  With such a dynamic ecosystem as social media, this is not meant to be the ultimate answer to Facebook, but a preview of what's to come.
————————————————————————–
Contributed by: Jonas Pauliukonis, Sr eStrategist, Milestone Internet Marketing