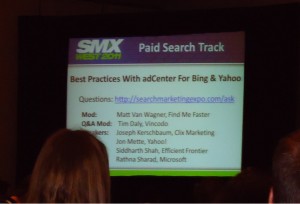 Yahoo and Bing together hold a market share of 30% combined in search. In the travel industry Yahoo and Bing combined are at 20.1% market share. This merger has brought together some changes to the interface: quality, traffic, user interface etc. Yahoo and Bing are working together to drive better quality traffic. Research shows that the merger has increased the CPC, conversion and ROI. Some elements we need to watch out for are as follows:
Ad Quality
Ad quality is something Yahoo and Bing are working on together. Ad quality is affected by the history of the account, campaign and keywords. The more data they have in the account the better the campaign performance. Some of the best practices are:
Structuring the account
Each ad group should have anywhere between 15 to 30 keywords only.
No more than 3 ad copies per ad group.
adCenter plans on some major updates and changes to be rolled out to their user interface. Some of the highlights are:
Desktop tool – This tool is called adCenter Intelligence tool. They already have a Windows version. The new version which can help manage bulk campaigns, ad groups, ad copies and keywords is for both Windows and Mac.
Quality Score – A new KPI which is rolling out soon which is just like Google, ranging on a scale from 1 to 10, and will be at the keyword level. The impact on quality score will be dependent on keyword relevancy, landing page, bids etc.
Budget Intelligence – Campaign budget can be set at daily or monthly and have major issues which will be addressed soon.
Campaign Insights – New reporting is available. Notifications about the campaign, alerts on the user interface.
Local Targeting- City specific, Business location or Zip code, or even radius targeting or space needle.
Audience Targeting – Adjust ad scheduling and ad rotation should be set for all the campaigns
Best Practices
Don't copy paste Google Campaign to adCenter
Separate Search Campaign, Display, Mobile.
Include long tail keywords in adCenter campaigns.
Bids should not be the same as Google.
Include negative keywords and weed our irrelevant searches.
adCenter has made a lot of improvements in ad quality, user interface, and new tools to optimize. Don't copy the same campaign from Google to adCenter. Use tools in adCenter account and optimize campaigns and improve CTR, Conversions and Revenue.
Speakers:
Joseph Kerschbaum, Client Services Director, Clix Marketing
Jon Mette, Regional Manager – Search Strategy, Yahoo!
Shay Oreilly, Sr. Business Analyst, Efficient Frontier
Rathna Sharad, Group Product Manager, Microsoft
————————————————————————–
Contributed by: Justin Varghese, ROI Manager, Milestone Internet Marketing