Monitoring of activities pertaining to social media can be very subjective.
Some organizations simply use monitoring to watch "chatter". And for some, its about tracking sentiment, message reach, customer service, feedback, etc. How your organization uses these monitoring dashboards really depends on the goal of your overall program.
If a brand representative starts responding to every comment found online it can come across as a defensive move. Consumers do expect some level of participation but moderation is key. Some companies only respond to direct questions received via blogs, Twitter, Facebook etc. Finding the right balance between participation and observation is a major challenge of the entire social media activity.
In order to know more, EyeforTravel's Ritesh Gupta spoke to Anil Aggarwal, CEO, Milestone Internet Marketing, a full-service Internet marketing solutions provider.
Why monitor online reviews?
Anil Aggarwal:
Consumers are increasingly talking about your hotel in multiple online channels such as TripAdvisor, Yelp, OTAs – Expedia, Priceline, Travelocity, etc, and social media channels such as Facebook, Twitter, and Youtube. If you feel that's overwhelming, it's important to know that we are only at the beginning of the imminent social media explosion and the online activity in these channels is bound to increase. The most important question on hotelier's mind is – "Should I care?" The answer is absolutely and emphatically – YES! Some of the reasons why hoteliers should care are:
1. Monitoring conversation – people are talking about you and your hotel. If you don't take part in the conversation, you leave open the possibility of people saying things that may not be particularly true. On the other hand, you may miss opportunities to know what people find cool about your property.
2. Booking rooms – most consumers will check online reviews or pay special attention to their friends' recommendations prior to booking rooms.
3. Search Engine Placement – Google and other major search engines are giving increasing importance to reviews for placement of your hotel on search results.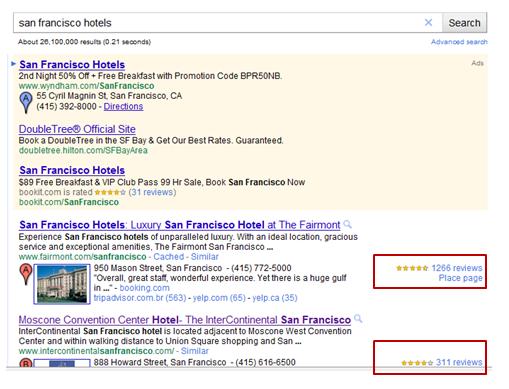 4. Building a loyal customer base that provides constant feedback – interacting with your online guests will help you build a loyal customer base. Best Western River North in Chicago does an excellent job connecting with their customer base on Facebook.
These online channels provide real-time feedback about the good and the bad about your hotel. You can use the good to further promote the hotel, and the bad to improve your operations.
In summary, online reviews will continue to increase in importance and will have a direct impact on your revenue and profitability. With the proliferation of channels where consumers are leaving reviews, the complexity of monitoring and managing such reviews increases significantly.
What should a hotel monitor – Key Performance Indicators (KPIs)?
Anil Aggarwal:
There are several performance indicators that the hotel can monitor. An early user should look at:
Total reviews across all channels.
Positive reviews vs. negative reviews
Keywords that people are using while discussing your hotel.
Responding to reviews.
Benchmark vs. competitors
a. Total reviews
It is important for hotels to get more reviews online as reviews become important part of search engine placement criteria. Hotels should encourage guests to leave more reviews on different online channels. The unfortunate reality is that most people who had a good time at your hotel are less likely to leave a review than those who are vengeful in their thinking. So, it is a key initiative to encourage all your customers to leave reviews online. Hotel staff can request reviews during check-out or through signs posted in the guest rooms and lobbies.
b. Positive reviews vs. negative reviews
It is important to understand the distribution of your reviews. In general, most people understand that it is impossible to keep all the customers happy all the time. Our rule of thumb is that if 70-80% of the reviews are positive, that's regarded favorably by consumers. However, if 70-80% of the reviews are negative, there is an operations issue at the hotel that needs attention. Hotels should give special attention to identifying systemic problems that may be causing negative reviews.
c. Keywords people are using while discussing your hotel?
Online reviews provide key marketing information that hotels previously had to spend a lot of money to determine through focus groups and customer interviews. Monitor the positive keywords so that you can use that in your marketing messages. Likewise, also find out the negative keywords that people use so that you can focus on those issues in your operations.
d. Responding to reviews
Just like when an unhappy guest walks up to your front desk and if you manage the issue well, the guest leaves happy, it's critical that online reviews be responded to. We recommend that hotel responds to every negative review and some positive reviews assuming that the channel allows you to respond. By acknowledging the reviewer and assuring their concerns are being taken care of, an angry guest can be converted to a loyal customer. Responding to a positive review allows you to further cement your relationship with a guest and creates stronger loyalty to the hotel and the brand.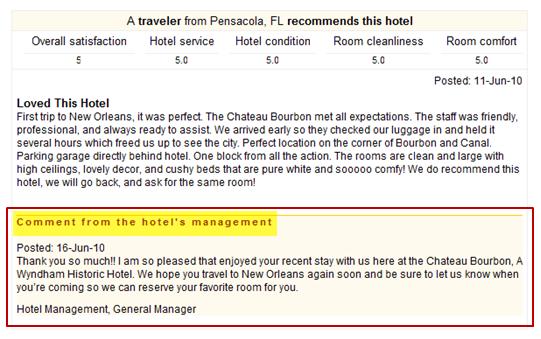 e. Benchmark vs. competitors
It is a good practice to compare your hotel's performance on key performance indices against your competitors. That gives the hotel staff a goal to target and also is an indicator of how well the hotel is performing.
Monitoring and managing online reviews is key and will continue to increase in importance as search engines and consumers use reviews to determine the best hotels in a market. There are several tools in the market that provide easy reports to manage online reputation and cover a vast diversity of channels including OTAs, TripAdvisor, Yelp, and social media channels such as Facebook, Twitter, YouTube, Flickr, etc. eBuzz Connect offers a simplistic view for early users as well as very detailed information for sophisticated users. By following these simple guidelines, we believe that hotels should see a significant improvement in online ratings and the placement on search engines, as well as websites such as TripAdvisor, Yelp, Expedia, etc. Better ratings and ranking directly translate to higher revenue and profitability.
Online Marketing Strategies for Travel 2011 Conference
Julie Chapman, senior business development manager, Milestone Internet Marketing is scheduled to speak at the forthcoming Online Marketing Strategies for Travel 2011 Conference, to be held in Miami (June 7-8). For more information, click here.
Or Contact:
Gina Baillie
VP, Marketing,
EyeforTravel
E: [email protected]
T: UK +44 (0)207 375 7197