Easily Find Relevant Tweets, Mentions, Retweets, and Favorites
Twitter announced recently on their official blog that they've added two new features available on Twitter.com. One feature is designed to provide more in-depth information on how others are engaging with your own tweets, while the other feature is designed to provide relevant information about your followers' engagements on Twitter.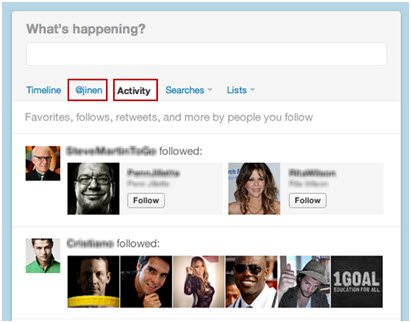 The first new feature is the @username tab, which will be replacing the Mentions tab. The Mentions tab allowed you to view anytime a tweeter mentioned your username in a tweet. The new @username tab will still show you that, but will also do a lot more. When you select the @username tab, it'll show you if any of your tweets were favorited, or if your tweets were retweeted by someone. It'll also show you tweets that were directed to you, and what tweets of yours are popular amongst your followers.
This will allow you to easily monitor the following:
Which of your tweets are the most popular;
What tweets of yours are being retweeted;
Who's favoriting your tweets.
The second feature they announced was the new Activity Tab which will combine and condense your follower's activities. It'll show you your follower's latest favorites and retweets. This last feature is especially useful for business owners and marketing professionals as it will reveal what's on the mind of your followers.
You can use this information to do the following:
Tailor your tweets towards your followers' current interests;
Find a trending topic that specifically targets your followers' favorites;
Customize your specials and promotions around the information you've gathered.
Twitter is just starting to roll out these two new features to a small number of users while they test the functionality, and will be available soon for more users over the next couple of weeks. As marketing professionals and business owners, these two new Twitter tabs will provide a way of gathering important metrics about your target market.
————————————————————————–
Contributed by: Katie Flanagan, SEO Strategist, Milestone Internet Marketing