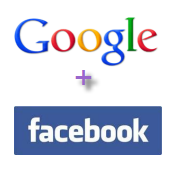 With over 65 million people clicking the Facebook "Like" button daily and 200 million daily tweets, we can all agree that social media is a huge channel to connect with consumers around the world. Free marketing! Social media gives us the ability to reach our target audience, and gives us free information about our target demographic and their interests. With so much opportunity to connect, we need to learn the best tactics and strategies for social media success.
Russ Mann's Social Media session "Google + Facebook = Success" at SES San Francisco 2011, provided key tactics and metrics for social media success. Here are a few key takeaways from the session:
Define your goals – what do you want to accomplish through your social media channels and campaigns? An increase in conversions, a larger audience, feedback, reach?
Be honest in your campaigns and posts.
Ask questions relevant to your business and target audience.
Offer perks and rewards to your followers.
Provide fresh content – don't keep reposting the same content. You want to keep your audience interested and coming back to your page for new information.
Communication is key! Don't be afraid to engage and communicate with your audience. Reply back to their posts (good and bad) within 24 hours and show that you care and are active in communicating so people want to keep coming back to your page.
Test new ad units and campaigns. Monitor likes, dislikes, and spikes in interest – drill down what is most interesting to your audience by testing different ideas.
Don't use Social Media as a pure sales channel; actually try to connect with people!
Use the data available. Facebook gives great insight into who your audience is and what their interests are; use this information and feedback to create more targeting campaigns and posts.
Use the information you find for cross channel optimization. If a specific topic is driving social traffic, use the same topic on your website and your places page. Create a special offer or event page around user interests to incorporate the information across all channels.
During the session, Russ Mann stated a great quote "social is the vocal minority, search is the silent majority." We have to learn to communicate with both groups – reaching out and connecting with the vocal minority, so that we can influence the silent majority. The few tips mentioned above will be a great start to connecting to your online audience!
Speakers:
Russ Mann, Founder & CEO, Cavario
Alex Funk, Senior Manager, Paid Media, Cavario
————————————————————————–
Contributed by: Meagan Hasenoehrl, e-Strategist, Milestone Internet Marketing