Social Media – Modern Day Comment Card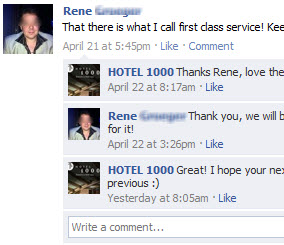 Social media today is the modern day comment card for hotels. People share their travel stories, and hotel experiences with their friends and fellow travelers.  By participating in social media channels, hoteliers can find out what people like (or don't like) about their property, and then take action. They can also build a rapport with their visitors, create buzz about their property, and then manage their online reputation.
What and How Often
But what social media channels should you start with? How often should you engage with your audience? These are often the first two questions hoteliers ask when embarking on the creation of their social media presence.
The first step should be is to perform research. What social media channels are your target audience already participating in? If you can find those channels, you've already answered your first question. Start where your audience is already socializing!
Identify / Prioritize Channel
Do a quick Google search for the name of your property, as well as a search for your city and state, plus the lodging type that best describes your property (example: hotel, motel, bed & breakfast, resort, etc).  What types of results are you getting? Use the Google filter for Blogs, Realtime, and Discussions. Your results will likely be a mix of major social media channels, (ie Facebook, Twitter, Youtube, Flickr, and Foursquare), as well as blogs, travel sites, and niche forums.
Make a list of all the social media channels you've found in your research. Number them by importance. This can be a mix of social media channels that have high traffic, and social media channels that have a high level of member involvement. The best social media channels will have both. Channels like Facebook and Twitter are going to have a high traffic level due to their overall online popularity. Channels like local area blogs, or niche travel forums are going to have a lower number of participants, but have a high quality of involvement among it's users.
Once you've prioritized your list of possible social media channels, work on creating a profile on your top 3-4 selections. Don't go overboard and try to make a profile on every social media channel on your list. You'll spread yourself too thin. Spend your time wisely, and work on the channels that are going to give you the best possible results.
Connect with Your customer
Now that you've done your research, isolated your top three social media channels, and made your basic profile; it's time to engage with your audience. But what do you say?  This step is important as everything you say is going to represent how the public sees your hotel. There are three basic rules you should always keep in mind when engaging online.
Always follow your hotel's branding and marketing guidelines.
Always be respectful and polite, even when responding to negativity.
Always use spell check, and double check your grammar.
One of the best ways to tackle the "What to say?" problem, is to listen to your target audience. Go back to your channel research and look at the discussions people have online. Make a list of the most popular topics. Was there talk about the details of an upcoming concert? Did people want to know what and where the best family friendly attractions are?  Where people giving recommendations on where to find the best restaurants, or to find the best hotel deals? Target your posts and comments around these topics. Your target audience will tell you what they want to know, so listen up.
Once you've researched these topics, make a social media content calendar around these topics. This will help you get focused and stay organized.  The frequency of your involvement depends on the channel, and the type of interaction. If you receive a negative review or comment, respond right away. Timing is important; it shows you care about your customers. When posting about an upcoming event, people need to plan; start posting updates a couple of months prior to the event.  When it comes to frequency, remember to post often enough to stay in touch with your audience, but not too often that it would overwhelm your followers. A good rule of thumb is to post a new topic or post anywhere between 2-4 times a week (depending on the channel). This can be anything from a simple weather update, to a contest or special offer.
When you've done your research and reached out to your target audience with quality content, social media can be a highly effective, and budget friendly solution to creating a positive online presence for your hotel.
————————————————————————–
Contributed by: Katie Flanagan, SEO Strategist, Milestone Internet Marketing