Now, more than ever, travelers are checking online hotel review sites prior to booking hotel rooms. As a result of this activity, search engines consider these channels as an important part of their algorithm. This includes both traditional review sites, as well as social media channels.  With this in mind, it's vital that hotel owners not only monitor what is being said about their property, but also respond to these reviews.
One of the most common questions hoteliers have relating to online reviews is, "What should I do when my hotel receives a negative review?" The answer is simple; respond to it. Most importantly, never ignore negative guest reviews. Instead, consider the following strategy:
"Listen" to the guests by reading the review carefully and understand their complaint.
Share and discuss the review with the appropriate hotel department and think of ideas on how to resolve the problem.
Take action.  Create a game plan and take the necessary steps to resolve the issue and improve guest services.
Most importantly, respond to the reviewer.
The follow up question then is, "How do I respond to negative reviews?" Below are three points hotels should consider when responding to negative reviews:
Thank the reviewer for bringing up the issue.  Convey that their comments are helpful in improving the hotel's services and training the staff.
Assure the reviewer that the issue has been resolved, or in the process of being resolved.  It is also a great idea to give details on how the hotel staff is dealing with the issue.
Express the desire for them to stay with the hotel again. Go even further by offering a special deal on their next stay at the hotel.
By responding to 'negative' reviews with professional and courteous responses, not only can hoteliers improve their hotels' services, but also show their customers that they care. By acknowledging and addressing the review, an angry guest can often be converted into a loyal customer.
Below is an example of a proper manager's response to a negative review: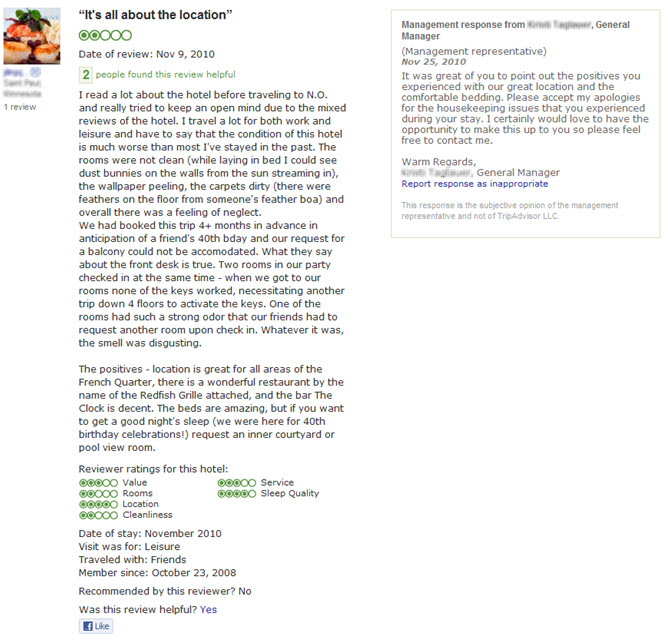 ————————————————————————–
Contributed by: Teresa S. Villaruz, Sr. Marketing Specialist, Milestone Internet Marketing