by Mike Supple, Sr. Social Media Manager, Milestone Internet Marketing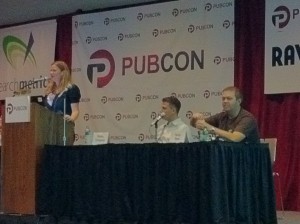 For the travel industry, online reviews have a large impact on bookings. Positive reviews can drive new bookings, while negative reviews can potentially turn new business away. When handled properly, negative reviews can present opportunities to develop new brand advocates and improve the products/amenities you offer your guests in real time.
This session of PubCon Las Vegas 2011 focuses on the broad picture of monitoring your brand online, with advice from experts on what, why and how to monitor.
Andy Beal from Trackur laid out 6 steps to an effective plan:
Understanding your goals: why are you monitoring?
Know thyself: what are you monitoring?
Start with free tools: learn how much depth you need in tracking before you spend money. If you aren't being talked about heavily yet, you don't need to waste the money.
Do it yourself first: outsourcing reputation management isolates you from what is being said, and where. Learn about your needs, your weaknesses and where you could use the most help.
Don't silo the information: having all of that information is only helpful if you have a person (or team) that is ready and enabled to act. Don't bottleneck the process with a lengthy approval process.
Commit to act: Do something with the information – fix the cause, not the symptom. Build a better product, train your employees and engage your customers.
Brian Chappell presented thoughts on how larger brands deal with online reputation management.
A major roadblock to larger brands when it comes to online reputation management is the sheer number of brand/product mentions on a daily basis. With hundreds of mentions every day it is important to filter out the noise and get to the true relevant content.
Once you have a filtering process in place, it's important to monitor daily and take actionable steps in these four categories:
Improve your products
Optimize the customer service pipeline
Establish a unique selling point; point of differentiation from your competitors
Mitigate brand damage
Wrapping up the discussion of reputation management, Rhea Drysdale brought up an excellent point about how to use a marketing problem to improve your future reach and customer interaction. When in the midst of a marketing crisis, it is important to use monitoring tools to know exactly what is being said about you, and in what channels. However, do not use that crisis as the reason to jump into new channels and defend yourself – you run the risk of looking overly defensive within a pre-established community. Instead, earmark that community for future use, and once the PR crisis has passed, begin working yourself into that community in a proactive way, so you can have an additional positive forum in the event of future issues.
Speakers:
Rhea Drysdale
Brian Chappell
Andy Beal