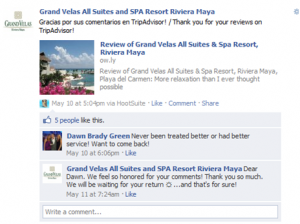 EdgeRank refers to the ranking algorithm used by Facebook to determine what content users see in the "top news" section of their "news feed" on Facebook, one of the best ways to capture a customer and market a brand. Any item that shows up in a user's news feed is called an "object" and can be a status update, a video, or a shared photo.  An "edge" is an interaction with that said object, such as a tag, comment, or 'like.' To determine the value of an edge, Facebook considers the following three factors and the higher the score (when it's all added up), the more likely the item will show up in a user's news feed:
Affinity = the score between the edge "creator" and "user" – a user will have a higher affinity score for a Facebook friend that they converse with a lot (checking the profile, liking their posts a lot or writing messages), over a user profile with which they rarely correspond – and higher affinity = higher visibility
Weight = each edge type has its own weight, based on the level of interaction it requires – leaving a comment on a photo ranks higher in Facebook's eyes than a clicking 'like', for example
Time = the time that has passed since the edge was created – the older an edge, the less important it is (as Facebook is all about the most up-to-date content)
Why? With so many users on Facebook today, staying current in the news feeds of consumers is crucial. With access to the latest branded content in real-time, the best way to keep your brand name top-of-mind is to be seen. Because the default setting on Facebook is "top news," make sure your brand EdgeRank is high or you may risk being missed.
How? Much like the secret algorithms of search engines, Facebook will never truly reveal all factors that determine EdgeRank, but following some simple steps can help ensure your brand shows up in the all-important news feed:
Encourage Conversation = don't just post simple text updates – get creative with games, trivia, photos and questions that make people more likely to respond (unique content can help bring in more users)
Interact with Fans= respond to comments by your fans – the longer a thread for an object, the higher the EdgeRank will be, so help encourage additional interaction
Share Links = these make your posts more clickable & interesting to users (and they are more likely to share with others)
Cover Current Events = this relates directly to the time and relevancy factors– people are more likely to comment on a current event that they are interested in
Conclusion: It's all about user interaction and conversation! While Facebook EdgeRank is a tough algorithm to crack, it is clear to see how crucial it is to stay current in the eyes of consumers. If you are a brand looking to make a big impact, EdgeRank is a factor that can't be ignored.
Sources:
Jason Kincaid "EdgeRank: The Secret Sauce That Makes Facebook's News Feed Tick"
Jim Lodico "6 Tips to Increase Your Facebook EdgeRank and Exposure"
Dan Taylor "Everything You Need to Know About Facebook's EdgeRank"
————————————————————————–
Contributed by: Selin Maurice, Sr. Account Manager/eStrategist, Milestone Internet Marketing