by Mike Supple, Sr. Social Media Manager, Milestone Internet Marketing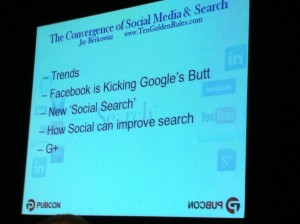 The growth of social media and widespread adoption by many so much of the world's internet users has pushed the search engines to pay a significant amount of attention to the signals from social channels. For companies with an online presence, this begs the question: how exactly is social interacting with search, and how can I use social media to improve my search saturation and ranking?
This session at PubCon Las Vegas 2011 approaches the topic of social and search in three key areas:
Search isn't just Google any more
Content marketing: maximize the reach of your content
Connecting: everything you do online is driven by relationships
Exploring these issues a little further:
Search isn't just Google any more
Just a couple of years ago, any time you wanted to find something on the web the best place to start was Google. But search is getting a lot more specialized. Rather than starting at a global engine, we often go directly to the source. We search Amazon for books (or eBooks), iTunes for music and podcasts, IMDB for movies, YouTube for videos, LinkedIn for people, Twitter for news, and more. To stay relevant (and dominant) Google is making their search results more social, and thus more meaningful to individual users. This means that in the not too distant future every person will see a different search results page based on the likes, +1, shares and posts of their friends. Optimizing your content on all these specialized channels will make it easier for users to find you not only on those channels, but on Google and all the other search engines as well.
Content Marketing
As Google moves away from page rank in favor of social signals, it is important to optimize your content in many different formats to leverage every channel. Rather than just a blog post, take that same content and turn it into white papers, press releases, case studies, widgets, videos, and infographics.
Infographics are not a new concept – everybody likes seeing complex information in an easy-to-digest format – but in the past few months the popularity of infographics on the net has exploded. Creating a quality infographic isn't easy, but the results could very well help your content go viral. The key to a strong infographic is starting with a good idea. Once you have a concept to provide new and interesting information, get a good designer on board to turn your vision into a reality and promote it on all your channels. A quick tip from David Wallace – post on Tuesdays and Wednesdays tend to get the most traction.
Connecting
Having a presence on many social channels is just one step in the process. To get any ROI from your social marketing efforts, you need to connect with your consumers. This does not mean run a contest that has little long term value, or go pay some company to get you 5,000 Facebook Likes in one day. To truly connect and get conversions from your social channels, you need to be interacting with qualified users. Research where your consumers are already socializing and create a presence there. Enter the conversations in a way that provides value to your consumers and will encourage them to interact.
Thousands of fans or followers is useless if they aren't people with whom you can connect and drive a conversion!
Speakers:
Jay Berkowitz
Rebecca Murtagh
David Wallace