What?
Search is getting more social with Microsoft's Bing integrating Facebook "Likes" and data into its search results even further by adding deeper social integration features starting mid-May. The impact is that social content is becoming much more relevant and is making an impact on search results.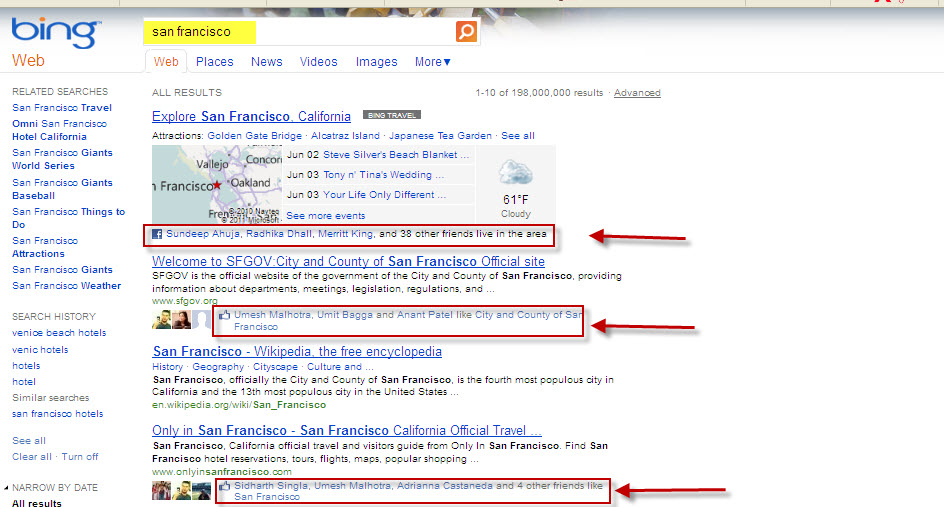 Why?
This move towards a personalized search is due to Microsoft's belief that, "You rely on your friends in the real world to make decisions big and small every day, and Bing thinks you should be able to bring them into your search experience for the same kind of help." Therefore, by including friends' and families' Facebook-based Likes in search results, Bing lets you get opinions from your social network when doing your online searches.
With this integration, it is more important than ever for businesses to encourage customers to "Like" their websites to boost page ranking and raise the position on Bing's SERPs.
How?
Here is a round-up of what Bing users can now see because of the latest Bing-Facebook search integration:
When searching for a business (hotel, restaurant, etc.) on Bing, the search engine will automatically identify if the business has been "Liked" by your network of friends and family.
Pages that received more "Likes" will surface higher on the results page.
Bing will now display Facebook profile pictures of up to three friends who have "Liked" the page appearing on the search results.
A company's recent Facebook status will show under the search result for a business.
Bing will return more information from Facebook's public profiles when searching for people.
Search engine optimization and social media marketing are more tightly knit now than ever before, at least in terms of Bing. This reiterates the importance of having presence and being active in social media. If you already have a social presence online, encourage customers to "Like" your page on Facebook – and the Like button on your website – in order to boost rankings and appear higher on Bing's search results.
Sources:
————————————————————————–
Contributed by: Bhawna Sharma, eStrategist, Milestone Internet Marketing