by Mike Supple, Sr. Social Media Manager, Milestone Internet Marketing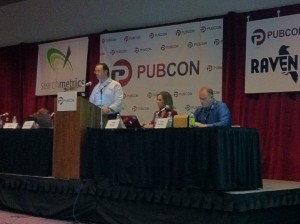 Journalists are turning to social media more and more as a research tool when coming up with story ideas. This PubCon Las Vegas 2011 session focuses on how to create content that positions your company as a resource worth a journalist's time, as well as some tactics on how to directly approach journalists and develop a relationship.
How to make your company relevant to users and journalists:
Position your company as an expert on Twitter

Press releases
Company media coverage
Industry stats
Blog post snippets
Interact with the Media

Optimize news on Twitter

Research and use hashtags
@replies to industry experts
Use keywords/keyword phrases

Connect with local reporters and writers

Comment on interesting personal topics
Provide helpful information not directly related to your company
But having a trustworthy Twitter stream is only part of the battle. Sitting around all day and hoping journalists will come to you is not an effective strategy. You need to proactively pitch yourself to journalists, but in a way that gives them a reason to want to work with you. Getting press is easy if journalists trust you.
According to Sean Jackson, there are four C's that go into getting the attention of a journalist:
Creative – present an angle that their audience would find interesting
Concise – remember that you have 121 characters + 19 for the URL, minus the characters for @ address
Conceptual – every story needs an image; the journalist needs to be able to visualize what you are talking about
Content – have a strong press release ready to go when the journalist wants more information
Don't just provide a story, be a part of the story. Bring something unique to the table; help the journalist stand out to his/her audience, and you have a reason to make yourself relevant.
Speakers:
Jay Berkowitz
Lisa Buyer
Sean Jackson