What is Website Usability?
Website usability is an approach to make web sites easy to use and intuitive for the end-user. Following basic usability guidelines and best practices can have a positive impact on a property's bottom line.
Best Practices
Use of Colors, fonts, location of primary and secondary navigation, use of flash, banners, etc. all play crucial roles in determining the effectiveness of a website.
The human brain associates certain colors with trust, or with high quality, while some other colors are associated with fun or even with being inexpensive or cheap.
For instance, the color blue on a website signifies dignity, trustworthiness, and professionalism; while the color orange stands for energy, cheerfulness, activity, and excitement. (Source: Pantone, Inc – http://www.pantone.com/pages/pantone/Pantone.aspx?pg=19382&ca=29)
It is important to place the key elements of the site where the human eyes tend to focus on the most. Studies have shown that human eyes moves from left to right and focuses more on the left side as seen in the graph below. Therefore, the most important elements of a website, such as the contact information and the booking engine, should be placed on the left side of the page.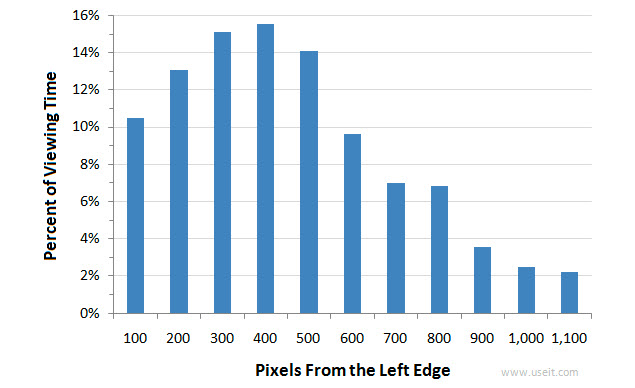 Having too many banners, coupons, and offers on a site leads to "banner blindness" – which means that the user may overlook the important features on the page because of information overload or because the site is too "busy" for the visitor's brain to process. As shown in the image below, too many banners on both sides of the page causes visitors to overlook the specials and packages banner, which is then missed opportunities of converting lookers into bookers. Therefore, it is important to avoid adding too many banners or widgets on the site and try to keep it looking clean.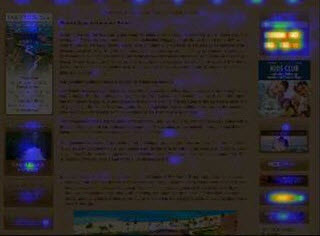 The page length and scroll are crucial conversion factors as well. All important elements such as Location, Services, Amenities, and Contact information buttons should be 'above the fold' so that users can find them without having to scroll down.
Other important elements that help conversion should also be placed on the top navigation bar so that they are quick and easy to find.
Legibility also goes a long way in determining the user-friendliness of a website. Font size, font color, line spacing, organization of text and images help in converting the "lookers" to "bookers" on the website.
All in all, following these usability tips and best practices will help make any web site more user-friendly and in turn make a positive impact on your bottom line.
————————————————————————–
Contributed by: Bhawna Sharma, eStrategist, Milestone Internet Marketing