Pay-per-click advertising has always been attractive due to its targeting and control.  Unlike its organic counterpart, pay-per-click's instantaneous showing in search engine results and ability to target based on geo-location, specific keywords, language, time of day, etc. have always been a major selling point.
As search engine marketing evolves, one of the biggest opportunities continues to come from the explosive growth of smartphones and tablet devices, such as the Apple iPad or Samsung Galaxy. For those who may be unfamiliar with this market segment – consider these figures from the last 2 years:
In 2011 Apple alone reported sales of 40.7 million iPads[1]
Although tablets have only been on the market for 2 years, a total of 108 million are expected to ship in 2012[2]
In an article published last week, as many as 1 in 4 US smartphone owners also use tablet computers[3]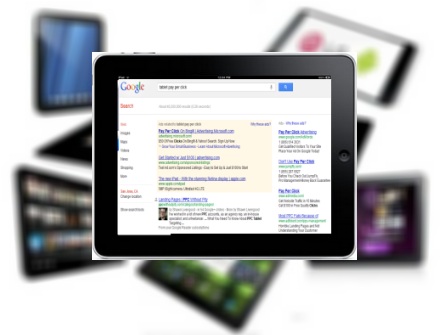 Consumers and advertisers now have over a half dozen of tablets to choose from
Google introduced tablets as part of their device targeting back in July 2011 – an affirmation of the device's growth and tip of the hat to advertisers looking to customize their message for the device. In addition to device models, Adwords also allows for targeting by tablet operating system, carriers, and whether or not the device is operating on Wifi (for more information, read the previous article on WiFi targeting).

Networks and Device targeting under the Setting Tab in Google Adwords
After designing tablet-targeted campaigns for several clients – I was pleased to find that tablet devices performed well when compared to the desktop and mobile-targeted counterparts. The benefits of dividing out tablets into its own campaign (as opposed to combining desktops and tablets), are:
Better control of the budgeting to ensure bidding parity
Ability to customize geo-targeting based on different search patterns
Slight differences in day-parting as users tend to use tablets in the early morning and late afternoons around their work schedule
Potential for high conversion rates
For one account in a major east coast destination – looking at the first 5 months of 2012, I was able to achieve the following results:
19,746 clicks and a CTR of 5.99%
Average CPC of $0.57, just slightly over the account average of $0.55
A conversion rate of 2.01% and an ROI of 15.6:1
While desktop and laptop searches continue to provide the bulk in clicks for the present, advertisers should continue planning for a more mobile and tablet-based audience moving into the next couple of years.
---