For a business to have an influence on its local ecosystem it needs to optimize its local listings to be relevant for customer queries online. This can be done by taking care of its core details (UNAP, description, hours of operation, etc.), attributes, amenities, and reviews on Google, Apple, Yelp, etc.
Not only does this send the right signals to Google to meet the Expertise-Authority-Trustworthiness (EAT) signals, but provides ample information to a potential customer to make a decision for 'near-me' type of searches.
Optimizing for contextual search is key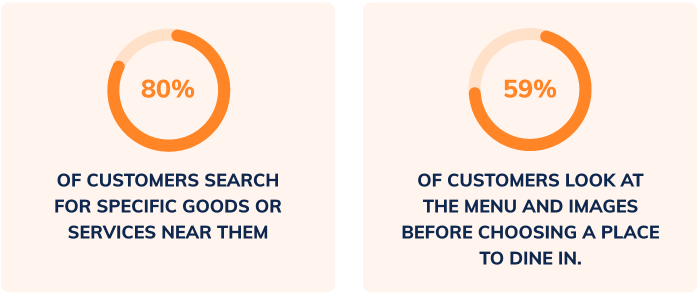 Since Google rolled out the BERT algorithm in 2019 and their follow-up updates such as Passage Ranking, and the latest MUM and LAMDA updates, they moved past keyword search to contextual search to completely understand the intent of customers and deliver the most relevant result to a query. We began this article by mentioning that optimizing your business details is required to be relevant for contextual searches and now we're shifting to a more specific type of search by customers – food.
The days of a user scrolling through a plethora of restaurants and scanning through their menus are slowly going. Users are now specific with their searches, and why not? Even search engines encourage this.
Users now ask for "Burgers near me" or "Spicy Chicken Tikka near me" and Google is glad to throw up restaurants that offer these dishes. Which means restaurants need to optimize their menus to get ahead of the pack for such specific and contextual searches.
In fact, along with adding meta details for food items on the menu, with the Google My Business API unbranded food items on your menu are now crawlable to optimize your menu for specific searches of items on your menu.
The problems multi-location businesses face with managing their restaurant menus
Let's start with the scalability problem.
For restaurant chains, adding menus for each location and syncing them to different channels is a tedious and painstaking task. Any change to the menu, and the process has to be repeated.
Visibility on search is the next big problem.
How do restaurants optimize their menus across locations and ensure this is done at scale?
Taking into consideration these two big and complex problems, we're honored to introduce Milestone's Menu Manager.
Milestone Menu Manager: Your scalable solution to be found by hungry customers across channels and locations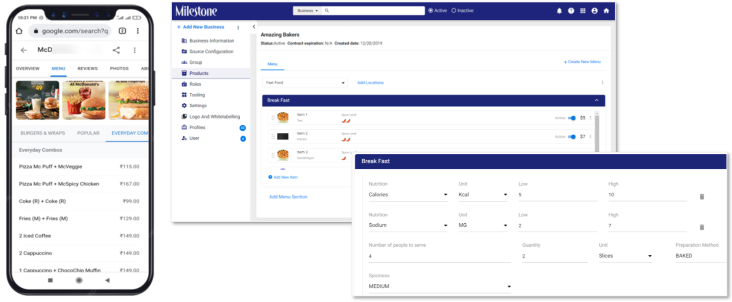 Milestone's Menu Manager centralizes the entire workflow for multi-location businesses and automatically syncs any menu update on key channels such as Google, Apple and Yelp for the menu as well its individual food items to be found for specific searches.
Without further ado, here are the key benefits that your restaurant and its locations will have covered in terms of menu management:
Add or update a menu and disperse the same across all your locations and channels such as Google Business Profile, Apple and Yelp in a matter of a few minutes
Customize your menu for select locations and regional palates
Optimize your menu by adding additional details such as price, nutrition values, prep methods, total fat (upper and lower limit), etc., to get your dish found for relevant searches
Rearrange how your menu is presented on your website or on search using our drag and drop functionality
Pre-select the currency based on the country of the restaurant location
Delete a menu following a clear warning of carrying out the action
Bulk upload menus across multiple locations
With our motto of "Be Everywhere your customers are", Milestone offers a suite of products for businesses across the globe to boost their visibility on search and take them right in front of their customers. To know more about our product and services, click here or contact us at [email protected] or call us at 408-200-2211.