It's no surprise that online advertising has become increasingly more popular among savvy hotels looking for more direct bookings and higher returns from ad budgets.  Most travelers research hotels online these days, allowing OTA's to flood the market with consolidated purchasing power.  This translates to increased competition and costs associated with online bookings.
OTA's are encouraged to bid on hotel brand terms as Google's ad policy allows the use of hotel names in adcopy.  What does this mean for hotels?  Travelers may opt to booking rooms at your hotel using OTAs reducing direct bookings on your site while paying more to OTA channels.
There are many opportunities available to help increase your hotel's website revenue and profitability.
Google Paid Search Ads


If your hotel is not bidding in Google Adwords to show its ad at the top of the search results (when someone searches for your hotel), we highly recommend starting.  Consider an average cost of 3% to book direct bookings from branded searches as opposed to 25%-30% booking fees paid to OTA's who are in these top page spots.  Google offers the flexibility to build keyword lists that target unique searches that closely match your hotel's offerings.  If your property is a luxury hotel in New York, you don't want to be spending too much money competing on searches for "cheap hotels in NY."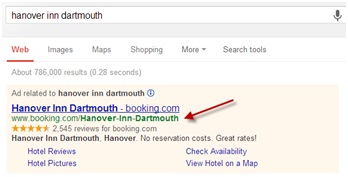 Google also offers great products like re-marketing and image ads that can be strategically placed on partner websites.  With the latest enhancements to their platform you can also track mobile calls from the ad extensions – Google will track the length of call to help monitor conversions from longer calls that typically fall outside of people checking-in or checking rates.
BingAds


An easy way to make some quick money is to bet that most hotel marketing efforts forget to consider BingAds network, or they don't know it exists.  While Bing touts higher and higher search share, hotels enjoy direct bookings from search results filled with OTA bidding.  Again another case of a marketing channel saving hotels money by spending dollars to displace OTAs, who are bidding on your hotel name and terms, to book direct and avoid high commissions.
TripAdvisor "Check Rates"


You may have noticed that a lot of referral traffic has been consistently popping up from TripAdvisor, especially since you've been monitoring your traffic after your heavy investment into the TripAdvisor business listing.  What you may not know is you can also sign up for the check rates program so that your hotel rates published on your site will also appear when TripAdvisor visitors click on "check rates. You can now bid on these searches and show rates with links that directly to your site for direct booking!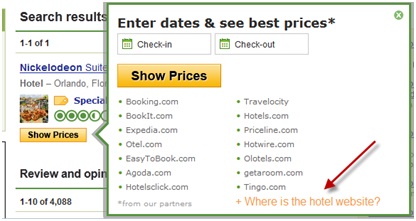 Facebook Ads


Did you know that a lot of people choose to change their status to "engaged" when they are planning a wedding?  And did you know you can target engaged people in geographical areas to show them ads about your awesome resort and wedding venue?  This is a great way to attract group events and room blocks.  Have a great restaurant?  Try a low cost Facebook Ads campaign to drive reservations and word of mouth advertising.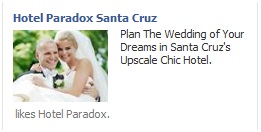 Expedia PPC Travel Ads


When do we want to increase OTA bookings?  When the visitor is going to book a hotel on the OTA website, or when we want a hotel to be known so a visitor can visit the hotel website and book direct.  Expedia offers a great opportunity to pay a little money to be seen at the top of their hotel search results that allows your hotel to be shown for geographical searches. Moreover, they allow the flexibility to pay for top spots for certain date searches, giving your hotel the opportunity to fill low-occupancy or non-peak seasons.  We have seen huge increases in bookings through this channel, and advanced features allow customized bidding to target people looking to book for longer stays.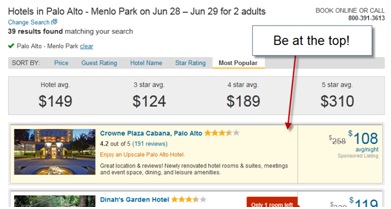 Image Banner Ads Displays


Image Banner Ads (IBA) Displays run on plenty of channels that provide great exposure for relevant hotel, city, or destination web traffic.  Several strategies include serving image ads on TripAdvisor for destination pages, Google's content network and many other relevant channels (yes like Facebook) that drive high quality traffic for brand advertising, hotel room bookings, wedding venue advertising, and more.
Search Re-targeting
This hot new channel, available to only a limited number of agency partners, uses technology to track searches in Google and Bing, then serves image ads to people who searched for your hotel terms.  So, maybe you weren't seen in the search for "Chicago Hotel". With search re-targeting, you can reach people who searched for hotels in Chicago after they leave Google and browse other websites as your ad will pop's up in these channels as well. Re-targeting people who have search for hotels in your market, will restart their interest in traveling to your town and staying in your hotel.  Moreover, while the advertiser may pay $7.00 for the click in Google, you may pay $0.50 for the search re-targeting click to compete for that business.
There are so many great channels and strategies that hotels can take advantage of, but before taking on all of these channels, we encourage you to do your research and inquire as to how you can optimize your PPC efforts to maximize your time and efforts.  In general, many of these channels are great opportunities, but not all may suit your budget, interest, and needs.
_______________________________
Contributed by David Johns, PPC Account Manager