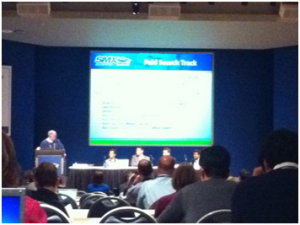 What? One challenge in creating and managing paid search campaigns is to determine the perfect balance between human management and machine management. With many advertisers considering automation for PPC campaign management, the "Human vs. Machine" session at SMX Advanced Seattle 2011 outlines the different arguments for each:
Kevin Lee, Didit: In favor of humans and machines working together (as opposed to "versus" each other), Kevin points out that although technology facilitates automation and creates efficiency, technology in the wrong hands can hurt you.
Eric Jones, R2integrated : The human advocate, Eric believes the biggest limitation in using machines to manage PPC is that they are only as good as the person using it to set up the campaign parameters/guidelines.
Bob Tripathi, Instant E-Training, Inc: Pro-machine, Bob believes machines should be in charge of the advanced computations/data crunching, as humans are better utilized when focused on campaign strategy.
Benny Blum, esearchvision: Another machine advocate, Benny supports automation for bid management, making sure humans utilize it only with advanced accounts that are prepared ahead of time for the process.
Why? Understanding the strengths/weaknesses of human vs. machine management can aid PCP managers in utilizing their time wisely, leading to more success overall.
How? A few of the arguments and parameters provided from key panel members are outlined below:
Kevin Lee's argument for machines and humans working together is from the plateau that results when the PPC strategy follows too many of the "same" practices time after time. This is where technology can help an agency deal with the new set of challenges. A few key takeaways:

Machines can make simultaneous choices, react to competitive market elasticity and deal with heavy data collection/segmented campaigns, much better than humans can.
Humans can think intuitively and prioritize the campaign "to do" list, something machines cannot.
It's important for advertisers to have a killer strategy AND killer analytics – as strategy & technology alone don't deliver maximum results.

Bob Tripathi emphasizes the importance for humans to focus on campaign strategy and marketing planning, something only possible when allowing for machine automation. Key points:

A smart platform can find hidden opportunities & integrate your backend system, allowing the human PPC manager to spend more time on the more important items for campaign success: business strategy, backend profitability optimization, new opportunities & budget.
Conclusion? While arguments for each side are plentiful and dynamic, it is up to advertisers to decide which mix of PPC campaign management is best for them and their clients. As mentioned by Kevin Lee, advertisers should stay educated on best practices, think like the consumer, test constantly and, when in doubt, ask experts for help.
Speakers:
Benny Blum, Director, Strategy & Analytics, esearchvision
Eric Jones, VP, Digital Marketing, R2integrated
Kevin Lee, CEO, Didit
Bob Tripathi, Founder & Chief Marketer, Instant E-Training, Inc.
————————————————————————–
Contributed by: Selin Maurice, Sr. Account Manager/eStrategist, Milestone Internet Marketing