It comes as no surprise that the mobile industry is continuing to increase into 2012. Of the world's 4 billion mobile phones in use, 1.08 billion are smart phones and the numbers continue to rise. It is predicted by 2014, mobile usage should take over desktop usage. Along with the rise in popularity of mobile phone usage comes new opportunities for search marketers – namely that of mobile pay-per-click. (Source: Digital Buzz Blog 2011)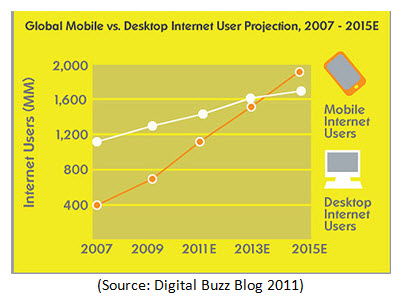 Why Mobile PPC?
Mobile PPC is a relatively new trend, but it is a trend worth trying.  Here are some facts and figures on why hoteliers should invest in this medium:
PPC for mobile search allows hotels to target locally. With half of all local searches being performed locally, users are generally more inclined to search for information after they have already arrived at their destination making for an obvious decision for hotels to opt into utilizing mobile PPC. (Source: Digital Buzz Blog 2011)
Cost-per-click for mobile PPC is averagely cheaper. When comparing two traditional campaigns with two similar mobile campaigns in 2011, the chart shown below clearly depicts the average cost-per-click for mobile ads are less than half the price of non-mobile ads.
The average position tends to be higher when targeting mobile keywords, also depicted in the chart below. Now is the time to take advantage of this trend; as the saying goes, "Get em' while the gettin's good!"
Mobile PPC campaigns can be successful even without a mobile website. Features such as click to call make it very easy for potential customers to call directly from the advertisement.
In conclusion, with the rise in popularity of smart phone usage, lower medium competition, lower prices, and better positioning than traditional PPC campaigns, companies should have no doubt that mobile pay per click ought to be included in their 2012 marketing plans. With paid search being a huge factor, hoteliers should utilize a mobile search strategy to capture an audience they may not be able to tap into with other channels. Staying ahead on new trends, trying new avenues to increase conversion, and cross channel optimizing your website are all innovative ways to stay ahead of the curve.
____________________________
Contributed by:
Ara Quick, eStrategist
Soumya Nath, eStrategist