COVID-19 has disrupted our world like nothing we have seen before, and the response requires a deep breath, some reflection, planning, and aggressive execution. If you are trying to formulate an effective strategy in response, Milestone has developed and begun implementing the COVID-19 Crisis-Recovery-Growth strategy and identified the priority things marketers should do in April, May, June, and July onward to conserve, react, and then to ride the recovery as people return to a more normal economy.
During this crisis stage, ensuring that your business is engaging with its audience and passing the right information is critical – as especially now, your customers would want to know the status of the business, and the roadmap that your business is taking to overcome this crisis. To do so, there's no better way than updating the FAQs on your website – ones that address information about the business during COVID-19, and any other related information about your business's services. Having a mix of FAQs that address the current situation and those that are evergreen is the trick at this point.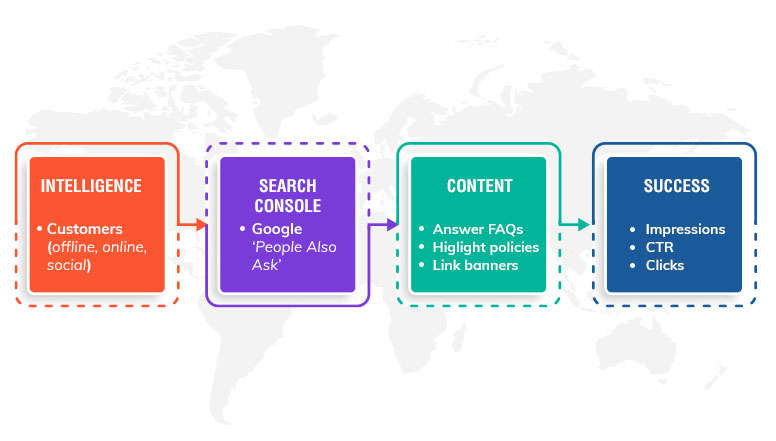 We carried out the process of using FAQs to engage with customers during this crisis in 4 stages. Building intelligence was the first, and we collated information from the sales team, customer support team, etc., of our client about the questions being raised by customers during this phase. We moved on to collect data from Search console and collated questions asked by people on Google and the 'People also ask' section. By doing so, we determined the questions that needed to be addressed by the business, formulated them as FAQs, wrapped them with schemas, highlighted the policies of the business during this pandemic and created a COVID-19 banner with a link to the details. This helped the customers of our clients tremendously as we answered their questions and needless to say, CTR was up 2X for the business.
Apart from FAQs helping your business address key information in times like these, it is a key SEO tactic to ensure that your website achieves visibility online and is voice optimized. Let's now dive into how FAQs and schemas play an integral role in SEO and how Google's algorithm updates have emphasized on the importance of FAQs and schemas on websites.
BERT and Entity Optimization: What you need to keep in mind
In the lead up to BERT, Google rolled out the Mobile-Indexing algorithm, and stating that this was done to suit the paradigm shift of mobiles becoming important touchpoints in search is an oversimplification of their intention. In fact, it was a clear indication that rather than index keywords, they were moving towards indexing entities, in short, entity optimization.
The move to index entities, which BERT made clear, and moving past indexing a page based on its links and keywords was inevitable, as unlike keywords, entities are language agnostic, and hold universal significance. An entity is not limited to a person, place or thing, but comprehensively covers the characteristics, ideas, and concepts of the aforementioned and deals with the relationship between such characteristics. By doing so, search was no longer limited to a certain language, but content is now structured and standardized universally as entities. When Google announced BERT, they said that the algorithm will no longer just factor in keywords but will understand the nuances of the language, and entity optimization helped them achieve this feat.
How FAQs and schemas play a crucial role following BERT
Fair and square, Google said that there's isn't anything that your website can do to optimize for BERT, but like any world-class chef who wouldn't reveal his/her recipe, they dropped breadcrumbs for SEO experts to pick up on and improve the visibility of their website content on SERPs. They said that if your content is conversational, directly answers a query and relatable, it will be picked up by the search engine as an answer to queries online.
The roll-out of BERT seemed to coincide with the direction that we were taking. Of course, our goal was to structure content to be the voice search answer, by creating content that is conversational and informational. To help accomplish this, our clients were using the FAQ feature wrapped with relevant schemas, and following the BERT roll-out, the results were even sweeter. While FAQs wrapped with schemas aren't a direct signal to rank on search, they function in entity recognition as they give search engine bots clear context of the website content in a conversational and informational format.
We tracked the performance of a particular client of ours using the FAQ feature before and after BERT, and the result was phenomenal.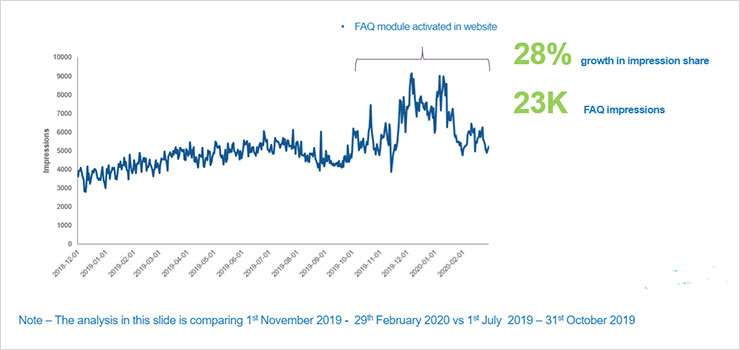 Post BERT, our client witnessed:

How FAQs on your website will benefit your business and boost its visibility online following BERT
Using FAQ to suit long-tail conversational content and schemas as entity recognition, your business can achieve the following:

Be the pick of voice assistants BERT is focused on delivering long-tail conversational content as the answer for queries online, and having FAQs answers key questions about your business in a conversational and informational tone, suits voice searches.

Land the '0' position Since your FAQs are directly answering questions about your business online, and the FAQ schemas are giving the search engine bots context of the content, it increases the chances of your website content getting displayed as a featured snippet or in the coveted '0' position. Of course, this propels the chances of your content being featured as a voice answer.

Create localized content on your website 80% of searches online are informational and predominantly localized. Having FAQs that are hyper-local (Ex. Things to do) will boost your impressions and clicks on search.

Build trust with your customers Using this feature, you become the single source of truth for your customers and it helps build trust in your products and services.

Saves your business the hassle of answering repeated questions Customer satisfaction is of utmost importance, but if you answer the common questions of your customers through your FAQ feature, you wouldn't need to repeat yourself almost every day.
Our FAQ feature is powered by Milestone CMS with built-in schema support and gives our clients the privilege of seamless adding, editing or removing relevant FAQs about the business's services to ensure that our clients are at the receiving end increased visibility and clickability benefits.
As we began this article, the unprecedented COVID-19 pandemic has certainly brought many businesses across the globe to their knees. However, creating a roadmap to deal with the crisis, recover, and build the eventual growth plan as the light of the end of this tunnel is crucial. To help businesses through the tough times as we're all in this together, we've created a series of webinars that will focus on COVID-19 Crisis-Recovery-Growth for every business. If you missed the first installment of this series, which comprehensively covered the steps business need to take to recuperate and strategize for growth, click on this link – Webinar: Covid-19 Crisis-Recovery-Growth. Join us for the next installment of this important webinar series, 'Webinar: SEO After Covid-19′ on 8th April 2020, which will give you an in-depth look at what we've covered in this article and lots more to get your website's SEO on track and prepare your website for when the market opens up in the coming months. To register, click on the link – https://www.searchenginejournal.com/seo-after-covid-19-how-to-recover-with-faqs-schema-amp-voice-search/
Till then, stay safe and stay indoors. We'll get through this together.