What?
Facebook allows corporate business pages much more freedom to define their space within Facebook than is available on personal profiles. Beyond the simple wall posts, photo galleries, videos and events, businesses are able to create custom tabs which allow them to display all manner of creative content, graphics, games, quizzes and more to keep users engaged.
To make the most of custom tabs, business pages should take advantage of the ability to create "Fan Gates" (or "Reveal Tabs"). Simply put, this is a tab that displays one type of content to Fans of the page, and a different type of content to non-Fans.
Why?
Getting people to take the plunge from simply being a user to becoming a fan can be tricky, but is incredibly important to creating a strong Facebook presence. Creating engaging content is of course in important factor in maintaining a strong fan base, but how do you attract new users and get them to click the "Like" button?
Fan gates create a very simple call to action, putting the concept of "Like" at the front of the users' minds. Simply by asking users to become a fan is one of the single most effective ways at converting users. And combining a fan gate tab with a special offer available to fans only (like a 15% off discount on a hotel booking or information on how to enter a contest) is a surefire way to increase fans.
Caste Study 1: Fan gate and booking engine
WorldQuest Orland has a booking engine on their fan page, allowing users to book rooms directly from the Facebook page. After implementing a fan gate that gives fans a 15% off discount on their stay, click-throughs to the booking engine increased by 95% week over week.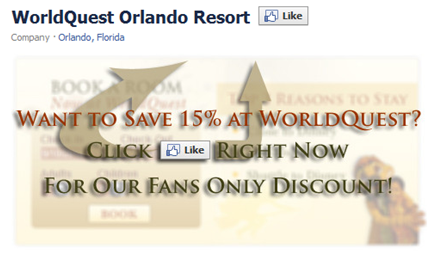 Case Study 2: Fan gate and contest
A well-known golf resort in southern California had been maintaining a successful Facebook page for a couple of years. They averaged about 4 new fans per day. Upon implementing a fan gate tab in conjunction to a golf weekend giveaway, they jumped to an average of 200 new fans per day, and over 400% increase in fan engagement.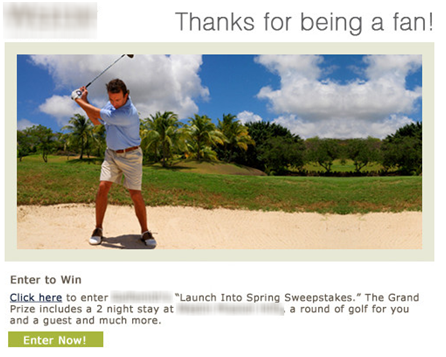 How?
Creating custom tabs and fan gates can be somewhat complicated, as they do require a moderate level of programming knowledge.
Set up a new iFrame application within Facebook.
Create the code for the Canvas page and the Tab on your website domain.
Used Facebook's "signed_request" variable to create a tab that switches content based on whether or not a user is a fan.
Conclusion
While not the simplest concept, creating a Fan Gate is well worth the time and effort required. Putting a call to action in front of every visitor to your Facebook page makes a dramatic difference in the number of users to become fans. Once they are engaged fans, they are available to engage in discussions about your products, and are that much closer to becoming paying customers.
————————————————————————–
Contributed by: Mike Supple, Sr. Social Media Manager, Milestone Internet Marketing